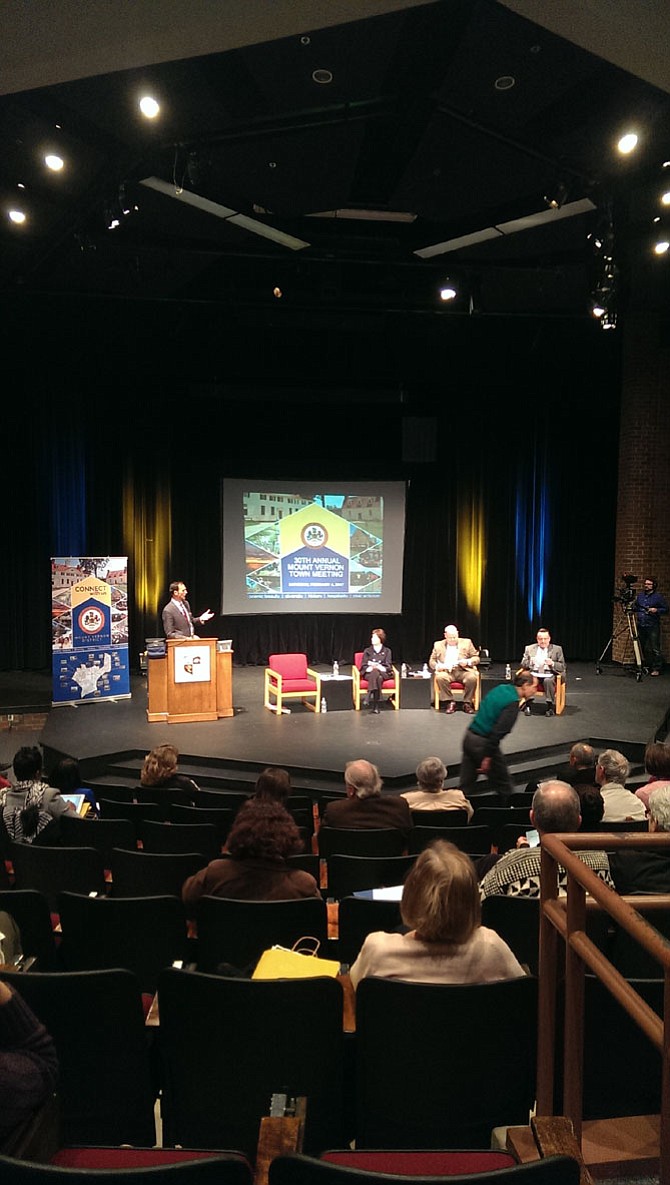 Mount Vernon — Could there be a registry for Muslims in Fairfax County? Board of
Supervisors chairman Sharon Bulova and supervisor Dan Storck (D-Mount Vernon) say no.
A week after protests at airports around the country following an Executive Order by President Donald Trump that blocked refugees and travelers from seven largely Muslim countries from entering the United States, the topic came up during a question-and-answer session at the 30th annual Mount Vernon town meeting on Feb. 4.
When asked if Fairfax County would begin such a registry, as Trump had discussed plans to do at a national level prior to his inauguration, Bulova responded, "I don't see Fairfax County doing that."
Bulova's answer was met with loud applause from the mostly full auditorium at Mount Vernon High School.
"We are a very diverse community," Bulova continued, "we celebrate diversity. People move here from all over the world — that has been our strength."
Storck added that embracing diversity "is the cornerstone for what our community believes."
County Executive Ed Long was among the other speakers, who addressed a looming budget shortfall for Fairfax County and said there needs to be more thinking around "ways that we tax and support government."
Mount Vernon representative to the Fairfax County Public Schools board Karen Corbett Sanders discussed FCPS' commitment to "a holistic approach to education," working to close a gap in achievement in part by partnering more with parents and guardians of students.
Corbett Sanders also referenced budget difficulties: She said at the moment the school system is facing a shortfall for the FY 2018 budget of between $43 and $65 million, depending on the outcome of decisions being made at the current session of the Virginia General Assembly.
"It's a challenging budget year," she said, which "feels like our mantra since 2008."
Corbett Sanders said FCPS is struggling to keep up with an increase in population as well as costs associated with keeping teacher salaries competitive with surrounding jurisdictions.
"It's too easy to go to Alexandria and Arlington," she said, "or relocate to Prince William."
While last year there was more of a contentious tone between School Board members and supervisors over the budget, Corbett Sanders praised the "funding partners at the county level," who "continue to be generous."
Instead, she encouraged constituents to weigh in with their state and federal politicians, who she said have fallen behind on their obligations to fully fund Fairfax County.
In other parts of Virginia, Corbett Sanders said, funding from the state and local government is each about 45 percent of operating budgets, with 10 percent from federal funding.
In Fairfax County, she said, they must receive 72 percent of budget funding from the county due to being underfunded relative to the rest of the Commonwealth from Richmond and Washington, D.C.

Storck continued the tradition of former Supervisor Gerry Hyland (D) of giving a "virtual tour" of current and upcoming changes to the district.
But rather than Hyland's virtual bus, Storck donned a white aviator's scarf and announced a three-dimensional flying tour.
Storck began the tour at George Washington's Mount Vernon, elevation and topography rapidly zooming in and out behind him.
At several spots along Richmond Highway, the 3D projection showed locations of new developments and Bus Rapid Transit stations: plans to increase density along the highway and enact the multi-modal transportation initiative Embark.
For BRT, Storck said, "the key is public funding. The process is going on right now," with a Comprehensive Plan review.
"2017 is the year," for pushing forward with more of these transportation improvements, the supervisor said. "We need your involvement."
While airborne, Storck called up a sound effect of a jet aircraft engine. Somewhat playfully, he asked what that noise was.
"It's a sound we've been hearing too often," Storck said, referencing the controversial changed flight patterns for planes around Washington Reagan National Airport that have angered Mount Vernon residents with homes near the new routes.
"It's been highly annoying to us," said Storck, who added that the most problematic have been departing flights, and that it is a Federal Aviation Administration issue.
Storck said he has heard most about the shuttered Quality Inn & Suites off Richmond Highway, which burned in April 2015 and has had little done to it since the flames were extinguished.
"It's a public nuisance now," Storck said, but followed by saying he learned the owner planned to apply for demolition permits this week. "I will be expediting that," he added.
The town meeting was streamed live, and is available to watch via Storck's Facebook page at https://www.facebook.com/SupervisorDanStorck.