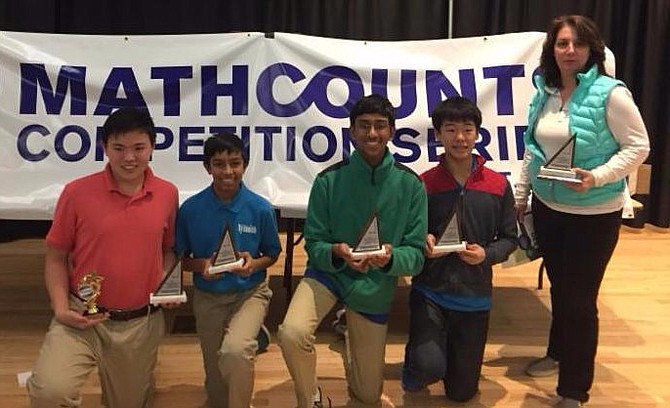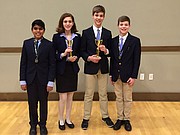 The most recent accomplishments of individual students and student teams from The Nysmith School for the Gifted continue a string of competitive achievements.
Here are a few of the activities/results:
A total of 10 of Nysmith students have advanced to the National History Bee Regional Finals, April 24 in Richmond, where the top middle schoolers in the region compete head-to-head answering questions split evenly between United States and non-U.S. history. Coached by Philip Baselice of Fairfax, the team includes:
Anuraag Kaashyap (eighth grader from Herndon)

Andrew Chen (eighth/Fairfax)

Justin Ward (eighth/Vienna)

Vance Kreider (eighth/Herndon)

Misha Brancato (seventh/Alexandria)

Quinn Griffith (seventh/Oak Hill)

Neal Gupta (seventh/Vienna)

Elise Bejtlich (sixth/Manassas)

Aaron Joy (sixth/Herndon)

Irene Zhao (sixth/Fairfax)
The Nysmith "MATHCOUNTS" team finished second in its Chapter last weekend and will be participating in the Virginia State event on April 4 in Glen Allen, Va. MATHCOUNTS is a national middle school competitive program that promotes mathematics achievement through a series of engaging "bee-style" events. The Nysmith team is coached by JoMarie Broccoli of Herndon and the advancing students include:
Whitman Ochiai, top score on team (eighth grader from Great Falls)

Kaien Yang (eighth/Chantilly)

Anuraag Kaashyap (eighth/Herndon)

Anand Advani (seventh/Herndon)
Several Nysmith debaters scored impressive results in recent competitions.
Among the students competing in this past weekend's DC Urban Debate League Tournament, coached by Marlene Laro of McLean: Alex Joel (eighth grader from McLean) and Caroline Huber (eighth /Great Falls), placed first in the Varsity Division. Two sixth graders, Aaron Joy of Herndon and Ben Joel of McLean, emerged victorious in the Novice Division.
Another group of Nysmith debaters took third place in the Holy Trinity Public Forum Debate Tournament. Under the direction of coach Maria-Theresa Dragg of Herndon, the winning team includes McKenzie Hiek (seventh grader from Great Falls), Sarang Arun (seventh/Fairfax) and Emma Jing (seventh/Oak Hill).