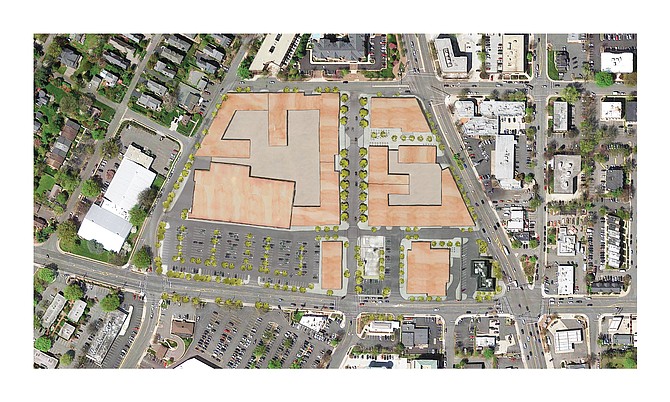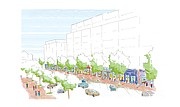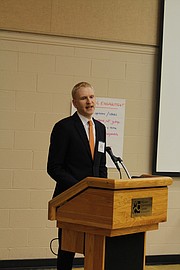 Property owners of the Old Dominion Shopping Center and the Chain Bridge Corner Shopping Center are working to redevelop the spaces into one combined mixed-use development.
Hundreds of community members attended a public meeting to learn about the preliminary designs at the McLean Community Center last Thursday night on Feb. 16.
The proposal is calling for a pedestrian-oriented mix of office, retail and residential uses and is based on a "Main Street" concept that is envisioned in the county's comprehensive plan for McLean.
The Giant grocery store and its parking lot, the PNC Bank and the Old Firehouse Teen Center on Chain Bridge Road will remain in place. The rest will be redeveloped.
"We're still early in the process, but we wanted to have this meeting tonight to share our vision for Main Street and start getting your feedback," Vidal Sadaka, principal for McLean Properties, which represents the landowners, said during the meeting.
Sadaka told the audience that the landowners had four key principles guiding their design plans: fostering a sense of place; serving McLean residents; creating a pleasant walking and driving experience; and designing a high-quality built environment.
"When you look at downtown McLean, it's a lot of individual shopping centers separated by large seas of parking," Sadaka said. "McLean lacks a central, connected, defining place and creating that is our top priority."
THE PROJECT includes 425 residential units, approximately 470,000 square feet of office space and about 125,000 square feet of retail space, not including the existing Giant grocery store, according to Betsy Frantz, a spokesperson for McLean Properties.
Everything would be connected by the "Main Street" that would run north-south through the development.
"We're going to put retail on both sides of the street for the length of the street," Ken Wiseman, design principal and architect for the CannonDesign firm, said during the meeting.
Wiseman, a McLean resident, has been hired to design the entire project.
Retail would also surround the site at ground level, he said. Office space and residential units would sit overtop the retail in buildings as high at eight stories. He also envisions designing underground parking areas beneath all areas of the project.
Wiseman has also included a small public plaza in the upper third of the site design that will feature restaurants, outdoor seating and a pedestrian connection between Main Street and Old Dominion Drive.
Many audience members liked what they heard.
"This is a long time coming," said Esther Lee of McLean. "I've lived here for about two years and we've been asking why we have to go to Tysons for a nice meal and to sit down and enjoy good weather. This is long overdue and I hope it will be the beginning of more [redevelopment]."
However, the meeting left many people wanting more answers.
"I have a lot of questions," said Shalini Jain of McLean. "This meeting gave me more questions than answers. What will it cost to park? What is the timeline? Will there be residential condo units or apartments? Any bike paths? What about the small business owners? Will they be displaced? I'm not against the development, but they need to answer a lot of questions for us."
The decision of whether the residential units will be apartments, condominiums or a mix of both has not been decided, Frantz told the Connection via email after the meeting.
Zeynel Abidin Uzun, owner of the Kazan Restaurant which serves Turkish cuisine on Redmond Drive in the middle of all of the redevelopment, is not worried about being forced out when the terms of his lease are up for negotiation in two years.
"Honestly, I have no worries," he said. "People are tired of chain restaurants. People want us to stay."
The landowners have reassured him that local businesses are an important part of their vision. But it is clear the redevelopment will affect rent.
"We will continue to talk to our tenants throughout the process about their long-term goals and we are working with the county to provide options to keep these businesses in downtown McLean," Frantz told the Connection via email.
"I'm not going to leave unless rent skyrockets," Uzun said. "They're nice people. I'm not worried."
OTHER COMMUNITY MEMBERS were not as trusting and were worried about the congestion it could cause and whether there was enough room for all the mixed uses.
"I can't imagine residential there," said Carole Herrick, McLean resident and chair of the Fairfax County History Commission. "I can't imagine eight stories. This would be the heart of McLean and it is not what I envision. I can't imagine there's enough room."
"I asked how many parking spaces are in the site and the revised site and they didn't know," said Ed Horahan of McLean. "It's an outrage they don't know this fundamental information."
In addition to Giant's parking lot, there will be surface parking along the Main Street. Most of the parking for the project, however, will be structured, both above and below ground, according to Frantz.
"One of our goals is to create a pleasant experience for pedestrians and drivers, and part of that means providing desirable parking, so our plan is to offer free public parking," she told the Connection via email after the meeting.
The landowners have commissioned a traffic study of the area, including intersections.
"It's over 25 intersections," Chris Tacinelli, principal of Gorove/Slade, a transportation engineering and planning firm, said during the meeting.
"We're at that phase of documenting and evaluating," he said.
The study will be shared with the Fairfax County Department of Transportation and the Virginia Department of Transportation.
"It's hard to believe how far back in time we go with this project," Supervisor John Foust, who represents the Dranesville District on the Fairfax County Board of Supervisors, said at the meeting.
It's been over 20 years since the "Main Street" idea was first proposed, Foust said. The long period of "nothing really substantive happening" was primarily because the land needed to create the development was split amongst many owners, he said. These parcels have since been consolidated.
It will take several more years to bring the plan to life.
First, the landowners will need to file a proposal for a comprehensive plan amendment and rezoning with the Fairfax County Planning Commission and Board of Supervisors.
"If everything goes well, I think they can get their decision [from the county] this year," said Foust, who conceptually supports the redevelopment.
Site plans would then take another 18 months. It would then take about two years to complete construction of the first phase, according to Foust.
"You're talking four to four-and-a-half years, probably," he said.
More public meetings will be held in the future, according to Frantz. For now, landowners are collecting feedback on the initial design at www.mainstreetmclean.com.