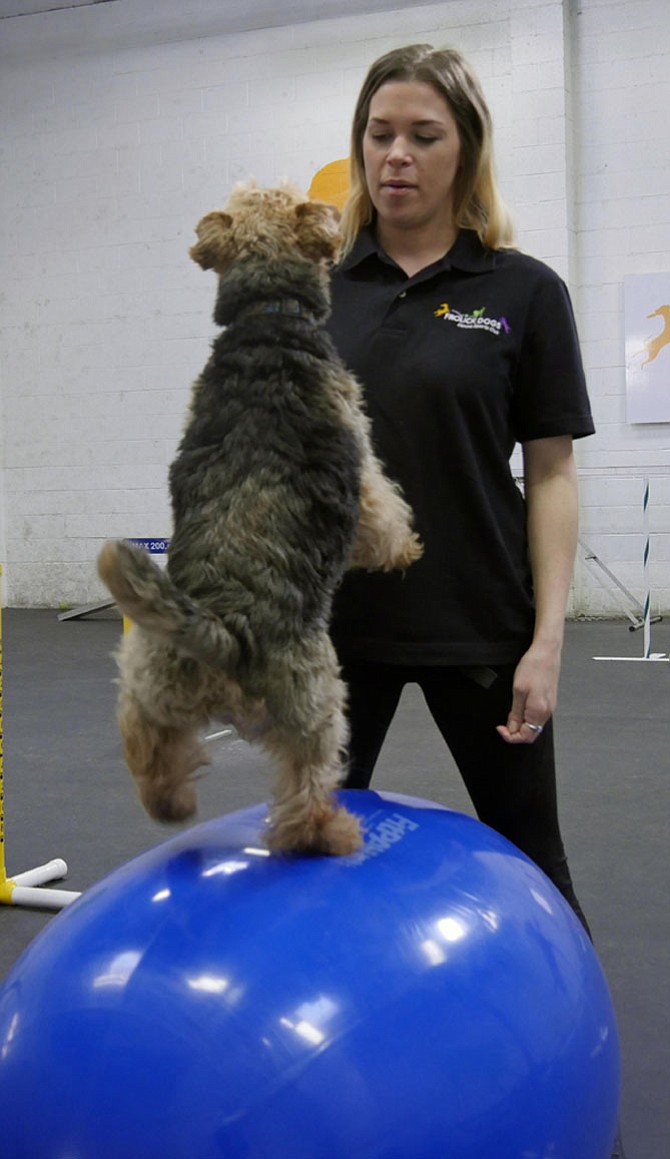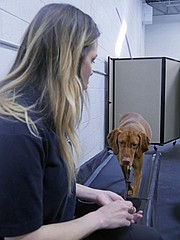 Morgan jumps over the 12" hurdle and sniffs Tayler Hudson's hand, looking for his dog treat. "Morgan is super treat-oriented," Hudson said. Morgan comes every weekday to Frolick Dogs, a Canine Sports Club on Colvin Street. Hudson says Morgan loves agility, balance balls and "he is very showy." Morgan doesn't like the treadmill very much, but he will do it. "He likes to do tricks; the treadmill is too boring." Hudson says all of the dogs will do all of the equipment but some have favorites.
A loud howl reverberates overhead in the kennels where the dogs spend their break time. Hudson said, "That sounds like Gyella, a mastiff, who loves people and wants someone around all of the time. When one of them starts, you can be sure that pretty soon others will follow." Hudson says they have to learn the dog's personalities. "Some don't like to play well together and some will butt heads. Other dogs here are best friends." For instance, she mentions an "infamous couple," Maxine, a pit-mix and Crosby, "I don't know what he is. They are both full of energy and a lot of times they do activities together."
Hudson arrives in the morning about 11 a.m., just after the dogs' first of three outings each day. She says dogs are generally dropped off between 7-11 a.m. Her job is to work with the dogs one-on-one and give them individual attention. "Come on Morgan, let's do the rail." Morgan jumps onto the high beam and begins to edge along toward the hand with the treat. "He knows the phrases like 'table' and 'tube' and will run toward the place I mention."
"Let's go to the balance ball." Morgan bounds over to the middle of the room. Hudson explains it's another of Morgan's favorite things. She says that Morgan is really good. "He doesn't shake. It is harder to balance for some of the larger dogs. They are using core muscles that they don't usually exercise." She said, "We try to challenge the dogs." Most of the time they start out slowly with the dogs and trick them into going over the hurdle with a treat. Hudson says they use little low-calorie treats most of the time, but some dogs are picky so they get lamb lung treats.
Kim Gilliam, co-owner of Frolick Dogs with her husband, Kevin, says they started the business 2-1/2 years ago. "We talked to a lot of vets struggling with different ways to exercise dogs. We were looking for something new and different. This is a really rich area for dog-oriented people." So they came up with the concept of a dog gym. "We board 50 dogs for the day on a week day, and our job as a fitness coach is to work with a dog." The day is structured with group play in the morning, outdoor walks and an exercise routine including treadmill, balls, hurdles and hoops to work on agility and balance. She said, "We filled up in June and now we have a waiting list of 250."
Hudson opens the door and puts a leash on Stella, a Vizsla, and a good friend of Moochie, a Doodle. When Hudson opens the gate, Stella runs toward the treadmill and jumps on, ready to run. Hudson turns the speed to 3.5 mph and Stella begins her 8-minute period. "She is a high energy dog and she loves to run." Hudson says about "five percent of the dogs are scared or don't like it so we try other things." As the timer ticks down, Stella's mouth hangs open and she starts to pant, but when the treadmill stops, she wants to go again. Hudson scratches Stella's ears and comments, "we work them hard, and they enjoy their naps."
Hudson just started as a fitness coach in November 2016. She came here from Chicago where she had worked and then managed a doggy day camp for five years. It was her first job in high school and then it became a career. "I've had dogs all my life, volunteered in shelters and rescued three of my own dogs, all mutts." Hudson said the staff is small and one of the owners is always there. "It's like a little family. You can tell they care." Hudson muses that "the staff is all different, in ages and personalities, but all genuinely love and care about dogs."
Frolick Dogs is open on weekends when people can come in and work with their dogs in the gym. "And of course there are the dog birthday parties," according to Gilliam, "where the dogs can invite their neighborhood friends." The event comes complete with party hats, doggie goodie bags, decorations and a dog bone cake. "We have had as many as 20 dogs at a birthday party." She says they have three scheduled this weekend.