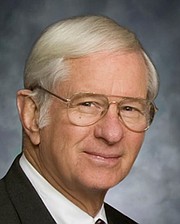 Colonel Richard Bonner Trumbo, Ph.D., U.S. Air Force (retired), died Saturday, Feb. 18, 2017, from complications of dementia. Col. Trumbo was born Feb. 2, 1933 in Norfolk, Va., son of Grover Cleveland Trumbo of Brandywine, W.Va., and Sunshine Bonner Pope Trumbo of Tyler, Texas. He graduated from Virginia Military Institute in 1954 with a major in biology and attended the Medical College of Virginia from 1954-1957. He was commissioned into the U.S. Air Force as an aviation physiologist in 1957. Col. Trumbo received his Master's and PhD from the University of Southern California with a major in physiology. He graduated from the Air Command and Staff College and the Air War College while on active duty.
His military decorations while in the USAF include the Air Force Legion of Merit, Air Force Meritorious Service Medal with one Oak Leaf Cluster, Joint Services Commendation Medal, and Air Force Commendation Medal with four Oak Leaf Clusters. He reached the pinnacle of his career as Chief of Aerospace Physiology in the Office of the Surgeon General.
Upon retirement from the USAF after 30 years in 1988, he established Aerospace Life Sciences, Inc., a consulting firm in the areas of aerospace physiology, human factors, exercise and fitness. He was named the assistant executive vice president of the Aerospace Medical Association in 1991. A 50-plus year member of the association, he was elected a fellow and enjoyed his many world-wide friendships in that organization.
His outside pleasures included sailing, skiing, tennis, his West Virginia homeplace, and Cobbs Creek, Va., on the Piankatank River.
Surviving are his wife of 52 years Margaret (Peggy) Engle Trumbo and his two sons and their families, R. Hunter Trumbo, wife Stacy and sons Jacob and Jackson, and Raleigh B. Trumbo, wife Tina and children Luke and Anna. He was preceded in death by his sister Susan Trumbo Meredith. His sister Sunshine Trumbo Williams survives along with many nephews, nieces and great nephews and nieces.
Visitation with the family will be on Thursday, Feb. 23, from 6-8 p.m. at St. Aidan's Episcopal Church, 8531 Riverside Road, Alexandria. A celebration of his life will be on Friday, Feb. 24 at 11 a.m.at St. Aidan's. Burial will be in Pine Hill Cemetery in Brandywine, W.Va., on Saturday, March 4, at 11 a.m.
Memorial gifts may be made to St. Aidan's Episcopal Church, Virginia Military Institute (Richard B. Trumbo Scholarship Fund) in Lexington, VA 24450, or Capital Caring Hospice, 5845 Richmond Hwy., Alexandria, VA 22303.