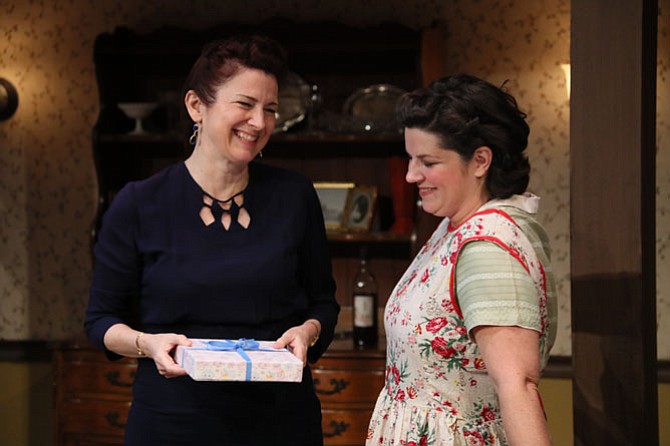 McLean — When you think of Tysons you may think of retail and shopping, but that's not the only ticket in town.
Tucked into the Spring Hill Business Center just north of Tysons Galleria and Tysons Corner Center is an award-winning, professional theater company: 1st Stage.
The company has been growing along with the Tysons community for the last nine years since it was founded in 2008 by Mark Krikstan, a retired drama teacher at Marshall High School in Falls Church.
During Krikstan's time teaching, many of his students became professional actors who went on to perform in Washington, D.C., and throughout the Northeast, says Alex Levy, Krikstan's successor and 1st Stage's artistic director.
"There was no professional theater in Fairfax County at all," Levy said. "Mark started this place with the idea of being a place that would be a first opportunity for professional actors and professional artists."
Not only is 1st Stage providing actors with a venue to perform work in their hometown, but Krikstan's dream of creating a professional company has been realized.
"There was a great want and a great need … a community starved of the arts," Levy said.
While 1st Stage claims to be the county's first professional company, it is now one of three that have recently formed in the area.
IN 2015, the burgeoning theater company received a $10,000 National Theatre Company Grant from the American Theatre Wing, the organization that created the Tony Awards.
The competitive grant program invests in "cutting edge theatre companies" to help the "industry-changing companies" enhance resources, build infrastructure and create new initiatives.
"It was an exciting validation for us," said Levy. "Great theater is happening here in Tysons and is making an impact not just in our own community but around the country."
Levy was living in Los Angeles when he was offered the job to lead 1st Stage in 2014 and has enjoyed helping the company realize its goals.
"It's such an interesting time to be here," he said. "Tysons is going through this major change and to be a part of that conversIon was a really exciting opportunity."
While McLean has several opportunities for community theater, he loves being a part of Tysons' story as a hub for professional artists.
The artists performing at 1st Stage are the same artists that audiences can expect to see in the region's leading theater companies — the District's Kennedy Center, Arena Stage at the Mead Center for American Theater and the Studio Theater, as well as Arlington's Signature Theater — but with one difference that Levy boasts as a differentiating factor: a 110-seat theater.
"You're really right there, connected to them," he said.
"As Tysons changes and grows, so is 1st Stage," Levy said. "The two are very connected and we want to be a place for this community to come together."
There are plans to expand in the future, but "intimacy is something that we are fiercely protective of," he said.
In January 2015, the theater company took over the storefront next door to add rehearsal space and is currently in the process of adding more bathrooms and space to build sets for productions.
As Tysons continues to redevelop and grow, the theater is looking for opportunities to move to a new permanent home, but some things will not change.
"Within the changes that will happen in the future, we are committed to maintaining the intimacy of our venue," Levy said. "That won't change, the things that people have come to love at 1st Stage; being that close to the performance will continue."
Mainstream theater will also be avoided now that the company has an established and loyal audience that can appreciate a diverse performance lineup.
THE COMPANY'S MISSION to create great art is something that attracted local actor Doug Wilder to participate in the company.
"Even the idea of having a 100-seat theater in Tysons is a risk," said Wilder. "You can fill a 200-seat theater if all you do is audience-pleasing, easy work."
Wilder will be playing the lead role in the company's next play, "Tevor," that will debut in February. The unconventional show is about an erratic, 200-pound chimpanzee.
"There's a physical challenge of convincing an audience that he is not human, while still speaking English," Wilder says.
He and the human characters in the play speak English, so the audience will understand what is taking place, but there will be times that the characters will not understand the chimpanzee.
"There are these misunderstandings, but neither the humans nor the chimpanzee understand across species," he said.
Dark comedy is fueled by these muddled conversations, he says.
While he is excited for the role, he is also terrified.
"The role is a gift, but I'm terrified because I have to be good enough to be worthy of it," he said.
His professional acting peers think he has the talent to pull it off.
Wilder, who is also the director of education for the National Conservatory of Dramatic Arts in D.C., received the Robert Prosky Award for Outstanding Lead Actor in a Play from the Helen Hayes Award, which honors excellence in professional theater throughout the Washington region. He received the award for his performance as Francis Henshall, a failed street musician, in 1st Stage Theater's production of "One Man, Two Guvnors" during its 2014-2015 season.
In addition to finishing its remaining shows in its 2016-2017 season, 1st Stage will also host its first national festival this year.
Through funding from the Arts Council of Fairfax County and the Reva & David Logan Foundation, 1st Stage will be hosting the Logan Festival of Solo Performance July 6-16.

"It's going to bring some of the nation's great solo performers from around the country into Tysons," Levy said. "We're just thrilled about that."