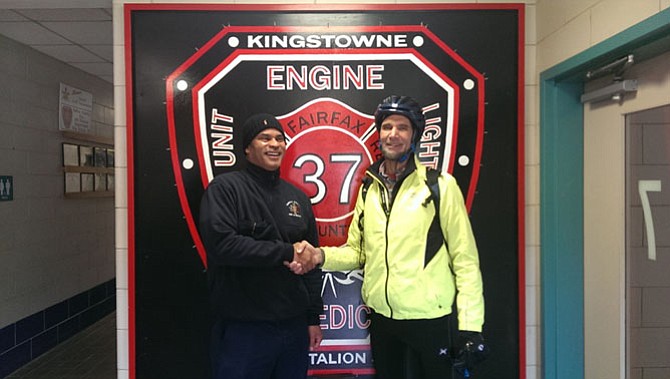 When Carlos Alfaro of the Woodlawn area of Mount Vernon showed up New Year's Eve morning at the Belle Haven Marina parking lot with his road bike, he didn't know what to expect. Neither did Supervisor Dan Storck (D-Mount Vernon), who organized the magisterial district-spanning group ride he advertised as "Tour de Mount Vernon."
"I wanted to get a ride in this year," Storck told a group of 20 to 30 riders, himself bundled up in several layers and a neon green high-visibility jacket. The objective, Storck said, was to tour some of the trails and roadways running through Mount Vernon District, and along the way discuss some of the near to distant development plans for the area.
Storck said at least 40 people had registered for the event through a website sent out by his office, though with the cold and the holiday weekend, he was uncertain of what attendance would be. Seeing the turnout, Storck said he couldn't have been happier.
Fitness watches beeping and gears clicking, riders departed from Belle Haven around 9:45 a.m. heading south on the trail along the George Washington Memorial Highway.
After following the curve at the entrance to George Washington's Mount Vernon estate, riders kept following the Mount Vernon Trail. Pausing after a particularly craggy stretch of paved path, Storck and half a dozen riders stopped and talked informally.
Storck said he was aware of that trail and others that could greatly benefit from repaving, which he may be able to assist with money available for road repairs.
The supervisor said having passable trails for bikes and foot traffic is incredibly important for not only neighbor-to-neighbor community-building, but also connecting what he called significant "cultural sites" for visitors, including the Mount Vernon Estate, the National Museum of the U.S. Army and Arcadia Farm on the historic Woodlawn Estate.
ARCADIA is already functioning as a demonstration farm and base for a veteran farmer training program. The Army Museum is still several years from opening but when completed will span 80 acres in the Fort Belvoir area and exhibit rare artifacts, documents and images, as well as an experiential learning center.
In addition to community members, Storck had invited a number of county staff and government officials on the ride to get a first-hand look at situations needing attention, like the rocky trail.
Bikers continued on to Jeff Todd Way, heading north to Telegraph Road and a mettle-challenging hill. At the top of the hill, however, volunteers were waiting at the Kingstowne Station 37 of Fairfax County Fire & Rescue with water bottles. The group took a brief break to warm up, use the bathroom and meet with station Captain Derrick Penny.
The group followed Telegraph southwest toward Lorton, eventually turning right on to Lorton Road after a brief jog on Richmond Highway.
They took Lorton Road past the work entrance for Liberty Crest at Laurel Hill, a $188 million project that's redeveloping former Lorton prison structures on 80 acres for residential and commercial use.
Bikers followed Lorton Road to a short jog on the Gerry Connolly Cross County Trail before continuing on Workhouse Road and taking the redone entrance to the Workhouse Arts Center in Lorton.
Staff from Storck's office and other volunteers were waiting outside the Workhouse's main building with hot chocolate, water bottles and energy bars.
Though the group had splintered somewhat during the ride, they reconvened at the Workhouse around 12:30 p.m., just over 20 miles pedaling from the starting point.
Alfaro said that despite the cold, the sun had come out and the ride was "totally worth it."
"I've lived in this area most all of my life," Alfaro said, "and it's the first time I've biked here."
Alfaro said it was the first time he'd explored this much of the county by bike and he was already looking forward to Storck's next tour.
Charlie Dyer of Fairfax Station is a member of the Fairfax Alliance for Better Bicycling and Potomac Pedalers organizations.
Dyer said he especially liked the new Lorton Road extension, which he called "pretty, and doable."
"I'm thrilled to see the redevelopment, or development, on this end of the county," Dyer said.
Loretta Trowen of West Springfield said she was similarly thrilled to see a supervisor take such an engaged approach with biking.
"I'm here to support someone who's supportive of biking," she said.
Like Alfaro, Cathy Miller of Fairfax, was excited to find some new routes for getting from Point A to Point B, and to get out and see friends on New Year's Eve. Miller is also a member of the Fairfax Alliance for Better Bicycling.
WITH 20 MILES IN THE BOOKS, some riders took alternate transportation back to Belle Haven while others continued on to different destinations.
Those remaining largely followed the same route back to the start point, completing just over 40 miles in the saddle.
Storck said again he was encouraged by the turnout, and intends to use this first Tour de Mount Vernon as a learning experience for engaging more of the community and scheduling more similar rides in the future.