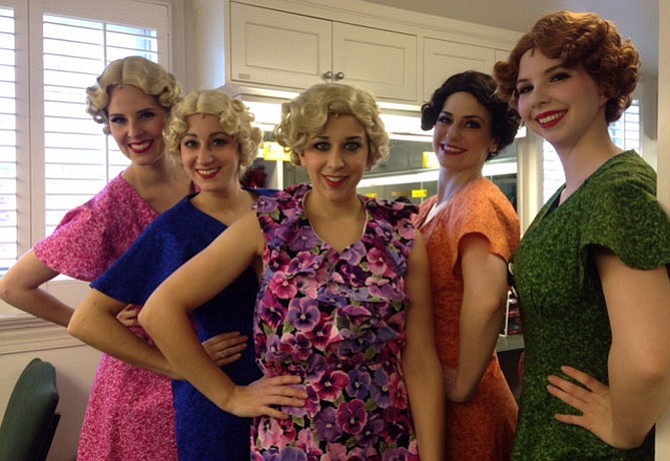 Alexandria — The Little Theatre of Alexandria (LTA) is staging Cole Porter's light-hearted, romantic comedy, "Anything Goes," from Jan. 14 to Feb. 4. The winner of three 2011 Tony Awards, including Best Revival of a Musical, the play takes sail between New York and England with a colorful group of passengers aboard a cruise liner.
Wall Street broker Billy Crocker finds himself in love with socialite Hope Harcourt, who is traveling with her drab fiancé Lord Evelyn Oakleigh. Before Billy knows what's happening, he is a stowaway. Luckily, the songstress Reno Sweeney and mobster Moonface Martin are there to help Billy sing and dance his way into Hope's heart.
Director/Choreographer Stefan Sittig said the plot is really no more than a slapstick excuse of a story created to help weave together some of the most beautiful Cole Porter songs ever written.
"The key is to ensure that the audience has fun, can follow the basic zany plot, can laugh at the comedy between the numbers, and can enjoy the music, the dancing (tap and otherwise), and be transported back in time to the 1930s with elegant and fun costumes, an appropriately nautical set, and beautiful lighting," he said.
Sittig is very familiar with Cole Porter as a performer, choreographer and as a director. He was in the 20th anniversary production of "Red, Hot & Cole" where the show first originated in 1978; he also choreographed two different productions of "Anything Goes" and choreographed and performed in two productions of "Kiss Me Kate."
"The key to understanding what makes 'Anything Goes' work is understanding Cole Porter.The way to understand Cole Porter is to delve as deeply as possible into his work, his background and his life. I knew that if I could understand what made him tick, then I could guide this show into a safe port," he said.
James Maxted plays the role of Sir Evelyn Oakleigh, a British Lord returning to England with his fiance, Miss Hope Harcourt in order to get married. "He's a slave of duty and obligation as a proper English gentlemen would be.But underneath his proper exterior is a passionate fellow with a fascination for all things American, especially their idioms," he said.
He said the biggest challenges were the number of lines and the British dialect. "The largest role I have had previously was as the emcee in Prince William Little Theatre's production of 'Cabaret.' But aside from a few monologues, the emcee's dialogue is all song.Not so with this part," he said. "Another challenge was with a British dialect is that most of the audience has grown up hearing a variety of British dialects in TV and movies. So any vowels that are shaped incorrectly, poor diction, or bad intonation can cause the audience to be disconnected from the character."
He added: "There is nothing serious about this show. Our director Stefan keeps reminding us that it isn't Chekhov or Brecht. It's pure escapism through into the wonderful world of Cole Porter's amazing music. And with all the turmoil in the world right now, people need a little escapism for a few hours."
Tori Garcia plays the role of Hope Harcourt, who is reserved when she's around her fiance and mother, and flirtatious and fun and allows herself to "let loose" when she's with Billy. "It's fun to bring her character to life from the script to the stage," she said.
She said one of the challenges was the difference in age. "As the youngest, I was worried about developing relationships within the cast. However, I found myself so comfortable with all of my scene partners and cast-mates. This is one of the most inclusive and friendly groups I've ever worked with in theatre, and I'm loving the rehearsal process so far," she said.
Actress Mara Stewart plays the role of Reno Sweeney, a former evangelist turned nightclub singer. "She is a confident extrovert who is always ready to put on a show.She is a loyal and kindhearted friend and her attraction to Evelyn takes her by surprise. Reno is often pursued by well-to-do men but there is something different about Evelyn. He is able to bring out a softer more romantic side of Reno," she said.
She said the music has been her biggest challenge. "I am working to stay true to the period but also bring in my own coloring and perspective to the music. The music ... is timeless and I am doing my best to honor Cole Porter in my interpretation," she said.
Ken Kemp is playing the role of Moonface Martin, who is "Public Enemy No. 13" and very insecure about his ranking. "He's a second rate con man and gangster, and a bit of a bumbler — his plans and schemes always seem to go awry. But he'll do anything to help bring Billy and Hope (and Reno and Sir Evelyn) together," he said.
"Moonface is the comic relief for the show, so finding the right timing and delivery for his lines — without going over the top — is the biggest challenge," he said. "Stefan Sittig, our director, has been a great help in finding the right rhythm and tempo for the comic timing. Also, finding the right Brooklynese/New Jersey 'wise guy' accent for him has been a fun challenge."
Music Director Francine Krasowska said they're not trying to make this production feel like an antique popped out of a time machine. "There are vocal sounds/placement and phrasing that are more suited to this jazz-age score than some of our actors might default to from experience in shows written in the last few decades. What works for 'Rocky Horror' or 'Legally Blonde' doesn't necessarily work for Cole Porter. We've had some fun playing with different ways to sing these songs," she said.
She added: "This is a lighthearted romp, and nothing in it is to be taken seriously. As we've moved through rehearsals, and some crew or assistants have seen the show for the first time, we've gotten plenty of laughs, so we're confident the audience will have a good time."
The Little Theatre of Alexandria is staging "Anything Goes" from Jan. 14 to Feb. 4. Tickets are $25 and $30. Show times are Wednesdays through Saturdays at 8 p.m.; and Sunday matinees at 3 p.m. The venue is located at 600 Wolfe St., Alexandria. Visit the website at www.thelittletheatre.com or call the box office at 703-683-0496.