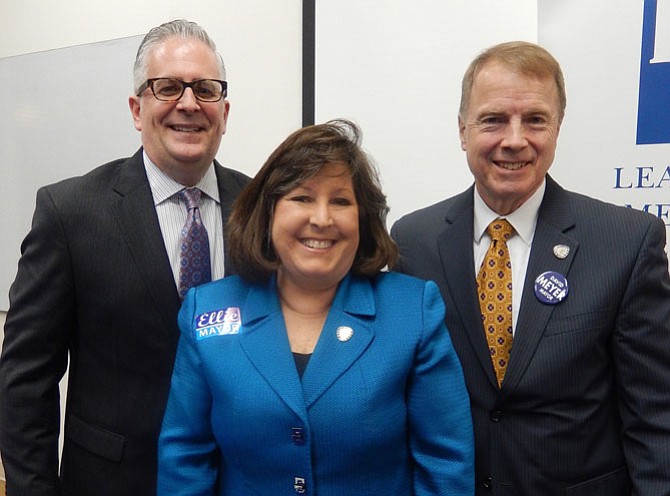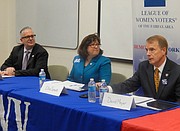 Fairfax City Council members Michael DeMarco, David Meyer and Ellie Schmidt each hope to become the new mayor on Feb. 7. Below are more of their answers to residents' questions during Monday night's candidates' forum:
Q: How would you attract businesses to the City?
Schmidt: "I'd work with the Economic Development Office and Authority and the Chamber of Commerce to attract and retain our businesses. We need to be a business-friendly environment. We already approved a technology zone and a façade-improvement plan and improved the downtown. And we need to work more closely with GMU because those students could be customers."
DeMarco: "I agree, but we need a three-pronged approach involving residential, retail and commercial. To attract the kinds of businesses we want so people can work where they live, we need branding to let people know we're business-friendly. There's $1 billion of untapped, retail business within a 3-mile radius of the City, and we need to work on our commercial centers to encourage people to spend their money here."
Meyer: "We need to design our communities and businesses together. The Inova facility on Gallows Road will see over $1 billion of investment and will be expanded substantially over the next 10 years. And the researchers, doctors and medical teams there also have private medical practices, so let's have them come into the City of Fairfax and have our City known regionally as a place where medical practices want to locate."
Q: How will you work with GMU to better integrate town and gown?
Meyer: "GMU is part of our community and a great asset. It represents the largest payroll in the central Fairfax area, and new faculty coming in has moved into the City limits. And we have open, public meetings with the university where residents can express their views."
Schmidt: "We work together on a number of matters, such as the CUE buses. The Mason Enterprise Center is a business incubator, and we hold a get-to-know-you picnic in August. But we need to take advantage of the entire GMU population and continue to work together and be good neighbors to each other."
DeMarco: "GMU is growing by leaps and bounds. The new Health and Human Services building there will create jobs, and we need to leverage that. And we need to help the Mason Enterprise Center incubate new businesses. We also need some attractions to draw students into Fairfax to spend their parents' money."
Q: Do you support the Rust Curve project?
DeMarco: "Yes, I supported it. That embankment and erosion on the right-hand side is so bad. Fixing it and the wall and the hill are the most expensive parts. The sidewalk will promote walkability and make it attractive."
Meyer: "I, too, supported it. There were a lot of heartfelt views about that project, and I believe safety is the overriding concern. All our infrastructure projects are costing more, but we have almost 100-percent surety that we'll get the funding needed [to complete this one]. This design, its engineering components and undergrounding of utilities will make it a nice project."
Schmidt: "I voted no; it's a steep hill and putting pedestrians there puts them in harm's way. And it has a big price tag, and we've not identified the full funding for it. We should repair the [existing] sidewalk and the erosion."
Q: What have you done to support Fairfax City schools?
Meyer: "I have a strong commitment to our schools. My wife teaches chemistry at Fairfax High. I got funding for a second late-bus there, and I'm proud of that accomplishment."
Schmidt: "I'm a product of the City schools. I'd continue to support our strong schools through the budget process."
DeMarco: "We rely on the School Board to help us manage the schools. It's half our City budget, and I support our schools. But I wonder if there's something we could do to improve the quality of education with less money?"
Q: What's the most important issue facing our City right now?
Schmidt: "The redevelopment projects. We need to make sure they fit in size and scale with their surrounding neighborhoods and don't adversely impact traffic. We have to evaluate each opportunity in light of how it impacts current residents and the future of the City."
DeMarco: "We need to rebuild our values around collaboration, problem-solving and decision-making with the community. We need to change the culture of how we govern in the City – embracing economic development to support the way of life we're use to, and our diverse population."
Meyer: "We're becoming an older and younger population at the same time. We have more students in our schools and the cost of education is growing. So we need to make the kinds of long-term investments that will keep us viable."
Q: Closing statements from each candidate:
DeMarco: "We must continue our steady progress with strong leadership; without change, there's no growth. We need to preserve our neighborhoods and retain our City's character. We also need to maintain our safe, healthy and secure environment to attract the next generation of residents and businesses. As mayor, I'll be attentive, thorough and diligent. Effective leadership is the only way to follow through on our promises."
Meyer: "I offer leadership focused on the future. I'll be honest and transparent and ensure that all voices will be heard for the public interest. And I will jumpstart Fairfax Circle and create a process for Northfax to complete our Comprehensive Plan. Our greatest asset is our residents, and we need to work on the big-ticket items together."
Schmidt: "I have a thoughtful, balanced approach on the Council and am visible, honest and approachable. I'm committed to inclusiveness with the community and my colleagues. I have experience in finance, strategic planning, leadership and communication and will participate in the community and listen to and involve you all."