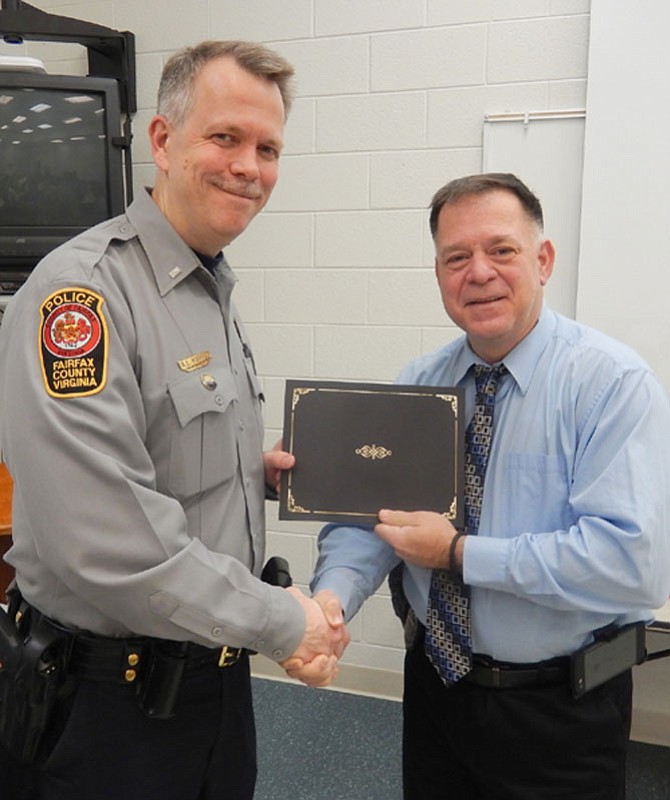 Centreville — Det. Steven Kitzerow has been selected as the Sully District Police Station's Officer of the Month for December. He was honored at the Jan. 11 meeting of the station's Citizens Advisory Committee.
Kitzerow has served Fairfax County residents for 34 years. His first 13 years were with the Sheriff's Office before he transferred to the Police Department in 1996. He came to the Sully District Station when it opened in May 2003 and has served as a detective with the Criminal Investigations Section for the past five years.

"He takes great pride in his work and makes every case personal," said Lt. Todd Kinkead, who heads the Criminal Investigations Section and wrote Kitzerow's recommendation for the award. "He gives his best to each and every matter, working to bring closure to each case and arrest those responsible for the crime."
One such case involved a series of vehicle larcenies. "A suspect was developed through exhaustive work and investigation," wrote Kinkead. "This suspect was believed to be involved with illegal narcotics, as well. Indicators existed at his home consistent with the distribution of large quantities of possible marijuana. Active tracking and physical surveillance supported Det. Kitzerow's working theory that this suspect was stealing from vehicles to supplement his earnings, in addition to the narcotics trafficking."
After the suspect was observed in the act of committing crimes, wrote Kinkead, warrants were obtained and a search warrant was issued for this person's residence. The suspect was arrested in his vehicle and the search warrant was served at his home shortly thereafter.
"Discovered in the home was over a half pound of marijuana, a stolen handgun, several knives, a large amount of cash, jewelry and watches," wrote Kinkead. "The suspect was charged in four cases, with additional charges likely pending further forensic evidence examinations."
"Another fine example of the dedicated and complete work that Det. Kitzerow is responsible for was a street-robbery case that occurred in the parking lot of the Dulles Expo Center during a recent International Gem and Jewelry Show," continued Kinkead. Noting that a vendor there was robbed of a large quantity of merchandise by two people, Kinkead said that Kitzerow partnered with federal investigators to develop leads and reached out to state and local law-enforcement agencies to further the case. And, he added, the detective's "hard work and tireless effort on the investigation has led to developing the identity of one of the two suspects already."
During the award presentation, Capt. Dean Lay, the station commander, said, "This is a dangerous felon involved in international, organized crime. Both people were looking for targets of opportunity and a high payoff."
"They stole over $1 million worth of jewelry from this guy," said 1st Lt. Alan Hanson, the assistant station commander. "They waited at least an hour for him to come outside after the show."
As for Kitzerow, wrote Kinkead, "To investigate any case to successful conclusion means diligent case work, detailed documentation and many hours spent in court to prosecute the crimes and bring closure for the victims. All of these steps take time and patience. Det. Kitzerow knows how to work through the many pitfalls of a case to ensure that justice is served for the citizens of Fairfax County and, specifically, the residents of the Sully District. He is a dedicated employee and is very deserving of the recognition as Officer of the Month."