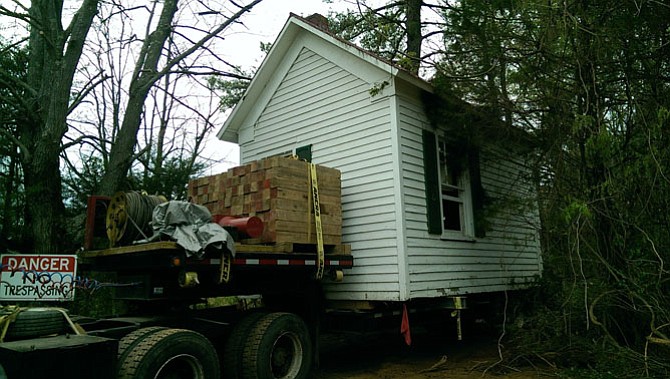 Burke — The Connection keeps a running list of land use projects being planned, under construction and nearing completion in the community. The list is updated quarterly.
Burke Junction — Intersection of Guinea Road and Zion Drive area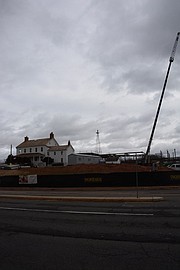 The developer has cleared land 17 single-family homes and a model home is constructed. Efforts to preserve the historical and environmental integrity of the site include the Potomac Chapter of the Virginia Native Plant society moving native plants to the site of a stormwater restoration project that was recently completed, as well as relocating the old post office that stood on the property to the grounds of the Silas Burke House.
Cherry Run Elementary School — 9732 Ironmaster Drive, Burke, VA 22015
A full renovation of the elementary school includes adding 21,000 square-feet and replacing an outdoor modular of eight classrooms for students with disabilities. The project will upgrade all spaces, music classrooms, art labs, multi-purpose spaces and spaces for specialists such as counselors that don't currently exist in the school.
Christopher at Kenilworth — Braddock Road near intersection with Dequincy Drive
Land clearing for a development of nine single-family homes is complete, with a large number of trees coming down. Houses are being constructed and actively sold.
Forest Ridge -- Lee Highway at Forest Hill Drive NV Homes is working with an approved site plan to build 40 single-family homes. The land has been cleared.
Giant Food at University Mall -- 10681 Braddock Road
The grocery anchor for University Mall is undergoing renovation that will increase the size of the existing store considerably, up to 58,000 square-feet.
Lake Royal Dredging — Northeast of Guinea Road and Zion Drive
The last of the area's lakes to be dredged, Royal's ten acres of dredged material will be more difficult to relocate than Woodglen Lake's five. Dredging is currently underway on the $6 million project. Most of the dredging has been completed on the lake side park portion; now the focus is on the park side. The work is on schedule, with negotiations now to dredge an additional 20,000 cubic yards of sediment. The completion date is still scheduled for June 26, 2017.
New Chick-fil-A — Burke Centre Shopping Center
Chick-fil-A is moving into a former bank building near the Burke Kohl's. Construction is expected to begin soon.
Five Guys Burgers and Fries -- Burke Centre Shopping Center
Five Guys will be located in a new structure currently being erected on the property once occupied by the Friendly's restaurant that was torn down.
Northern Virginia Training Center — 9901 Braddock Road
All residents of the former state-owned residence and treatment facility for individuals with disabilities were relocated as of March, 2016, though some were moved to group homes sitting on the site's 80-acre property. The Commonwealth of Virginia is in the process of selling the land and has been in contract negotiations with the preferred, yet unnamed corporate buyer since April 2016. Scant yard work has been done and some security monitoring is provided by the state, though there is also an agreement than the West Springfield District police station may patrol there.
Old Burke Lake Preserve — Old Burke Lake Road at Lake Braddock Secondary School
Two homes are being built on a three-lot subdivision, developed by-right.
New Popeyes — 9521 Braddock Road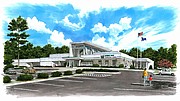 Popeyes fast food fried chicken is moving into the old Pizza Hut restaurant at Twinbrooke Centre. The move has been approved by the Board of Supervisors and Planning Commission and is in the site design and planning phase, which can take nine to 12 months or longer.
Silas Burke House — Along Burke Lake Road between Burke Centre Parkway and Shiplett Boulevard
Sunrise Senior Living is building an assisted living facility behind the Silas Burke House. At a date yet to be determined, the historic house will be joined on the top of the hill by the old post office from Burke Junction. Sunrise agreed to make repairs to the historic house, including improved foundation supports, new windows, roofing and interior work. The completion target date for the new facility is fall 2017. The old house will be made available to the public several times a year.
Townes at Burke Lake Crossing — 9537 Burke Lake Road
The developer has begun the process of clearing the site for Christopher Companies' planned 12 townhomes at the intersection of Burke Lake Rd. and Shiplett Blvd.
Woodglen Lake Dredging — Burke, Fairfax Station
The project began with fish relocation to Lake Accotink in November 2014 and is now complete. The contractor added vegetative plugs to the bottom of the lake that will support a new fish population. Over the summer 2016, the Department of Game and Inland Fisheries began restocking the lake with fish, the first in a three-year cycle. This year restocking will be done with different species. Work will continue for two more years.
Woodward property — Corner of Burke Lake Road and Coffer Wood Road
Christopher Companies has filed an application to develop 2.72 acres for nine single family homes around this intersection. Alternative proposed plans include entrances on Burke Lake Road and on Coffer Woods Road. The Planning Commission hearing has been pushed back to early March. The developer has been talking with the Burke Village homeowners association, as well as discussing traffic logistics with transportation officials.
Sources: Supervisor John Cook (R-Braddock) and land use aide, Supervisor Pat Herrity (R-Springfield) and land use aide, Supervisor Jeff McKay (D-Lee) and land use aide.