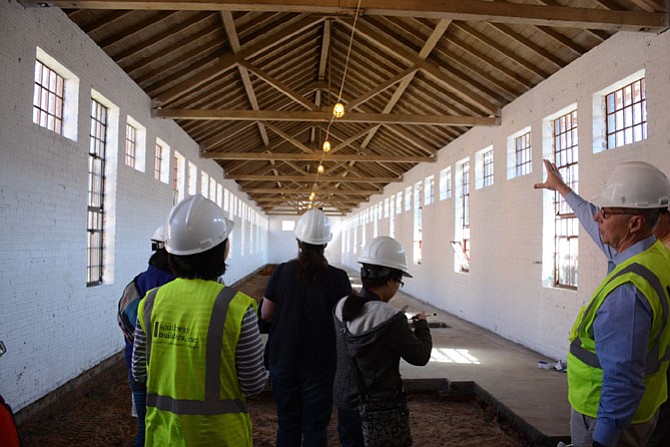 Fairfax Station — 1 Burke Lake Golf Course — 7315 Ox Road
2 Ox Road Estates — Adare Drive and Ox Road
3 Corbet Manor — Around 7717 Gambrill Road
4 Laurel Hill Adaptive Reuse Area — Liberty Crest at Laurel Hill 8400 Lorton Road
5 Springfield Town Center — 6500 Springfield Mall
6 Vulcan Materials Graham Quarry — 10000 Ox Road
7 Woodglen Lake Dredging — Southeast of Sideburn Run and Zion Drive
The Connection keeps a running list of land use projects being planned, under construction and nearing completion in the community. The list is updated quarterly.
Burke Lake Golf Course — 7315 Ox Road
A new clubhouse and expanded driving range and parking lot highlight upgrades to the Burke Lake Golf Course in Fairfax Station that's more than 40 years old. The clubhouse will be more than doubled in size to 4,000 square feet. Construction is underway, including work to make the driving range two stories. The driving range is expected to re-open by this summer, with the clubhouse following by October. The clubhouse remains open during construction.
Ox Road Estates — Adare Drive and Ox Road An infill project of ten single family homes is under construction.
Corbet Manor — Around 7717 Gambrill Road
Seven single-family homes by Christopher Companies are going into 4.5 acres of what were previously unconsolidated parcels of land. Construction began in July 2016. The model home is set to be completed by February.
Laurel Hill Adaptive Reuse Area — Liberty Crest at Laurel Hill 8400 Lorton Road
Phase I of transforming the 80-acre former reformatory property — scheduled to be completed in Spring 2017 — includes setting up 165 apartments in former prison cells and common spaces, building out 107 homes and modernizing the infrastructure. Phase II will add more apartments, condos and 110,000 square-feet of retail space.
Springfield Town Center 6500 Springfield Mall
New stores and restaurants are continuing to open in the 1.35 million square-foot revitalized shopping center. Later stages of redevelopment planning for the area include residential, office and hotel space -- the timing of which is all market-dictated.
Vulcan Materials Graham Quarry — 10000 Ox Road
Fairfax Water is planning to reconfigure the quarry as a reservoir in two phases: Phase I will establish storage of around 1.8 billion gallons 2035, while Phase II should add another 15 billion gallons of storage capacity by 2085.
Woodglen Lake Dredging — Southeast of Sideburn Run and Zion Drive
The project began with fish relocation to Lake Accotink in November 2014 and is now complete. The contractor added vegetative plugs to the bottom of the lake that will support a new fish population. Over the summer 2016, the Department of Game and Inland Fisheries began restocking the lake with fish, the first in a three-year cycle. This year restocking will be done with different species. Work will continue for two more years.
Dominion Power Substation -- Off Ox Road, near Roseland Drive
Dominion is planning to build a new security fence around the existing power substation. The action has been approved by the land use committee but hasn't yet come before the Fairfax County Planning Commission or Board of Supervisors.
Sources: Supervisor John Cook (R-Braddock) and land use aide, Supervisor Pat Herrity (R-Springfield) and land use aide, Supervisor Jeff McKay (D-Lee) and land use aide.