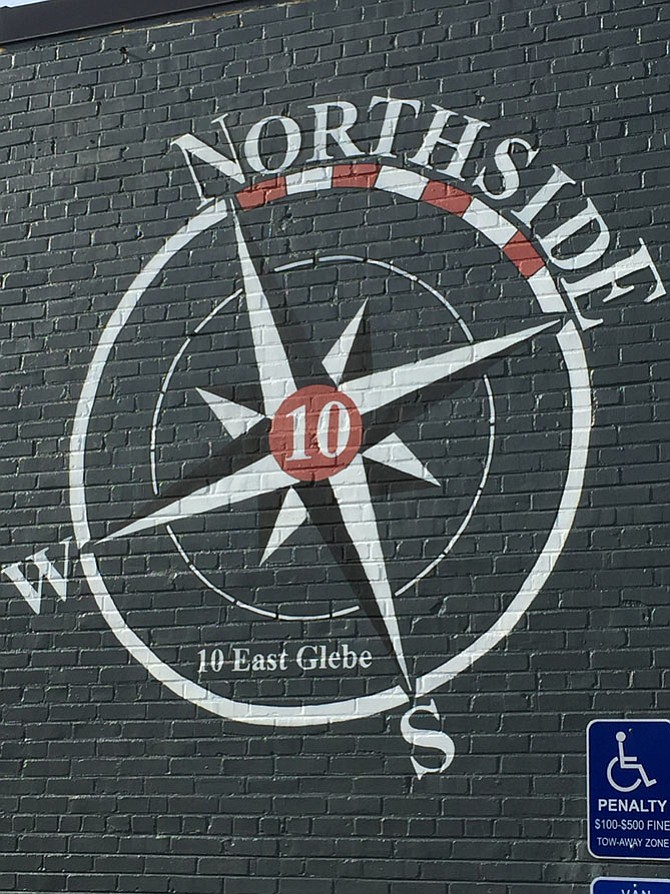 It's true: Being the kid brother of an older, wiser sibling is difficult at times. But in the case of Northside 10, the new venture from the owners of the two-decades-old Southside 815, the upstart is creating a narrative all its own.
The casual bar and grill, which opened on Jan. 16's Martin Luther King Jr. holiday, aims to become a fixture on East Glebe Road, smack dab between Del Ray and Arlandria.
"I just hope the neighborhood accepts us," co-owner Greg Dushaw said. "You're always concerned about the initial impression. We really want to give a good initial impression."
Located in the building that housed the venerable Chez Andree for decades, Northside 10 is a departure on what visitors to its predecessor have come to expect. Gone is the French menu; in is a more American take on brunch, lunch, and dinner fare. The dining room has enjoyed a facelift, as well, further adding to the transformation from past to present.
Those looking for familiar fare would do better to hark back across town to Southside 815. Don't expect Northside 10 to be a vast departure from its Old Town sibling, Dushaw says. While it will develop its own identity over time, the mainstays of the elder — a lively bar, a sense of community, and some beloved menu items — will transfer nicely to the new space.
"We really are trying to go for a neighborhood feel," Dushaw said. "Obviously, the chef (Southside's Teresa Keefer) — some of the dishes she's bringing over, the mac and cheese, the pulled pork, some others, are going to be the same."
And what's different from Southside?
"Location," Dushaw laughed. "This is a very diverse neighborhood. It's changing every day. I see more and more young couples pushing strollers every day. I mean, most of our kitchen staff lives within a few blocks of here. So it's a lot of stuff going on; it's a nice melting pot of different types of folks. So with that, we get our kitchen and our customers out of the same group."
And that kitchen will be turning out what Dushaw considers a smaller menu from the ones he's used to at Southside, but what would seem pretty expansive to many restaurant-goers. Among the highlights: The waygu flat iron steak, Dushaw says, served with marsala wine sauce and mashed potatoes. And to start off the meal, the short rib poutine is bound to get dinner off on the right foot. "That's delicious," Dushaw smiles.
To drink, a quick scope of the bar shows a bent toward local breweries — indeed, the majority of tap options are from the likes of Port City, Hardywood, and Caboose, among other local establishments. (Though Miller Lite and Guinness have kept their place in the canon.)
Perhaps as important as the food to Dushaw and his fellow business partners is the aspect of community. And Dushaw aims for Northside to be a good neighbor to its diverse customer base.
"We just want to be reliable, you can count on us," Dushaw said. "You know you're going to get good food, you know the price isn't going to punch you in the nose; you know the happy hour's going to be solid, we're going to be busy; and you will be listened to."
Hope Nelson owns and operates the Kitchen Recessionista blog, located at www.kitchenrecessionista.com. Email her any time at hope@kitchenrecessionista.com.
If You Go
Northside 10, 10 E. Glebe Road
Hours: 11:30 a.m.-midnight Monday-Friday; 10 a.m.-midnight Saturday-Sunday.
What's coming soon: "We're not going to have the specials right off the bat, but we will introduce a raw bar night," said co-owner Greg Dushaw.