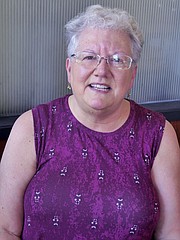 Dede Macekura is retiring after 19 years as a library administrative assistant at Gunston Middle School. She says despite the library's extensive collection of electronic books she thinks at least 50 percent of the students prefer a hard cover book. "In my observation, kids read more now. In my school there is much more emphasis on reading for literacy."
Macekura says in her first 10 years a class would read the same book like "The Outsiders." "Now there is more of an array for students to choose from. It's more interesting when you have a choice." She adds, "Also I think librarians discard the old dusty books and order more new and relevant books. For instance, we may have all of the Newbery winners but the 1940s cover isn't very appealing so kids won't pick it up.
"We have more realistic alternatives today although kids still like fantasy. And graphic novels are good for reluctant readers; just having comicky pictures helps them get through it. Sometimes it's hard work to get them to read." She adds they have pared down the non-fiction because almost all research is online. "In Arlington all students are issued an iPad in 2nd-8th grade and all students in 9th-12th are issued a laptop." She says you have to have rules on when they can be used. "For middle schoolers it is hard sometimes to remember that. But it can also be a good tool. Teachers and parents are grappling with the right balance."
Macekura says her four-hour shifts weren't easy. "It was hard work. I was always on my feet." She helped students find what they needed, shelved books, processed new books and repaired old ones. "I would cart books for a teacher who was studying a specific subject and wanted to have what the library had available on that subject."
Parental involvement has changed according to Macekura. "It used to be there were a lot more activist parents county-wide, activist in a good way. I just don't see that anymore. At a PTA meeting you might get a dozen parents. It is indicative of life today."
Macekura says she has seen four library software systems come and go in her 19 years." We finally have a good one that is more user friendly."
Her advice to a new library assistant is to be flexible. "Always remember kids are the reason we're here. My mantra is to treat kids the way I would want other adults to treat my kids. Sometimes there are difficult ones." She also says, "Read the books yourself. " She tries to read two middle school books to one adult book to balance it off. "This year I discovered a writer, Ruta Sepetys, who writes World War I fiction taking place in Europe. She has such a way with words. I kind of got captivated."
She says she feels great. "It was time to retire. The job had a steep learning curve for her in the beginning, and she says she had to get dressed to look like a human being in the morning. "But I just loved the kids and I love books. It was a perfect pairing. I looked forward to going to work every day."
She adds, "You do form attachments and it keeps you young." But she says there are so many other things to do. "I am tired of getting up at 5:30 a.m. The first thing I'm going to do is read the newspaper cover to cover with a cup of coffee."