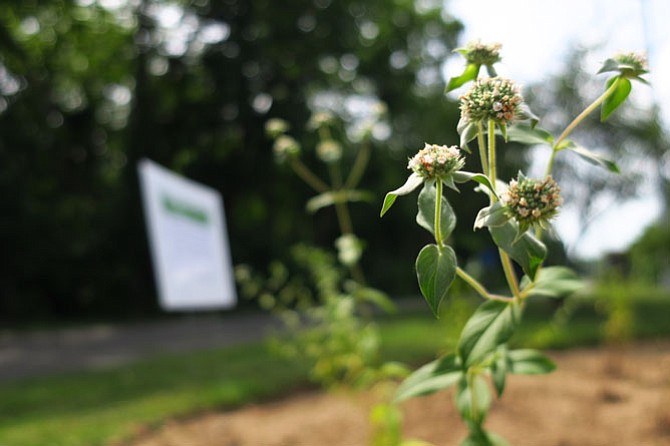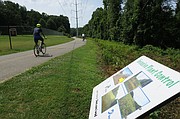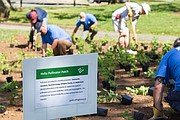 "Species that do well in disturbed areas are often invasive and colonial. If I can maintain an upland or lowland meadow and encourage native species to grow, everyone wins." — Andrew Cooney, Dominion Energy Forestry Expert
Web Resources
• To learn more about Arlington's conservation efforts, visit the Natural Arlington Blog at http://environmen...">environment.arlingtonva.us/category/natural-arlington
• For more information about volunteering and other ways to contribute go to http://environmen...">environment.arlingtonva.us/get-involved
• To find out more about Dominion Energy's conservation work along the W&OD, visit http://www.dom.co...">www.dom.com/wod.
This summer, Arlington's Parks and Natural Resources division is continuing efforts to reduce invasive plant species, encourage native plant growth and support area pollinators.
Most recently, in honor of National Pollinator Week, Arlington partnered with NOVA Parks and Dominion Energy to plant a pollinator patch at Bluemont Park.
"The goal of the pollinator patch we put in at Bluemont Park is that visitors will see the benefits of having a pollinator patch," said Andrew Cooney, Dominion Energy's forestry expert. "It will take most of the summer for the plants to get established. We've got to watch out for them since they will be drought stressed."
The Bluemont pollinator patch, which was planted on June 20 by volunteers from Dominion Energy and Arlington County, is also part of Arlington's efforts to increase the number of certified monarch butterfly waystations in the county.
"Monarch butterflies are the gateway insect for pollinators in general," said Alonso Abugattas, who is Arlington's natural resources manager.
According to Abugattas, Arlington is working towards becoming part of the leadership circle of the nonprofit Monarch Watch, which aims to create a network of monarch butterfly waystations across the country.
To encourage monarch butterflies to make use of the patch, Arlington and Dominion planted two different kinds of native milkweed plants, common milkweed and swamp milkweed. Dominion provided the swamp milkweed and Arlington provided the common milkweed.
According to Abugattas, it is essential to plant different species of milkweed to make the patch sustainable and certifiable.
"When you put a bunch of plants together [of the same species] then it's very easy for pests and parasites to take over," Abugattas said. "With multiple species, if you lose one you still have the other one."
The Bluemont pollinator patch is a small part of Arlington's ongoing efforts to improve its natural habitats. For native pollinators to thrive, invasive species must be systematically controlled.
"We have had a lot of success in managing invasive plants to a level that it can be controlled by staff and volunteers," said Sarah Archer, who is the natural resources specialist for Arlington's invasive species management plan. She added that they try to focus on "early detection and rapid response against plant species that could become a problem."
Walkers, joggers and bikers along the Arlington portion of the Washington and Old Dominion (W&OD) trail and the Four Mile Run trail are likely to have spotted signs indicating that invasive plant management is underway. These signs indicate that "chemical, mechanical or biocontrol methods are being used to control non-native plant species."
According to Abugattas and Archer, all of these methods are necessary to successfully eliminate invasive species.
"We've found that the targeted use of herbicides really can cut down on the physical labor and time needed to manage invasive plants," Archer said. "Sometimes the only way to manage them is with herbicides. We use chemicals certified to be used near waterways."
Abugattas added that while mechanical techniques such as pulling and mowing are the preferred method of control, these methods can cause issues when not paired with herbicide treatments.
"Pulling can sometimes just divide the plants which actually allows them to reattach somewhere else," Abugattas said. "The targeted use of the herbicides is a necessity."
For the most part, however, invasive species are controlled by volunteers who work with neither herbicides nor heavy machinery. The volunteer efforts, called RiP (Remove Invasive Plants) occur on Saturdays at various locations throughout the county.
According to Archer, Arlington is also exploring other methods of invasive plant control such as introducing insects or pathogens which feed off of invasive species, such as the mile-a-minute weevil, an insect which feeds exclusively on the mile-a-minute invasive weed.
Similarly, Dominion Energy is making a concerted effort to control invasive species and encourage native meadows to develop in the areas they steward.
"We've created 43,000 acres of pollinator and native species habitat," Cooney said. "We've been doing this as part of our business. It's the right thing to do not just for the pollinators but for other species."
According to Chuck Penn, media relations manager for Dominion Energy, the company is responsible for keeping the areas around transmission facilities and power lines clear. In addition to simply mowing these areas, Dominion has worked to reintroduce native pollinators.
"Not only [are we] keeping the rights of way safe for our employees but looking for ways to plant pollinators because of the crisis with pollinators," Penn said.
According to Cooney, planting native pollinators benefits both Dominion and local ecosystems because invasive plants are usually taller and harder to control than native species.
"Species that do well in disturbed areas are often invasive and colonial," Cooney said. "If I can maintain an upland or lowland meadow and encourage native species to grow, everyone wins."
Penn and Cooney added that they hope area residents will both see the impact of these efforts and be inspired to work towards a common goal.
"If more and more people replicate what [Cooney] has been doing it will make a difference," Penn said.
Archer and Abugattas expressed similar sentiments about the power residents have to make an impact.
"If you have a garden, something as simple as planting native species can help make your yard an expansion of what we are doing in the parks," Abugattas said.
"Most of the county is not parkland," Archer added. "We can make recommendations and suggestions, but ultimately we are in charge of only a small portion of the land that is out there. A lot of what we have is already compromised so we have to protect what we have left."