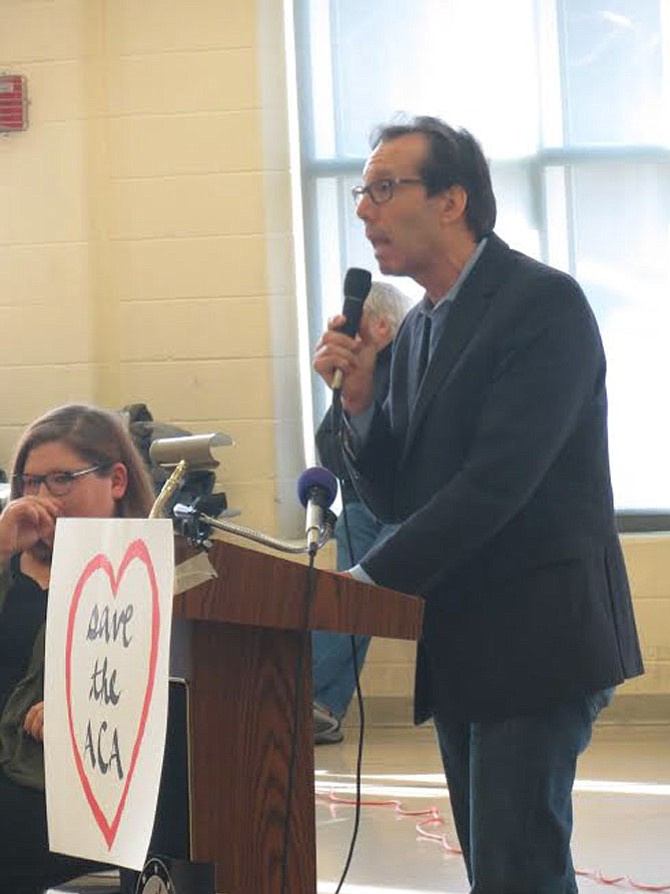 After 20 years on the County Board, Chair Jay Fisette gave his final State of the County address. At an event hosted by the Chamber of Commerce on June 28, Fisette spoke about the key changes and challenges Arlington County has faced since he joined the board in 1997 along with his recommendations for the next few years.
"The state of the county is really good. Arlington works," said Fisette. "It really, in my view, is an amazing place that we cannot, should not ever take for granted."
Fisette talked about the most notable changes seen in Arlington, citing a 20 percent population growth in the past 20 years and Arlington being added to the lists of "best places to live" and "most popular place for millennials." According to Fisette, 89 percent of residents expressed satisfaction with the county. Fisette attributed these changes to the willingness of the city and businesses to work together to continue to improve the county.
"There is nothing stagnant, the only constant is change," Fisette said.
Although there has been notable change, Fisette revealed some challenges that the county continues to face and will need to deal with in the next year. The big one, Fisette noted, is Metro. Localities throughout the Washington D.C. area have struggled with how to fund and maintain the Metro system to be able to provide steady service. Fisette said the current funding setup for the Metro is unsustainable and needs to be fixed, or the entire system faces collapse.
"There has to be new funding, and it has to be dedicated funding," said Fisette. "If we fail, many dominoes will fall."
Another issue Fisette touched on was the lack of affordable housing in the region. In the past few years, the county has invested close to $100 million into the affordable housing industry, but has only created 5,200 units of affordable housing. In fact, according to Fisette, the county has actually lost roughly 17,000 units of affordable housing.
According to the final 2016 annual report on affordable housing, the primary source of the affordable housing loss is the decline in market-rate affordable housing (MARKs). Between 2000 and 2016, MARKs affordable at up to 60 percent of the area median income has declined from over 20,000 in 2000 to around 3,000 in 2016. MARKs available at 80 percent of area median income have remained steady, while committed affordable units in the county have risen gradually from 4,000 to nearly 8,000 between 2000 and 2016.
Over the last year, Gina Wimpey from the office of Community Planning, Housing and Development, pointed to a few major housing projects underway. At Clarendon Court, Westover, and Culpepper, 381 total committed affordable units were acquired by the county for a total cost of $29.1 million. Two new projects have finished construction and are beginning leasing, adding 176 new committed affordable units. Four new development projects were approved that will yield a net $5.8 million in contributions to Arlington's affordable housing fund once built.
Fisette gave 10 recommendations on how to lead the county, but two recommendations seemed to be the most important. He claimed that the road to success for the county is policy and planning. According to Fisette, the county is currently guided by good policy.
"Continue long-term planning, doing things that make sense, that take time," Fisette said.
His number one recommendation though was for the county to continue to be a community for all. According to Fisette, that is the sure way to make things run smoothly.
"We need to maintain our commitment to be an inclusive, welcoming community," said Fisette. "We have to maintain our values, this is the soul. Without the soul, none of the rest works."
In an email exchange, Duke Banks, president of the Arlington County Civic Federation, added a few more issues he believes the county will face over the next few years.
"[There's an] ongoing debate about community facilities and realization there is no additional land to place needed facilities such as schools, parks, and other public services that is required for anticipated population growth," said Banks.
Over the last few years, many of the locations for new school sites have been located on green spaces and park land, prompting outcry from local communities facing disappearing open space.
Like Fisette, Banks said Metro is going to continue being one of the major issues for Arlington County.
"Concerning Metro, leadership is needed concerning advocating a new compact to address governance issues of Metro … coupled with finding a new revenue stream for Metro to do routine operation and maintenance," said Banks, also noting that the costs to the county will mean the County Board will have to reassess the budget. "We need to recognize that two of the major cost drivers to the operating budget are outside of the County Board's control — Metro contribution and the transfer to the School Board based on revenue sharing agreements between the county and the School Board …. Concerning schools, [we need] to find ways to cope with anticipated [rising] enrollment that is both cost effective and does not crowd out the needs of other public services, such as parks and public safety."