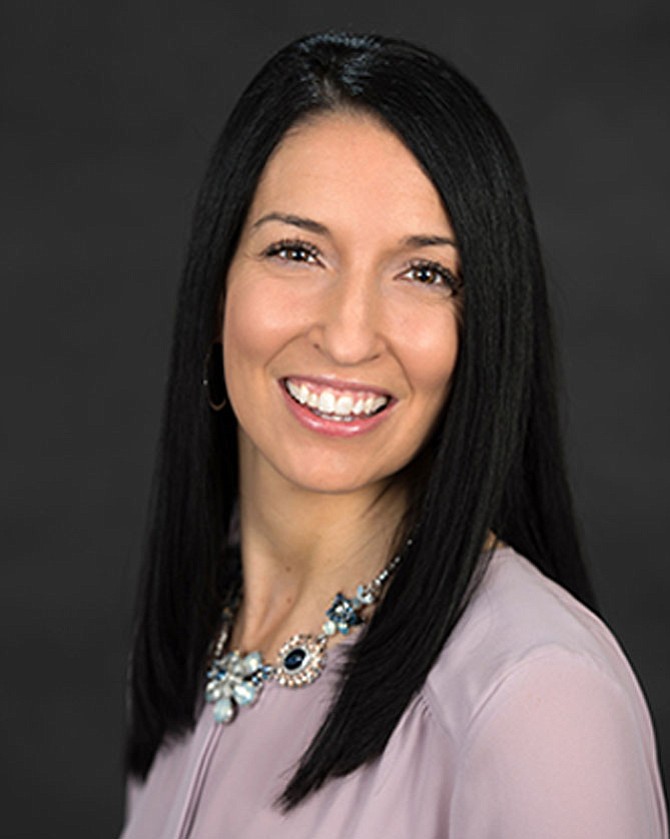 Jillian Bell, who teaches fifth grade at Brookfield Elementary School, has been named the 2017 Outstanding Elementary Teacher by Fairfax County Public Schools (FCPS). The announcement was made by FCPS Interim Superintendent Steve Lockard at FCPS Honors, a ceremony that recognizes the winners of FCPS employee awards.
Bell has learned over her 16 year teaching career that getting to know her students is the most important thing she can do as a teacher. Her first teaching job was in Albany, N.Y., at a Title 1 school, where 98 percent of students were eligible for free and reduced meals. Working with her teammates, they brainstormed ways to connect with their students and families, made home visits, communicated with parents, and provided them with encouragement and positive feedback. "I learned early on that I needed to reach before I could teach," she said. "Every year, a new set of students with a multitude of needs requires you to get to know them, how they learn best, and provide them with appropriate learning opportunities. This is no easy task and it takes a lot of time and effort that extends well beyond the school day and the walls of the school building."
Bell's efforts are appreciated by Sarah Kashef, now a student at Columbia University, who says that her teacher "taught me how to believe in myself. She always reminded me that I was capable and smart, and that with the power of education I could do anything while still being honest and empathetic. Kashef was new to Brookfield when she was assigned to Bell's class, unable to afford the extra opportunities that other students experienced, and felt insecure, apprehensive, and questioned her own abilities. "Ms. Bell believed in me, accepted me, and instilled this belief that I could change the world and I am more than my hardships," said Kashef. "She realized the potential of success in me, and gave me the support to succeed." Kashef ultimately became senior class president, leader of several student organizations, a peer counselor, and an activist.
Colleagues praise Bell for promoting a "culture of collegiality" at Brookfield and for being a true team player. Her ability to scaffold instruction — tailoring it to each child's needs — and encourage her students to be flexible thinkers while relating instruction to their interest or background knowledge, helps students become more engaged and have a deeper understanding of what they are learning. As a lead teacher mentor and host for student interns, Bell said, "I love working with interns and new teachers because they bring such a wealth of knowledge about the new and innovative ideas that I consider to be such a wonderful asset."
Bell serves as a Girls on the Run coach; co-sponsor of the Brookfield SCA that holds schoolwide community service projects; and a volunteer during the summer to support the school's bookmobile reading program, building literacy skills during the summer months.
Finalists for Outstanding Elementary Teacher include Abir Saah of Camelot Elementary School; Sean Gray of Dranesville Elementary School; Eli Tinkelman of Hollin Meadows Elementary School; and James Koontz of West Springfield Elementary School.