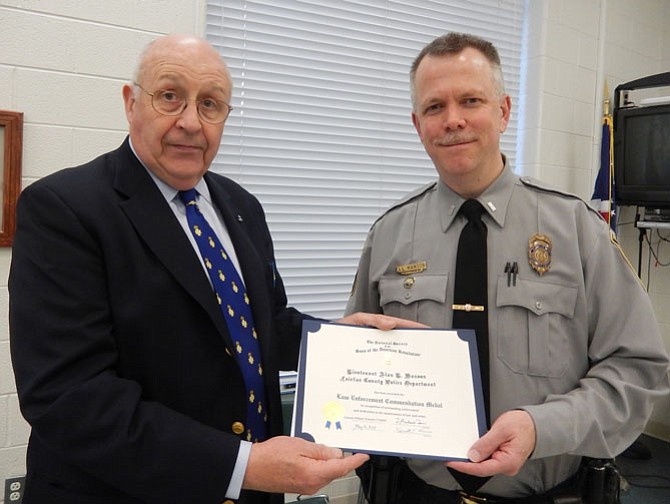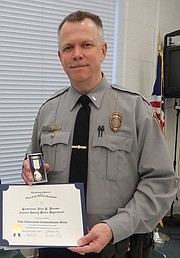 Many times, it's police Lt. Alan Hanson who presents the Sully District Station's Officer of the Month awards. But during a recent meeting of the station's Citizens Advisory Committee, he was the one being honored.
He received both a citation and a Law Enforcement Commendation Medal. The station commander, Capt. Dean Lay, nominated him for the recognition, and it was presented by Bill Collier of the Sons of the American Revolution.
"Our true, first line of defenders are our police, firefighters and EMTs," said Collier. He then read the citation aloud:
"Lt. Alan L. Hanson has distinguished himself by sustained, superior performance of duty while serving as the assistant commander for the Sully District Station of the Fairfax County Police Department. He consistently performs his myriad of duties and responsibilities with efficiency and enthusiasm, setting the example for his fellow police officers.
"Most noteworthy is Lt. Hanson's recent performance in collaboration with the country of Nigeria. He was selected to team with other police experts and regional universities to advance public safety models overseas. He studied how modern police practices in the United States could benefit local tactics, procedures and policies.
"As a result, his team developed a scenario-based curriculum to teach international police officials how to utilize de-escalation techniques to promote a culture of safety and mutual respect in community municipalities. The project was so successful that the Nigerian police force adopted their program for all ranks across the entire nation.
"Lt. Hanson was the lead ambassador for this institutional endeavor and received numerous accolades for his talents, professionalism and direct contribution. Lt. Hanson's performance of duty is a credit to the law enforcement profession, the Fairfax County Police Department, himself and the United States of America."