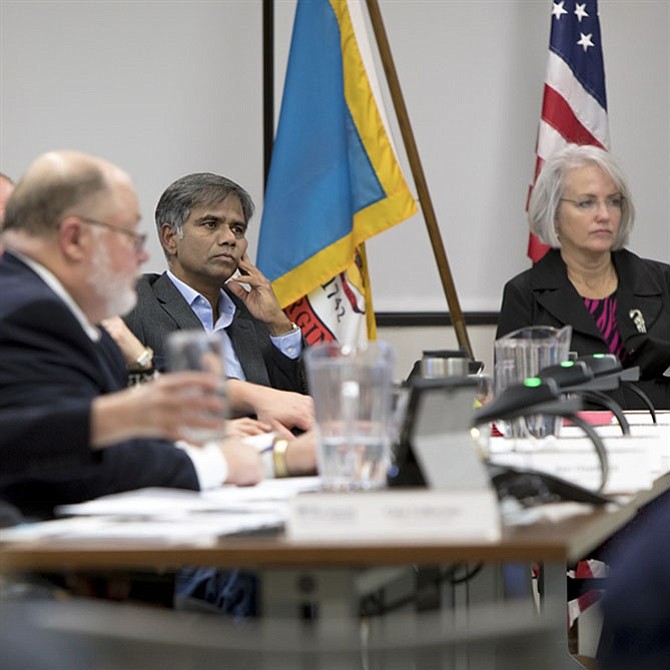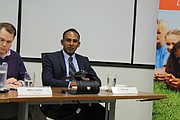 The Reston Association Board of Directors appointed Sridhar Ganesan to fill its vacant at-large director seat during its regular meeting on Thursday, June 22, with a vote of 6-1.
A month prior, Ganesan, CEO of Mediaworld Ventures, LLC and former president of the Reston Citizens Association, was appointed treasurer of the board on Thursday, May 25. This non-elected position was left vacant by former treasurer and North Point District Director Dannielle LaRosa, who resigned from her board seat in April and the treasurer position in June.
Ganesan's latest appointment as a board member comes after another resignation by former At-Large Director Eve Thompson, who vacated her seat on Tuesday, June 6.
Ven Iyer, who ran in the recent board election this spring for the at-large seat, asked the board to appoint him instead of Ganesan.
More Restonians turned out to vote for the RA's spring board election than in years past for the 11 candidates who ran for four open seats. By the time voting was completed on April 3, a total of 4,924 votes were cast.
THESE NUMBERS were announced to members during the RA's 2017 Annual Members Meeting on April 11, which were an increase of votes when compared to turnout of previous years:
· 2013: 2,722 votes cast
· 2014: 3,739 votes cast
· 2015: 3,542 votes cast
· 2016: 3,619 votes cast
· 2017: 4,924 votes cast
"This election happened only two short months ago," Iyer said at the meeting.
Though Iyer lost, he was the runner up for the seat, receiving 2,376 votes out of the 4,918 ballots cast for the seat, second only to Eric Carr, who won the election with 2,493 votes.
"For a board that made transparency and fair play its cornerstones after recent lessons learned, it would seem logical to appoint the recent candidate who came in a very close second in lieu of handpicking a candidate who either received fewer votes or is an outsider to the election," Iyer said at the meeting.
Iyer made his case to the board that it should be a democratically-elected person who should take over the seat.
"It is only fair … that Restonians will hear from you as to why or why not this should or should not be the case before you handpick a candidate who has either received fewer votes or is an outsider to the election," Iyer said at the meeting.
At-Large Director Ray Wedell agreed with Iyer that he should be considered for the seat in addition to Ganesan.
"We recently had a very competitive election—very recently," Wedell said during the meeting. "The people have already spoken. We had record turnout. Eric [Carr] is a slight winner over Ven [Iyer] … The people have already made their decision that they would rather have Ven."
Wedell said appointing other candidates to the seat would open the board to more ethics debacle.
"This is potentially opening it up to some charges of cronyism and everything else," Wedell said. "We don't need that. We don't have to have it."
Newly-elected Apartment Owners' Representative and Vice President David Bobzien agreed with Wedell that Ganesan and Iyer were both worthy candidates for the position.
"We want to be as democratic as possible, but … the board's going to make a decision," Bobzien said at the meeting. "There's not going to be another election."
Newly-elected North Point District Director John Mooney advocated for the board to fill the vacant seat by conducting a call for candidates in the name of consistency and precedent.
"In the last time we had vacancies, uncompleted terms … there was a call for candidates," Mooney said at the meeting.
South Lakes District Director Julie Bitzer agreed with Mooney in favoring a call for candidates over appointing anyone.
"I really do think that it's important that we continue with the precedent of an open call," Bitzer said at the meeting. "I think that it could be a very quick process. In 30 days, we can have a new member."
Newly-elected At-Large Director Eric Carr was concerned that a call for candidates could be viewed as a false sense of transparency by rushing the process since the board will be taking up budget debates soon.
"We're going to lose in the eyes of somebody, no matter what we do," Carr said at the meeting. "I'm persuaded to the idea of filling this now."
Newly-elected Hunters Woods/Dogwood District Director Victoria White was unsure of her position at the time of the debate, and At-Large Director and Secretary Michael Sanio was absent from the meeting.
LAKE ANNE/Tall Oaks District Director and President Sherri Hebert was clearly in favor of appointing Ganesan.
"I personally, going into a budget cycle … would like to see our treasurer have a vote," Hebert said during the meeting. "As we go to voting on things, and we're in a budget cycle, I think it's important that our treasurer have a vote."
Hebert also agreed with Wedell that the board should also consider Iyer, since he received so many votes in the spring election when there was only one at-large seat to fill.
With the support of four directors—Hebert, Carr, Wedell and Bobzien—against three—Bitzer, Mooney and White—a motion carried to fill the seat during the meeting by voting between Ganesan and Iyer.
Ganesan won the board's vote by 6-1, with Wedell the only member voting for Iyer.
Ganesan's appointment to the board seat will end in April 2019 when Thompson's original term was to expire.