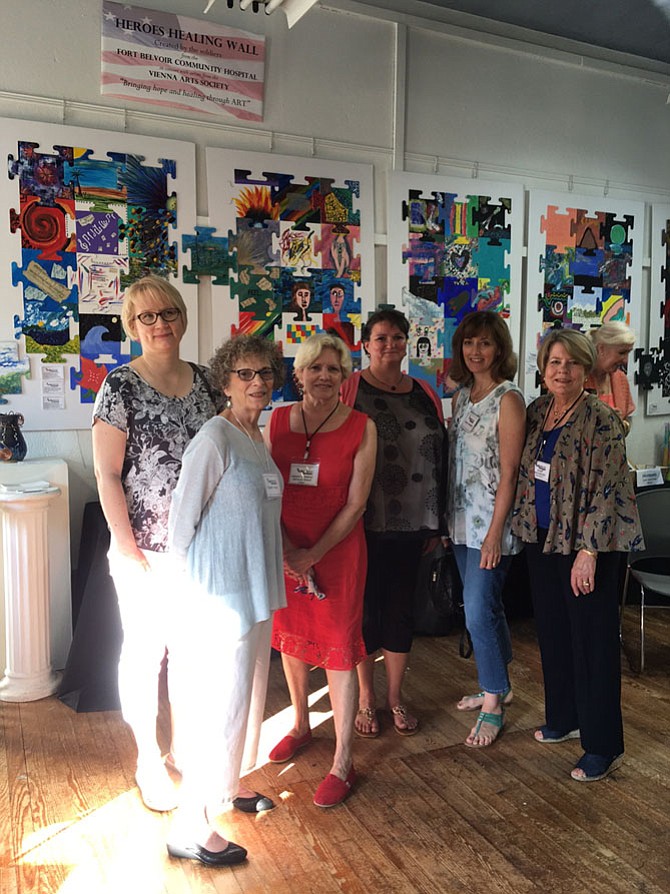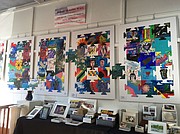 Four years ago, the Vienna Arts Society began an annual therapeutic art relationship with soldiers suffering from PTSD in crisis treatment at Fort Belvoir army hospital. Three volunteers, out of a cadre of 12 to 15 rotating artists dedicate their time, expertise, and compassion to make semi-monthly visits to the hospital where they share the means of expression that painting releases.
"Some of our troops go to awful places, and come back in an awful place," said Vienna Arts Society president Doré Skidmore, speaking to the guests celebrating the new July exhibition of the "healing wall." More than 25 supporters from the arts society and Fort Belvoir hospital came to the exhibit opening reception on Sunday, July 9.
The "healing wall" is made of puzzle pieces, each one painted by a Fort Belvoir PTSD patient. The pieces, like all puzzle pieces do, fit together, making the puzzle whole. No one is prodded to join the painting group; the artist volunteers are there to guide as needed. While most soldiers opt to contribute their finished artwork to the puzzle, occasionally, some elect to keep the piece.
The Vienna Arts Society artist volunteers bring the supplies the in-treatment troops need. Vienna's American Legion Post 180 funded the high-quality paints the soldiers use.
Artist volunteers are ready in a recreation setting during the morning social time and everything is organized for the troops and each participant has an opportunity to "practice" making a design on a card.
During the two-hour open painting session, participants may paint one or more puzzle pieces. VAS director Lu Cousins initiated the program when she came to the arts center. The program runs winter and spring every year and public funding support for the "healing wall" is welcomed.
"We're all in this together," said Skidmore.
The Healing Wall exhibit, at the Vienna Art Center 115 Pleasant St. NW, runs through Aug. 5. The gallery/studio is open to the public Tuesday through Saturday; call for hours, 703-319-3971.
To learn more about events and programs sponsored by the Vienna Arts Society, visit www.viennaartssociety.org.