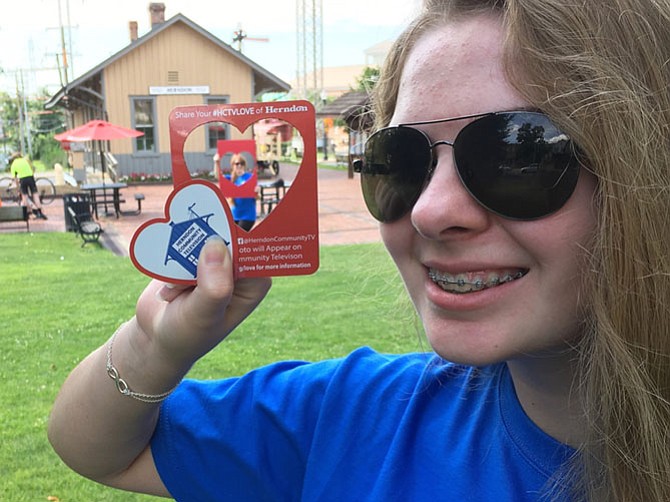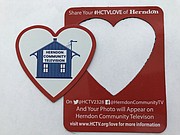 Although Herndon Community Television (HCTV) has actively engaged in social media for quite some time, after a year of planning, they are ready to harness even greater potential by connecting people, photos and information with their organization through their new outreach campaign named, "Share Your #HCTVLove of Herndon." The social media campaign is user-friendly and photo-centric.
According to Marsha Kerman, programming director at Herndon Community Television, the nonprofit organization will launch the campaign during the July 14 Friday Night Live! concert scheduled for 6:30-10 p.m. on the Herndon Town Green located at the Municipal Building, 777 Lynn St., in Historic Downtown Herndon.
HCTV staff and volunteers will be on hand Friday evening to explain the campaign. Posters displayed in local businesses throughout Herndon will also explain the campaign and be used to spread the word. Kerman said the objective is straightforward: participants post photos with the hashtag #HCTVLove of their favorite Herndon spots, themselves, or loved ones on their social media accounts, like Facebook and Twitter. HCTV will share what is happening in the community by incorporating recent posts into their televised "Bulletin Board" which runs between scheduled programs.

As a creative fun incentive and to reinforce the L-O-V-E theme, HCTV will distribute 400 photo frame magnets with a cutout heart shape in it. The free magnet can be picked up at the HCTV tent during the July 14 Friday Night Live! concert. Participants are encouraged to incorporate the magnet in their images Kerman said.

HCTV will also be promoting the campaign and distributing magnets at Arts Herndon's Third Thursday Arts Crawl, scheduled for the evening of Thursday, July 20, 6-9 p.m.

Herndon Community Television is a non-profit 501(c)(3) corporation that serves as the only public access station for the Town of Herndon. HCTV broadcasts more than 17 hours of daily non-commercial television programming consisting of a diverse line-up of original hyperlocal content paired with informative and entertaining programs from across the world. In addition to producing recurring series and covering local events, Herndon Community Television provides the civic function of live broadcasts for Town of Herndon Public Hearings. Viewers in the Town of Herndon, Fairfax County, and parts of Loudoun County can enjoy HCTV on Verizon FiOS Channel 28 and Cox Communication Channel 23. HCTV can be watched worldwide from a live stream via their website.

Herndon Community Television is primarily run by volunteers and is always looking for new members of the community to help grow their station and their programs. Individuals interested in obtaining more information or volunteering can contact HCTV's Executive Director, Nancy Rose, at hctv23@hctv.org or 703-689-2323.