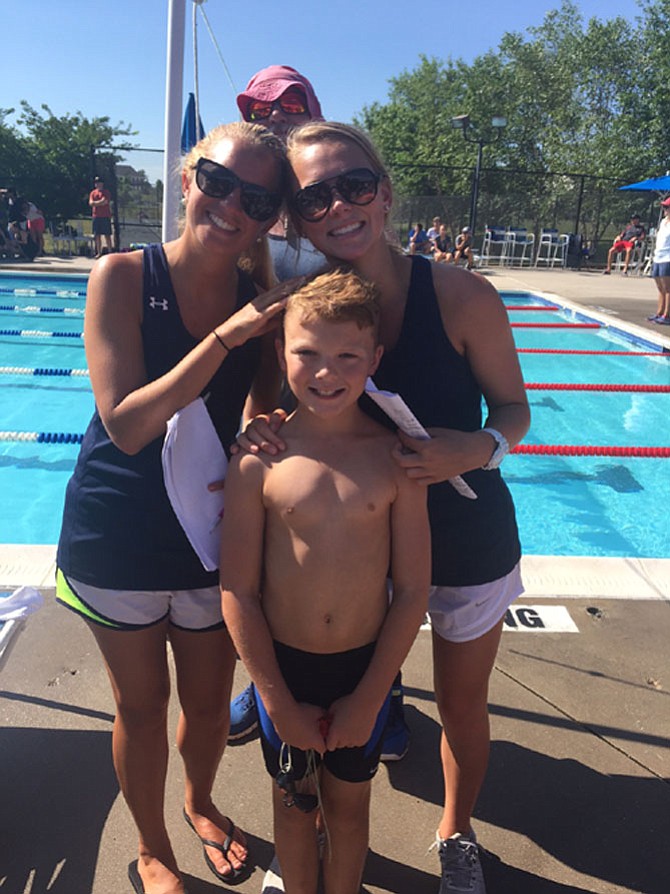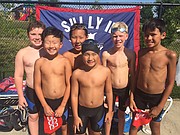 On July 8, the Sully Station II Piranhas traveled to Lorton to battle Laurel Hill in the third A meet of the summer season. Persevering though absences and illness, swimmers gave their all and fell just short by a score of 218-197. Highlights of the morning included three sweeps, five double event winners, five relay victories and several Piranhas swimming up and subbing in as true team players.
The 15-18 girls once again dominated their age group, with Karenna Hall and Delaney Kennedy leading the way with first place finishes in all individual events. The sweep in backstroke was completed with Carly Logan and Georgia Stamper touching second and third and also contributing points in freestyle and breaststroke. The girls had a blast during relay warmups and their fun approach combined with their evident skill resulted in a win by over 6.5 seconds.
Equally impressive were the 11-12 girls, led once again by double event winners Angela Cai and Caroline Li. Callie Ver Planck turned in two strong second place finishes in free and fly. Teammate Hayley Norris also secured second place in both back and breaststroke. With such depth, it was no surprise that the girls scorched the pool with a relay victory of over 8 seconds. As the lone representative for 11-12 boys, Ethan Wilson showed a lot of heart in capturing third place in breaststroke.
Eight-year-old Payton Susko captured two wins in free and back and anchored the relay win for her age group. Teammate Alyssa Seng led the fly sweep along with Grace Ver Planck and Mary Campbell. The girls also added crucial points in back and breaststroke and were encouraging team cheers throughout the meet.
Kellen Campbell brought home the win in 15-18 boys backstroke and the sweep in that event was completed by Colin Brown and Brantley Cervarich. Kellen combined with Max Morris to finish 2-3 in fly, while Harmon Saint Germain and Brody Campbell finished 1-2 in breaststroke and 2-3 in free. The 8&U boys relay of Gabriel Alquinta, Mark McLendon, Zacchaeus Post and Michael Zhang bested their opponents handily. Individually, Zhang and McLendon finished 1-2 in backstroke, Alquinta added a gutsy win in fly and Post captured second in breaststroke. Additionally, Zhang and Post combined to go 2-3 in freestyle for a thorough effort in the youngest age group.
Nine-year-old Jason Li bested Laurel Hill to take first in breaststroke and touched second in fly. Teammates Caden Seng and Bryan Kim added points for the 9-10 boys in breaststroke and free. Securing top three finishes for the 9-10 girls were Ehma Stalfort and Ella Ammons in free, Lilly Wilson in back, Stalfort in breaststroke, and Suzanna Walser in fly.
Strong swimmers in 13-14 boys included Harrison Saint Germain in free and breaststroke, Charles Tai in back, and Carson Saint Germain in fly. A standout performance was 13-year-old Madison Stalfort claiming second in both back and fly despite a painful inner ear infection. Grateful Piranhas were inspired when spectator and former teammate Dorothy Cervarich donned a bathing suit from the coach's car to scratch into the breaststroke event. It was a spontaneous decision and she was clutch in claiming second place on such short notice. More importantly, she demonstrated that once you are a Piranha, it is a part of you forever.
Sully II will host its first home A meet of the season next Saturday, July 15 against Canterbury Woods.