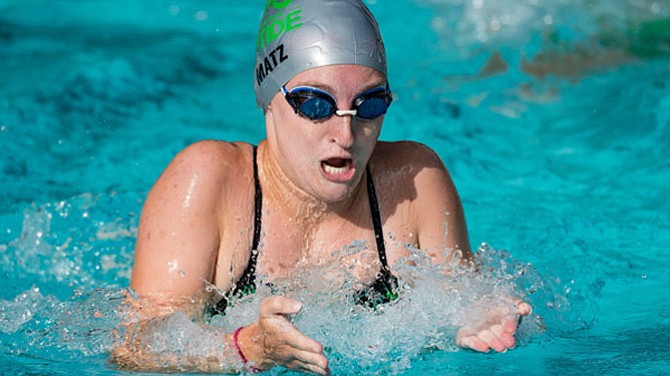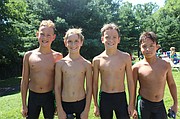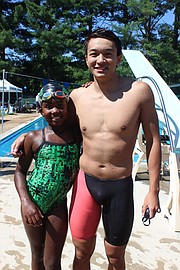 On a hot, humid July morning, when the crowd watching the meet was wishing they could jump in the practice pool, the Virginia Run Riptide traveled inside the Beltway to challenge the Lee Graham Dolphins. During a week when Charis Roundtree (8&UG) and Leo Wang (15-18B) set new team records and their teammates recorded 42 personal best times, the Riptide were nosed out by the Dolphins.
The always enthusiastic 8 & under swimmers swam with gusto as Nick Harris and Charis Roundtree won their freestyle races with Anna Kelliher capturing third with a new best time. The boys swept their backstroke race with Mason Conlon first, Tyler Harris second, and Ethan O'Connor third and the girls answered with Carson Coughlin first and Ann Kelliher third. In breaststroke Mason Conlon was second and Christopher Thomson was third, while Lauren Fitch swam for second. With a new team record in butterfly (17.85) Charis Roundtree maintained her undefeated season, with Caroline Friess taking second while Aidan Bange swam for a third for the 8&U boys fly.
Ryan Friess of the 9-10 boys swam two best times to take a first in free and a second in fly, while Davis Collinsworth swam to first in breast and second in back. Ginny Fitch ( 9-10 G) placed second in back and breast, with Angela Thomson gaining a second in fly. Earning those valuable third place points were Ryder Hicks and Alison Harkins in freestyle and Ashley Neuman in breaststroke.
For the 11-12's Jackson Blansett swam for first in free and second in fly. William Whitton took more than 1.5 seconds off his previous best backstroke time to win first, a feat repeated by Charles Beamon who took off more than 2.0 seconds to win breaststroke and 1.5 seconds off to place third in back. Griffin Osterhout swam for a second in breast and a third in fly. Isabel Cogan swam a personal best to win her breaststroke race and placed second in free. Caitlin Kelliher was second in back and fly, while Neha Srinivasan swam for third in breastroke.
The 13-14 squad worked hard for their points. Owen Thomas was first in back and third in free. Andrew Boyle was second in back, Kevin Wang was second in breast and Michael Hart third in breast. Maddie Whitton took a second in free and, swimming a personal best, took first in fly. Chelsea Nguyen swam for second in back and third in free, Alana Turflinger swam for second in breast and third in back, and Emily Jon swam for third in breaststroke.
Competition among the 15-18-year-old high school swimmers was intense. Leo Wang broke his own team record, winning the breast with a 29.31 and also placed second in the fly. Nick McGrath swam for second in free and breast. Meredith Matz won the breast by over 2 seconds. Didi Pace placed second in free and fly while Lauren Stovall swam for third in free.
As the heat of the morning intensified, the meet entered the relay stage. While the Dolphins won the majority of the races to lock up the win, the Riptide relay team kept many of the races close and will be swimming again this Wednesday when Virginia Run will be hosting the Division 4 Relay Carnival.