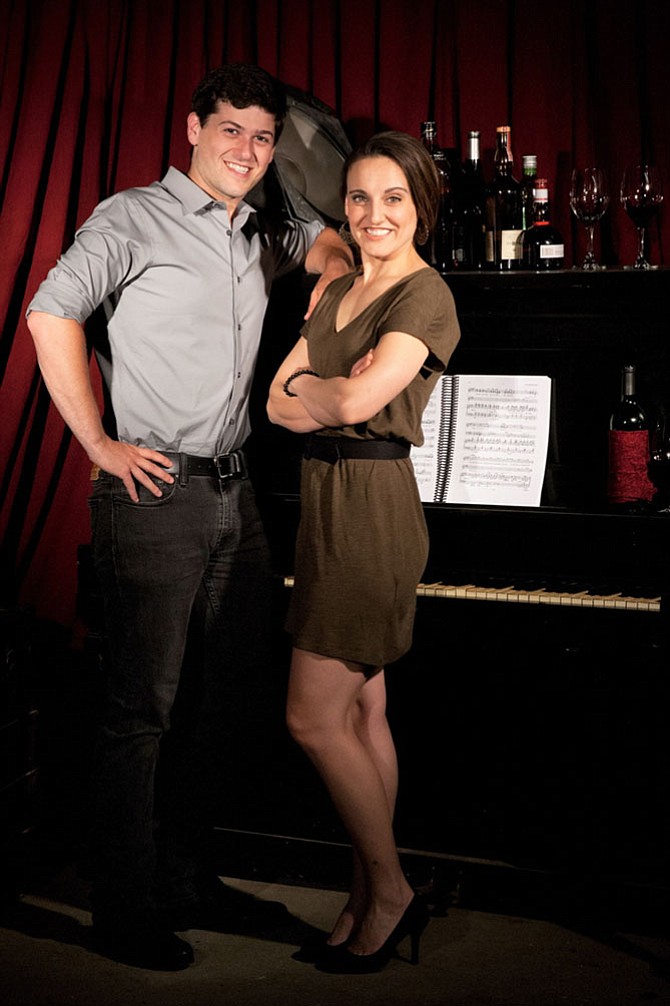 A cornucopia of musical standards of the American Songbook, but with fresh interpretations will
Where and When
NextStop Theatre presents "Rodgers & Hammerstein's A Grand Night for Singing" performed at 269 Sunset Park Drive (Inside the Sunset Business Park on Spring Street), Herndon. Performances: July 20 to Aug. 20 , 2017. Thursdays at 8 p.m.; Fridays at 8 p.m.; Saturdays – July 22 at 7 p.m., July 29 at 2 p.m. and 8 p.m., Aug. 5, 12, 19 at 8 p.m.; Sundays – July 23 at 2 p.m., Aug. 6 at 2 p.m., Aug. 13 and 20 at 8 p.m. Tickets $17.50 to $55. Call 866-811-4111 or visit www.nextstoptheat....
bring the joys of love to NextStop Theater audiences. It is "Rodgers & Hammerstein's A Grand Night for Singing" the initial offering for NextStop's 2017-18 season
The music of Richard Rodgers and Oscar Hammerstein II fueled major Broadway musicals for decades. NextStop will soar with nearly three dozen musical numbers in a special cabaret setting with patrons up-close to the performers. Under the direction of Michael Bobbitt, the songs have been "reimagined in funny, touching and unexpected ways; all for audience delight." said Bobbit.

In its 30 year history, first as Elden Street Players and now NextStop, there has not been a work by Rodgers and Hammerstein produced noted Evan Hoffmann, NextStop's artistic director. "What better way to start a new season, than with a musical that takes all of Rodgers and Hammerstein's most iconic songs and gives them clever and unexpected meanings?"
A musical revue, the production received several Tony Award nominations. It was originally conceived by Walter Bobbie, with arrangements by Fred Wells and orchestration by Michael Gibson and Jonathan Tunick. The music at NextStop will take off under the music direction of Northern Virginia favorite, Elisa Rosman.
Featuring songs that will leave patrons humming, "A Grand Night for Singing" includes memorable numbers like "If I Loved You ("Carousel"), "Everything is Up to Date in Kansas City" ("Oklahoma"), "Do I Love You Because You're Beautiful?" ("Cinderella"), "Honey Bun" ("South Pacific"). And of course, "It's a Grand Night for Singing" ("State Fair").
"You will be surprised at how many songs you know if you didn't think you would," said Bobbitt, "They are essential parts of our pop culture with fantastic music and lyrics; some of the best ever written."
The evening will feature the voice of Karen Vincent. She was Helen-Hayes Award nominated for her performance in Next Stop's "Kiss Me Kate." The production also features Matthew Kirsh, who received a Helen Hayes Award for NextStop's "Catch Me If You Can." They will be joined by Kathleen Riddle, Marquis White and Sarah Ann Silver.
Rodgers and Hammerstein's music and lyrics are never out-of-date; remaining deep parts of the Great American Songbook. "'Rodgers & Hammerstein's A Grand Night for Singing' speaks to the heart; whether you are young or older, even if you are less familiar with them from your own past," said Hoffmann.