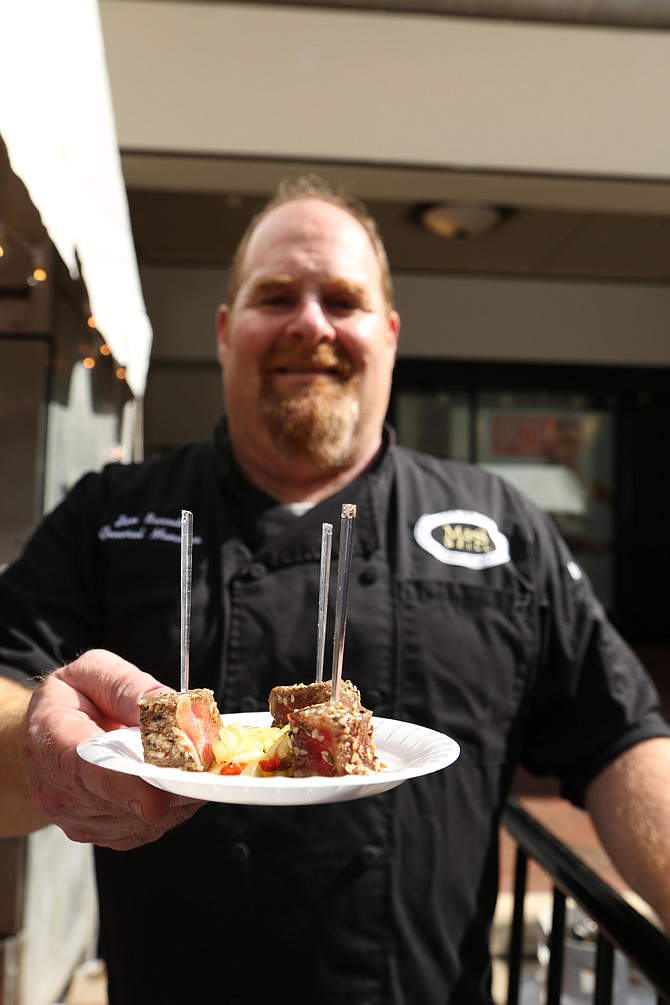 The 27th Annual Taste of Reston drew crowds to heart of the Reston Town Center to taste cuisine, imbibe spirits, listen to live music, try out wares and services from vendors, play in the Family Fun Zone! and watch cooking demonstrations from local chefs at the Wine 'n' Dine tent.
Produced by the Greater Reston Chamber of Commerce, the event took place Friday, June 16, and Saturday, June 17. Admission and parking for the event were free. Food tickets were $1 each, or $20 for 24 tickets.
"In past years, we've had upwards to 35,000 people come through in two days," Mark Ingrao, President and CEO of the Greater Reston Chamber of Commerce, said on the festival's second day. "I will say that the numbers were a little lighter than normal because of the weather yesterday, but it's pretty packed today."
The food festival helps promote the chamber's member businesses, but it's also an opportunity for the brands to give back to the Reston community, Ingrao said.
"It's an opportunity for businesses to get their name out in front of residents, but we look at it also as a community give back," he said. "We're doing this so the community has a great festival to go to right here in the town center."
The event is also a fundraiser, with a portion of the proceeds benefitting the INCspire Education Foundation, according to Ingrao. The nonprofit works closely with the chamber to provide training programs, education and mentoring to entrepreneurs and business owners.
"It's a great community event that people, year after year, look forward to," Charles Kapur, the chamber's chair of the board, said while donning a temporary tattoo on his cheek in the shape of a red lipstick kiss that was given to him by one of the festival's "Live Well" vendors, Mary Kay Cosmetics.
Taste of Reston was voted 2017 Best Food Festival in Northern Virginia by Virginia Living Magazine.
"We've got craft beer, we've got wine, we've got great food on the street, we have great vendors that want to showcase their businesses" Ingrao said.
THERE WERE 29 RESTAURANTS from the Greater Washington area that set up tents and sold small plates of their cuisine in the town center during the festival this year. "This is the most that we've had in our history," Ingrao said.
Three won the judges over and earned bragging rights for best dishes:
First: M & S Grill, ahi tuna pops

Second: Agora Restaurant, lamb chops

Third: Tavern 64 Regional Kitchen, smoked pork tacos
The judges were asked to score dishes for taste, smell, portion size and overall presentation, with the top three dishes taking home silver plates for first-, second- and third-place.
"This is awesome," Jim Barett from M & S Grill said after his dish won first place. "We love doing this every year and we try to do something unique each year," he said of his winning ahi tuna pops dish that were prepared with seared ahi tuna rolled in Chinese five-spice powder and black and white sesame seeds with Wakame cucumber salad and cilantro peanut sauce.
"We work our butts off, but it's fun," he added.