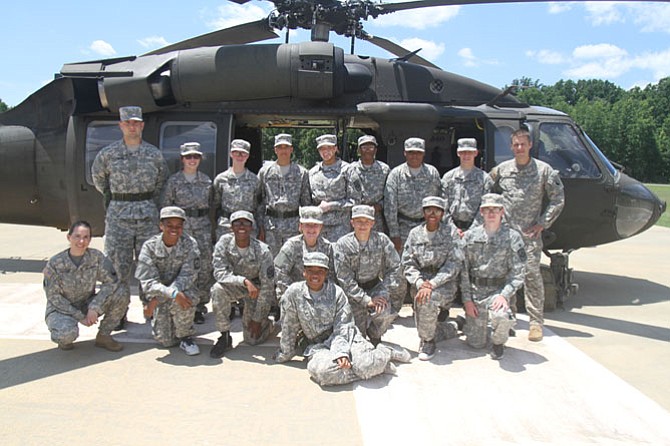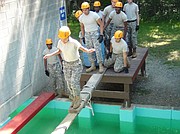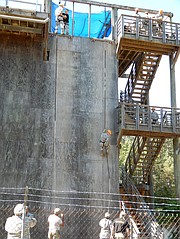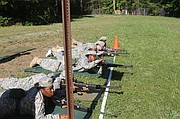 Army JROTC Cadets from T.C. Williams High School joined more than 500 other Cadets from across the region at the 2017 Army Junior Reserve Officers Training Corps Cadet Leadership Challenge at Virginia's Fort A.P. Hill.
The T.C. Cadets participated in JCLC's Camp Success from June 19-24 where they trained competitively with Cadets from 36 high schools from Virginia, Maryland and North Carolina.
Highlights of the six-day training period included a confidence course, rappelling, map reading, drill and ceremony and sporting activities. According to Col. Reginald Geary (ret.), T.C.'s senior Army instructor, team work, discipline and leadership skills are heavily emphasized.
The following 23 Cadets participated in this year's summer camp: Alicia Alfonso, Omar Alsunaini, Sherrod Baptiste, Amanda Barrancos, Roger Barrancos, Anias Ellison , Francis Flores, Delis Hernandez, Oliveira Larissa, Genesis Lopez, Guillermo Lozano, Eder Lemus, Jenifer Mejia, Muhammed Naveed, Alejandro Padilla, Maria Ponciano, Makia Rice, Kevin Rosales, Carla Saavedra, Daymond Savoy, Love Thomas, Divine Tsasa Nizita, and Hanna Yee.
Cadets receiving special recognition and in the top 10 percent included Amanda Barrancos, Delis Hernandez, Makia Rice and Hanna Yee.
Geary has been involved with JCLC for nine years and says Cadets tend to return to school with a renewed sense of purpose, focus and a better understanding of the JROTC citizenship program.