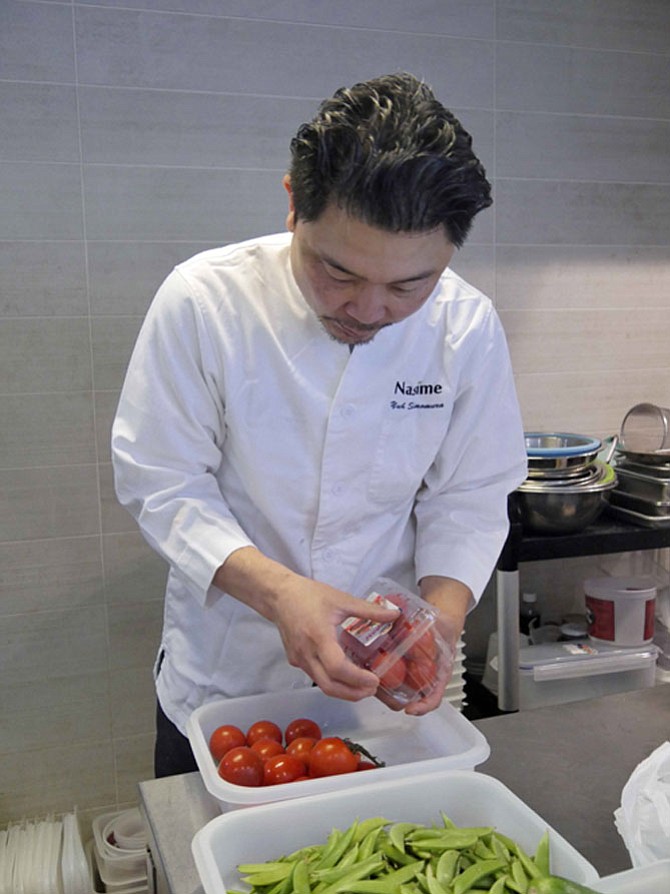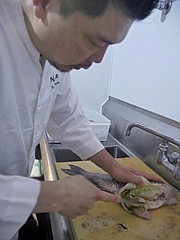 Yuh Shimomura scurries around the small kitchen putting a large pot of water on the burner to boil, plugging in the ice cream maker, setting out the bright red tomatoes, deep purple eggplant and snow peas.
The tomatoes will be plunged in the boiling water and quickly removed to peel off their skins more easily. Small pieces will be used to make the Dashi Gazpacho with Kobujime Scallop which is the Sakizuke or Amuse Dish. This is tonight's first course. The eggplant will be fried and the snow peas puréed.
Nasime on King Street serves a five-course Japanese tasting menu that changes each day. "I do it all myself," Shimomura said. "Preparation planning is very important. I only have a few hours." He is balancing the preparation of all the five courses at the same time.
Shimomura pulls out "about" a five-pound yellowtail and sets it on the counter. It will be today's Otsukuri (or raw dish) second course. He scales the fish, slices open the belly and discards the guts. Off with the head and tail which sometimes are used to make fish broth. Carefully he cuts smaller slices and slowly probes the filets with a pair of Japanese tweezers to remove small bones.
He pulls out a rectangular piece of konbu seaweed and places the fish in rows down the middle. After a drizzle of sake, he wraps the seaweed tightly around the yellowtail where the fish will cure for a few hours. He says the seaweed takes out the moisture and imparts a flavor. This sashimi, the most popular menu item, will be served along with soy sauce and wasabi.
Tokyo, Shimomura's home, is reflected in everything from the Japanese tableware to the traditional recipes and cooking techniques. "I didn't want to do fushion." Even though Shimomura uses American vegetables, he uses Asian methods. The concept of Japanese cuisine is "syun" which means "in season" so fiddlehead ferns have given way to asparagus and in the fall he will use a lot of mushrooms. "I always use the freshest ingredients." Shimomura says sometimes he goes to the Asian market and sometimes to the Farmer's Market. For his fish he says, "Sometimes I go to the market by myself and sometimes a distributor."
Shimomura has been in America a long time, he says. He went to Catholic University in 1993 and studied psychology. "It was interesting to learn but not so creative." He thought what he could do. "I just love eating, and cooking was my favorite thing." He says when he was growing up his dad loved to eat outside at different restaurants. "So I'm a pretty snobbish kid. I went to nice restaurants as a kid." After college he went back to Tokyo and trained to be a chef.
"In Japan you don't graduate that much. Many chefs believe you can only learn by experience, not lectures." He said he started as a dishwasher, which is the most typical way in Japan. But in Japan dishwasher doesn't mean the same thing. "You work 16 hours a day and everyone has to do everything including prep."
After returning to America, he worked in several restaurants downtown in D.C. and then in October 2016 he opened Nasime, a 20-seat Japanese restaurant. "I recommend reservations because if I have 20 reservations, I make for 25. If I have 30 people come, I have to say no because I don't want to do anything below my standards." He says with not much space, what he prepares today, he uses today.
His final course today will be Genmaicya and Red Bean Ice Cream made with powdered green tea, ricotta, and bean paste as well as heavy cream, half and half and egg yolk. Because temperatures are different, Ingredients are pulsed in the blender before freezing in the ice cream machine for 20-30 minutes.
Now back to the Cold Ramen Sesame Noodles. He will be prepping until the customers arrive for the first reservation at 6 p.m.