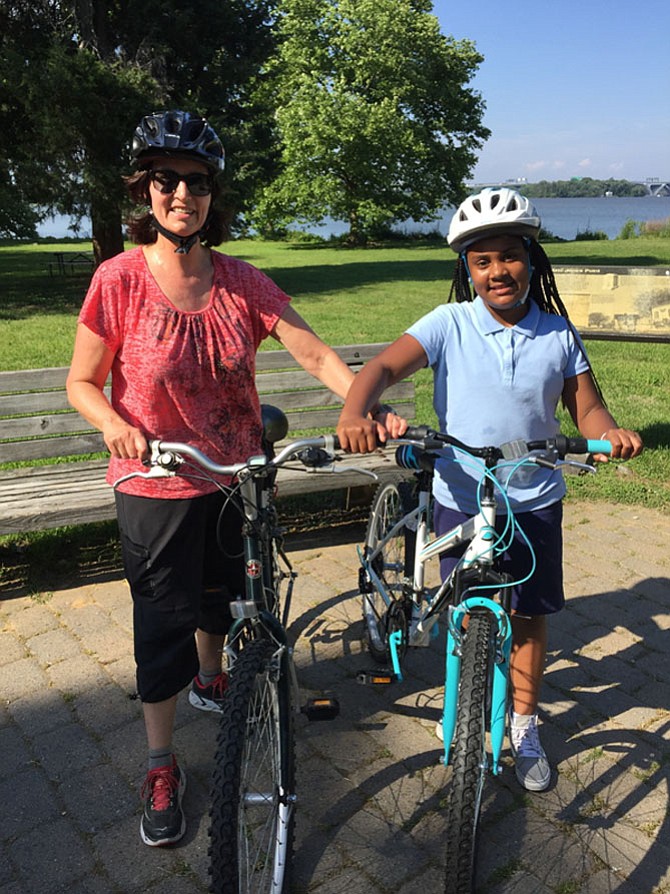 From the student, Erianna
My tutor and I meet every week to read fun stories. When I read I try to get most words and punctuation right. We build Legos and play with them and also play card games like "I Declare War" which I win. Sometimes we read outside and Ms Bev times me running when I need to take a break. Some of the books I've liked are by Roald Dahl, also Weird School and Zapato Power books and animal magazines.
My tutor and I sometimes do special things like go to the movies, ride bikes, eat ice cream and walk dogs. I also like all the Wright to Read activities like the picnic where we did a cake walk.
I have worked with my tutor for one year and four months and I have learned to take my time and to try my best. It's OK if I don't get all the words right but I have learned a lot of new words.
I think my tutor deserves to be Mentor of the Month because she is the best tutor I ever had and she teaches me stuff that I don't know about. She also supports me in my soccer and track.
From Tutor/Mentor, Bev Atkinson
My 11-year-old student Erianna has a very engaging personality, we enjoy teaching each other and have a lot of fun together. She was 9 when we started working together and through weekly tutoring, lots of conversation during car rides and activities we've done together, we have developed a relationship that allows us to work hard together to improve her reading and other academics areas. Erianna is excited to start middle school in the fall.
We work together each week on reading and writing and all sorts of literacy activities. Erianna is motivated by writing styles and subjects she finds engaging and by competition with herself. Her reading accuracy and endurance have improved enormously since we began.
Every few weeks we reward ourselves with a fun activity such as bike riding on the Mount Vernon trail, eating ice cream, going to the movies, walking my dog and swimming.
We have also enjoyed Wright to Read activities on a regular basis. Some of the most memorable have been an author reading, picnics, a planetarium show, a cooking activity, watching a professional basketball game and learning how to use the metro on our way there. My interaction with the Wright to Read staff and other mentors and parents has been very helpful and enjoyable for me.
Seeing Erianna gain confidence in her ability to read well and the sense of self-satisfaction gained by achieving her goals has been very rewarding for me.
Wright to Read is a member of the Alexandria Mentoring Partnership (AMP). AMP was created in 2006 to ensure that quality mentors and mentor programs are available for Alexandria's youth and young adults in need. To learn more about Wright to Read, visit: www.wrighttoread.org or to learn more about AMP, visit: http://www.alexandriava.gov/Mentoring.