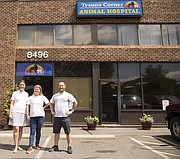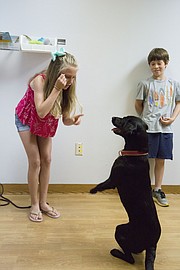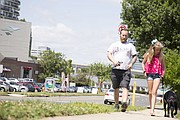 Quick Tips
KSR Pet Care Lead Trainer Kathryn Anwyll says:
Find a treat that your dog really enjoys. If they don't want the treat, they're not going to do the work.

Patience, patience, patience: The more frustrated you get, the more frustrated the dog is going to get. Stay calm because if you are yelling or angry, the dog is not going to want to work with you.

If you find the dog struggling to advance, take it back a step. Give a dog a treat for doing a generic sit and the dog will get more excited and want to push forward.

Make sure that you find the tools that work because every dog is different. However, no tool will do all of the work. They just make it easier. You have to actually keep up with the training.

It's not about you versus the dog. It's about you and the dog. You're developing a bond with the dog. You're trying to teach and have the dog work with you, not submit to you.
Dogs are known to be man's best friend, but many prefer to consider these furry companions as something more: True members of their family.
KSR Pet Care in McLean has been administering care for the community's four-legged family members since Nov. 17, 2008, offering at-home walking, training, sitting and taxi services for dogs and the rest of their clients' pets — cats, rodents, birds, reptiles and amphibians.
Since it began business, the company has expanded its service area, working with clients in McLean, Tysons Corner, Falls Church, Vienna, North Arlington, Merrifield, Dunn Loring, Fairfax and Oakton.
"We are starting to offer pet sitting services in Springfield, Annandale and Great Falls, too," Karen Rosenberg, the owner of the company, said. "We now have 25 employees."
ROSENBERG began working with dogs at the Virginia German Shepherd Rescue, an all-volunteer nonprofit organization that rescues, rehabilitates and rehomes German shepherds in the Virginia and Metropolitan Washington, D.C., area.
She and her husband also have several furry family members of their own: Cody, a Chihuahua; Jiffie, a yellow Labrador retriever; Lexie, a sable German shepherd; and Harry, a Russian blue mixed breed cat.
She was excited to announce that her growing company is now offering group training for those who need help acclimating their pooch to family life. Before, her company only offered private lessons.
Rosenberg and her trainers now hold hour-long dog training classes for up to five dogs at a time on Saturday mornings, excluding holiday weekends, from 10:30 to 11:30 a.m. at the Tyson's Corner Animal Hospital in the Tyson's Corner area of Vienna.
It costs $29 per class, with a minimum requirement to purchase three classes.
Rosenberg knew Dr. John Clifton, the hospital's veterinarian, who agreed to open up the second-floor of the hospital for her company's classes, which may take a different approach than other training options.
"Our philosophy comes from the understanding that nobody is perfect, including our dogs," Rosenberg said. "We sometimes see all the bad things and overlook what is going right. Hearing it from a professional with a tweak here or there and seeing the wood for the trees is sometimes all it takes to feeling good again as family companions. And therefore, it sometimes just takes one professional session to get you and your dogs on track to success again."
"It's not about creating the stereotypical 'perfect' dog, but the perfect dog for you and your family," she added.
On Saturday, July 8, two families showed up for training. The first family brought Molly, their black Labrador retriever mixed breed puppy, while the second family brought Xena, their German shepherd puppy — both brimming over with energy and a healthy appetite for treats.
THE FIRST HALF of class that day focused on one command: Stay.
"Stay means that you're going to come back to the dog, the dog should not come to you," Kathryn Anwyll, the company's lead trainer, said during the training. "Using your hand as a signal is also really important because it tells them in two ways," she said while raising her hand up to her chest in a stop hand signal. "If you change your voice," she said in a higher pitch, "they may not know what you mean, so it reinforces the command."
Steve Kowalski, the company's assistant trainer, also helped teach the class and fitted Molly with a gentle leader, a head collar that fits securely over the dog's snout. The dog was experiencing some anxiety while walking when the class went outdoors to the sidewalk to work on walking on leash.
"It's all about face control," Anwyll said. "Dogs like to sniff stuff and wander. [Gentle leaders] control the leader, which is the face. With an anxious dog, a lot of it is confidence building. You're constantly reassuring them. A dog just wants to please you and the more reinforcement you give, the more confident they'll be."
Xena, on the other hand, was using a slip lead, which is similar to the traditional flat leash, but instead of a clip, it has a metal ring on one end to form a loop that slips over the dog's head. Pulling on the handle tightens the loop around the dog's neck, making it uncomfortable for the dog to tug and pull.
"Every dog responds differently to different tools," Anwyll said, describing her training style as collaborative.
"It's not about you versus the dog," she said. "It's about you and the dog. You're developing a bond with the dog. You're trying to teach and have the dog work with you, which is kind of a newer approach to training."
She says her style is different from other approaches.
"You see some other trainers who are pushing a dog down and saying, 'Submit, submit, submit,'" she said. "We want them to be happy. We want them to want to work with you. We want them to be less anxious and fearful of you. Down the road, that anxiety is just going to build and build, so making them happy, content, relaxed is the most important part."
Visit www.ksrpetcare.com. Email info@ksrpetcare.com for more on classes.