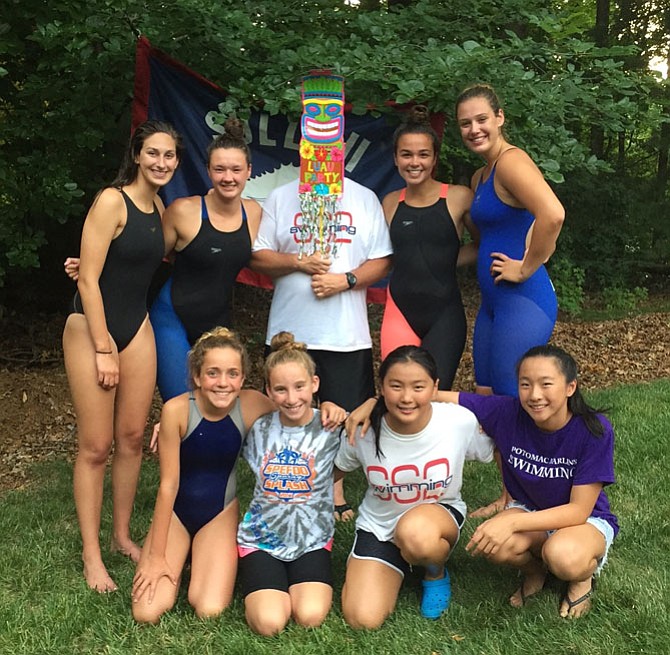 The Sully Station II Piranhas enjoyed a busy week beginning with their final B meet of the season on Monday, July 10 followed by the Relay Carnival two days later. The 15-18 girls squad of Carly Logan, Georgia Stamper, Delaney Kennedy and Karenna Hall led the way with dominating wins by over 8 seconds in the medley and more than 4 seconds in the freestyle relay. The 11-12 girls combined the talents of Caroline Li, Cecilia Alquinta, Callie Ver Planck, Angela Cai, and Hayley Norris to claim first in the free and second in the medley.
Strong 8&U girls turned in two second place finishes with Grace Ver Planck, Mary Campbell, Alyssa Seng, and Payton Susko. The mixed age girls free relay finished second by .55 seconds with teammates Cai, Ehma Stalfort, Faith Alston, and Hall. The 15-18 boys relay of Harmon Saint Germain, Max Morris, Brody Campbell and Kellen Campbell touched second in free and third in medley. Additional third place finishers included 9-10 girls Keilyn Argueta, Ella Ammons, Hannah Kang, and Ehma Stalfort as well as 8&U boys Gabriel Alquinta, Mark McLendon, Michael Zhang, and Zacchaeus Post.
SS2 hosted their first home A meet of the season on Saturday, July 15 against Canterbury Woods. In their most competitive matchup of the season, the Piranhas counted seven double event winners including Jason Li, Caroline Li, Angela Cai, Madison Stalfort, Faith Alston, Delaney Kennedy and Georgia Stamper. Stamper led the sweep of the 15-18 girls breaststroke along with Ally Introne and Hope Alston. The 9-10 boys similarly swept the butterfly with Li, Emerson Saint Germain, and Bryan Kim.
Piranhas ruled the freestyle events, as Michael Zhang, Collin West and Harrison Saint Germain all brought home additional wins. Kellen Campbell secured first in backstroke and individual points were also added by Zacchaeus Post, Payton Susko, Ehma Stalfort, Ella Ammons, Cecilia Alquinta, Mark McLendon, Caden Seng, Elijah Post, Lilly Wilson, Simon Campbell, Charles Tai, Callie Ver Planck, Carly Logan, Carson Saint Germain, Alyssa Seng, Hannah Kang, Hayley Norris, Harmon Saint Germain, Brody Campbell, Collin West, Grace Ver Planck, and Max Morris. Special highlights of the meet were Jason Li's performance in winning breaststroke by .4 seconds and SuperTeam swimmer Connor Pond who came through with a best time in freestyle in his first A meet appearance. The 5-year old earned some of the biggest cheers of the morning with his effort.
The special week concluded with Family Fun Night, featuring the watermelon races, diving for quarters, and belly flop contest. The Piranhas will host Rolling Forest on Saturday, July 22 for the final A meet of the season where Sully II seniors will be honored.