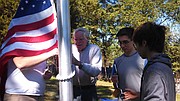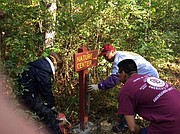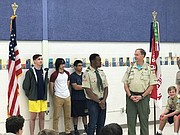 Eagle Scout is the highest advancement rank in the Boy Scouts of America. Troop 991 of Springfield recently advanced its 100th Scout to the rank of Eagle. To appreciate the significance of a Troop advancing 100 boys to Eagle Scout here are some pertinent facts that apply to all boys earning this distinction. There are seven ranks with Eagle being the highest rank. Not every Boy Scout attains the rank of Eagle, the national average is about 5 percent of all Boy Scouts. But those who have become Eagle Scouts in the past century have gone on to become Olympians, surgeons, civil rights leaders, Pulitzer Prize winners, and paragons of business.
At Troop 991, scouts progress at their own pace as they pass specific requirements and merit badges that reinforce the aims of scouting. To attain the rank of Eagle Scout, boys must fulfill additional requirements in the areas of leadership, service and outdoor skills.
Recently Nick Williams and Avery Higgins earned the rank of Eagle Scout to make numbers 99 and 100 Eagle Scouts for the Troop. Nick just finished his freshman year at Longwood University and Avery just finished his freshman year at James Madison University where he is in the computer science program.
When asked what the Boy Scouts did to help set him up for success Nick said, "They gave me a lot of principles to live by…" And when asked what do you remember most about Boy Scouts he said, "The friends I've made and the adventures we've had. Whether it be camping or doing a day trip, white water rafting – just having fun. Another thing that comes to mind is the service we've done and how we've helped people."
Avery said the Boys Scouts helped him with getting organized and being ready to undertake tasks. He said for example, "I feel a lot more comfortable now with things like planning a meal and grocery shopping." Avery's most fun memory was one year at summer camp with Nick, David, Ronal and others who took pottery class together. "It was a lot of fun because we all got to hang out together and we were just making pottery and it was very relaxing. I wasn't ever any good at pottery, but it wasn't about making pottery, it was about friendships."
Avery's message to those considering Boy Scouts is, "I got a lot out of Boy Scouts. You don't have to go in worrying about if you will do well. All you have to do is put yourself out there, try and have fun and along the way you will be successful."
THE NEXT TWO Eagle Scouts from Troop 991 are finishing their senior years at Lake Braddock Secondary School. Eagle numbers 101 and 102 are David Cho who is interested in pursuing a career in the medical field and Ronal Mitchell who is accepted to the Engineering Program at Old Dominion University.
When asked what he liked the most about Boy Scouts, David said, "I got to make a lot of connections with a lot of new people and I got to learn things I wouldn't have learned from the average school setting." He went on to say that he learned many practical things from earning the merit badges such as personal fitness, personal finance, cooking and first aid.
Ronal reinforced this point when asked what the Boy Scouts do to set you up for success he said, "It will teach you a lot of great skills that school doesn't emphasize." When asked what he is looking forward to in Boy Scouts he said, "Seeing the new Boy Scouts grow and achieve."
Scoutmaster Bill Mitchell has been leading Troop 991 since 2011. He has been a Cub Scout and Boy Scout Leader for 12 years, having served as Assistant Den Leader, Cubmaster, Assistant Scoutmaster, and Unit Commissioner. He is the recipient of numerous awards.
When asked what is his proudest memory he said, "That's hard to say. Among the top was last fall when one of our patrols won first place at the camporee against about 15 other boy patrols."
TROOP 991 is over 50 years old and is chartered by Ravensworth Elementary School's PTA. It is a boy led troop with 16 boys who all participate regularly. Nine have received leadership training and either are performing or have performed in leadership positions. There are trained adult mentors and the ratio is one adult to every four boys. To learn more about Scouting or to contact Troop 991 enter zip code 22150 at beascout.scouting.org/Why_Scouting/BoyScout.aspx.
Ed Haggerty, Assistant Scoutmaster and a retired Marine, has been with Troop 991 for three years and loves it.