Mount Vernon — With a two-bedroom apartment averaging $1,700 a month and nearly half of
the salaries in the county at $50,000 a year or less, the non-profit community support groups in Mount Vernon need some help.
That message was reiterated more than once at the Mount Vernon-Lee Chamber business breakfast meeting at Belle Haven Country Club on July 13. David Levine, at Good Shepherd Housing and Family Services, highlighted his presentation with a video showing the complexities of life in poverty. One speaker lost her house in a fire, another fell behind on rent and was evicted. "I had different setbacks and wasn't able to pay my rent," the woman on the video said.
"Fair market rents are out of their reach," Levine said.
Although the Route 1 corridor in Mount Vernon has a number of low income households, this is keeping the handful of nonprofits in the area busy. John Smoot, from Habitat for Humanity Northern Virginia, encouraged the audience to become advocates for affordable housing, shop and contribute housing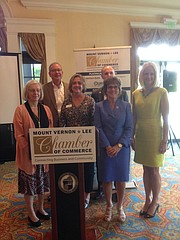 items to their ReStore, and volunteer with Habitat. "We are the nation's 10th largest home builder, we build almost everything with volunteers," Smoot said, pointing out that one important need of affordable housing is "political will," he said. Recently, Habitat built seven new homes in the Lockheed Boulevard area, and did one renovation on houses that are priced in the $350,000 range, but through loans with no interest, the monthly payments are in the affordable range of $950. "Housing affordability is the hot topic," Smoot said.
This was the second Mount Vernon-Lee Chamber of Commerce meeting of this nature to bring the nonprofits and businesses together. "We really want our businesses to know that non-profits in the area and how to work with them," said Holly Hicks Dougherty, the chamber's executive director. "It's a stronger community with these kind of partnerships," she said. After the first meeting, the local Salvation Army office connected with several local businesses for support, said Dougherty.
Pam Michell of New Hope Housing introduced their tagline "Time to rethink homelessness." Their clients include ex-prisoners, sex offenders and people down on their luck. "We welcome the unwelcome," she said. New Hope Housing started in a farmhouse off Lockheed Boulevard and grew from there.
The United Community Ministries (UCM) started off as a grassroots organization too, with a staff of one, but now serves 7-8,000 people. "Today things look quite different," said Alison DeCourcey, the UCM executive director. There are more than 15,000 residents in the UCM coverage area living under poverty, and educational achievement "lower than Fairfax County as a whole," DeCourcey said. UCM has a program for early child education, but needs funding. UCM is changing to keep up with the growth and "looks at the support of the Chamber members to support that growth," DeCourcey said.
In addition to low wages for able-bodied people, there are a section of the community with disabilities and are not able to hold a job. April Pinch-Keeler, from MCLE, Inc., works with that section of the population. They have a center in Chantilly and two in Springfield. "People with different disabilities and abilities have a right to be part of our community," she said.