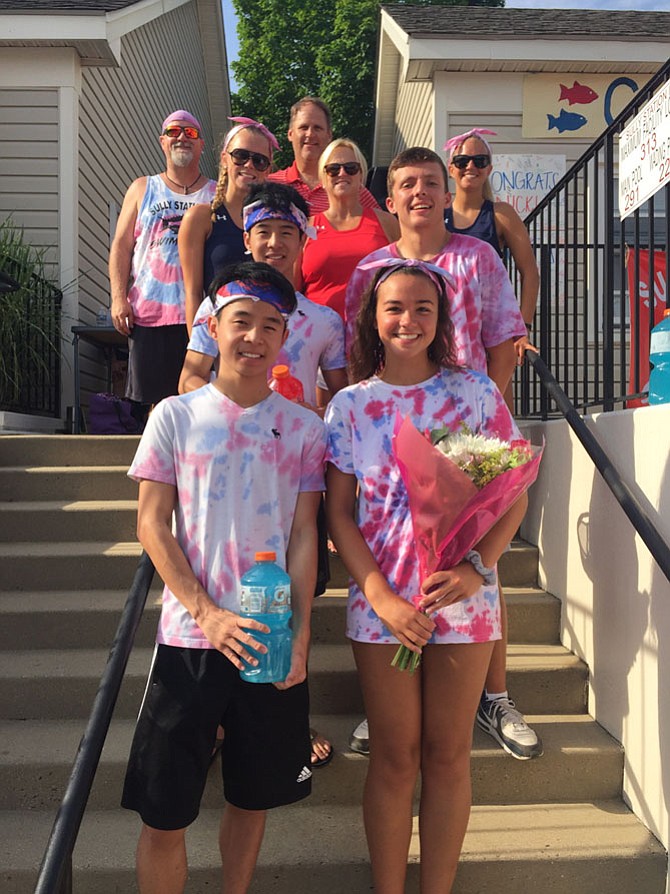 The Sully Station II Piranhas ended the summer season on a high note by capturing their first win of the season against Rolling Forest by a score of 236-179. Spirits were high from the beginning of the meet, as the team celebrated their four seniors — Jacob Elson, Jack Jiang, Nick Jiang, and Georgia Stamper — with the traditional Piranha Pass.
From the oldest swimmers to the youngest, there was a lot of excitement and pride throughout the morning. Eight and unders proved that SS2's future is bright with sterling performances across all individual events and relays. The meet began with a 1-2 finish by Michael Zhang and Zacchaeus Post in freestyle, followed by a girls' sweep with Payton Susko, Grace Ver Planck and Alyssa Seng. Susko led a sweep in backstroke with Natalie Lumsden and Anna Kim and teammates Gabriel Alquinta and Mark McLendon brought home first and second as well. McLendon and Seng earned breaststroke wins, with Post and Mary Campbell claiming second in those events. The littlest Piranhas completed the dominating performance with a win in fly by Michael Zhang and a 1-2 finish by Ver Planck and Campbell.
The team rode the wave of success across the board. Freestyle wins were added by Bryan Kim, Ella Ammons, Collin West and Faith Alston. Capturing backstroke wins were Caden Seng, Lilly Wilson, Caroline Li, and Karenna Hall. Additional victories were notched in breaststroke by Jason Li, Ehma Stalfort, Alston and Delaney Kennedy as well as Caroline Li and Kellen Campbell in butterfly.
Earning two strong second place finishes were Simon Campbell in backstroke and breaststroke, Carson Saint Germain in breaststroke and fly, Angela Cai in freestyle and breaststroke, and Georgia Stamper in backstroke and breaststroke. Individual points were also contributed by Emerson Saint Germain, Callie Ver Planck, Harrison Saint Germain, Max Morris, Nick Jiang, Elijah Post, Hayley Norris, Charles Tai, Madison Stalfort, Jack Jiang, Brody Campbell, Hannah Kang, and Hope Alston.
The meet concluded with cheers led by enthusiastic Piranha alumni and six resounding relay victories. The 11-12 boys relay fielded a team for the first time this season with Simon Campbell and Ethan Wilson along with 10-year old Elijah Post and 5-year old Connor Pond. It was another shining example of sportsmanship and effort this summer. In her last splash as a Piranha, Georgia Stamper joined teammates Carly Logan, Delaney Kennedy, and Karenna Hall to go 8-0 in relays this season, including Relay Carnival double champions.
Divisionals will be held on Saturday, July 29 at Annandale.