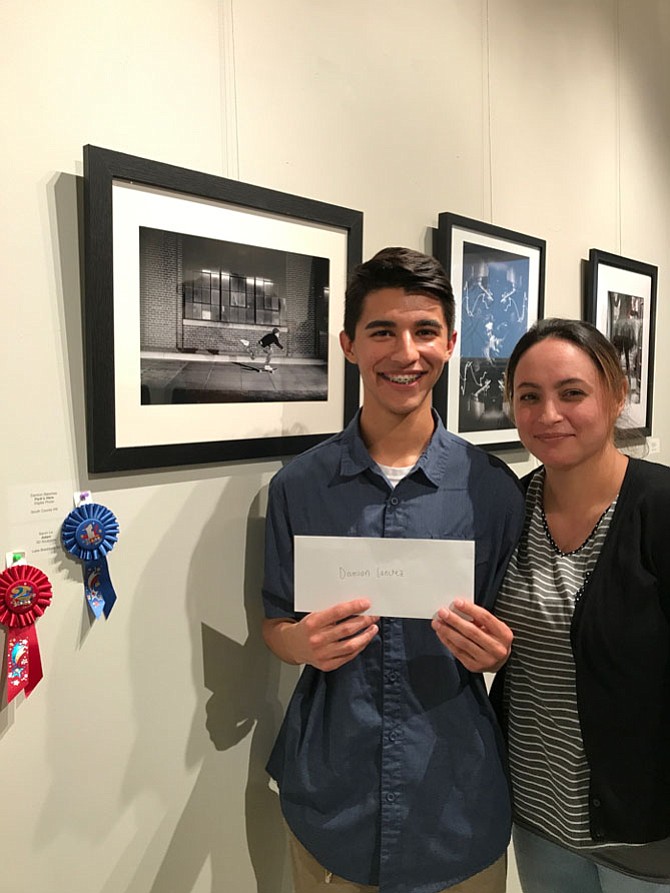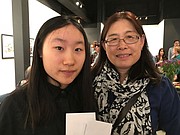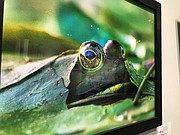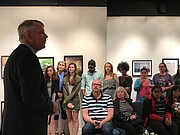 Arts Herndon awarded approximately $6,500 in cash prizes to 31 Fairfax County Public high school students in recognition of their technology-based artwork at the 13th Annual Technology + Arts= Now Awards Program held Wednesday, May 24, 6:30 p.m. at ArtSpace Herndon. Students used advancements in technology and digital resources to create original pieces of art that reflected their emotions, thoughts, and innovative ideas, the "Now of their existence." Arts Herndon created the competition in 2005 to showcase the artistic abilities of computer savvy teens and promote artistic expression through technology-based media, with the aim of adding creative thinkers to the workforce.
In his opening remarks, Mike O'Reilly, president of Arts Herndon, said when the first Technology and the Arts Competition program was created by Arts Herndon in 2005. "The competition was only for Herndon and South Lakes High Schools. It was so successful; we decided to expand the program countywide…" said O'Reilly. "Arts Herndon is a huge believer in the arts in Fairfax County, particularly for the youth in Fairfax County."
AS IN PREVIOUS YEARS, students submitted original digital and animated artwork to their teachers who selected the best entries for possible exhibit and award consideration. Works were eligible in four categories: digital art, digital photography, animation, and other digital art. In this year's competition, Arts Herndon received 100 entries for finalist consideration from 14 Fairfax County High Schools, one of the highest numbers of entries ever.
Three professionals judged the students' works and named first, second and third place winners, as well as honorable mention and finalist. The judges were Charlotte Geary, a professional photographer with works published in Newsweek and other magazines and books; Tim Ingle, a digital media expert in film, television, and commercial animation; and Michelle Schoening, a multi-disciplinary design professional who creates brand systems and marketing campaigns.
Before the awards ceremony, the 31 student finalists, their families, and friends took a few moments to admire the artwork. During that time, Schoening and Ingle shared a bit about the experience.
"It was really difficult this year," Schoening said. "The quality of work was extremely high, and there were a lot more entries this time, twice the amount actually. Students were telling other students." When asked what he looked for in the artwork, Ingle said, for him three characteristics were essential. First, the work had to present a story or concept. Second, the artist had to demonstrate a mastery of technical skills in the artwork. And third, the criterion that swayed him to select one work over another was that the art had to elicit an emotional connection.
Schoening agreed. "When it came down to one vs. another, the quality that swung the pendulum was which work drew us in; made us want to have a discussion," she said.
ANGELA HE from Oakton High School won First Place in two categories: Digital Art and Other Digital Art. Her entries and future plans coincide with the mission of the competition that encouraged artistic and technology skills with the aim of adding creative thinkers to the workforce. When asked where Angela sees herself 30 years from now, she said, "I'll be running multiple successful companies geared to technology and design."
After giving the award envelopes and congratulating each winner, O'Reilly said, "Thank you parents, for supporting your children in the arts."