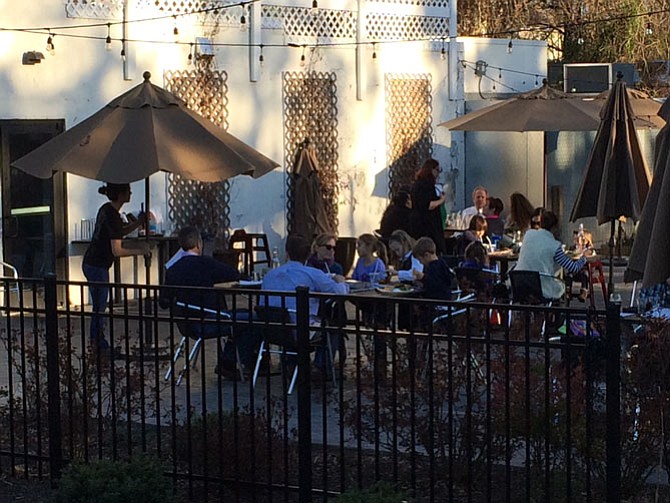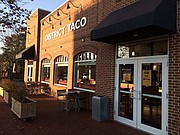 On a busy summer day, whether heading to work or to the pool, it's easy to lose track of time. Here are some go-to spots for every meal of the day (and dessert).
Breakfast: District Taco, 701 S. Washington St.
On your way out of town to go tubing or hit the beach? Stop by District Taco before you go to pick up a breakfast that will keep you fueled for hours. The locally owned chain of taquerias has been an Old Town neighbor for a year and a half now, and within that time it has created quite a following. Don't be surprised to find a line, even at breakfast time.
District Taco's breakfast burrito is a must-order. Stuffed full of black beans, potatoes and eggs, it's wrapped up tightly and served with lettuce and salsa on the side. The burrito itself is a great on-the-go, one-handed meal (the lettuce and salsa make things a little more unwieldy, so consume with caution). Looking for a lighter start to the day? Order a Basic or Healthy taco – or one of each – filled with eggs (or egg whites) and toppings to fit the bill.
Lunch: Perfect Pita, 1640 King St.
Whether packing a picnic lunch or grabbing a bite to eat on your way back to the office, Perfect Pita has you covered. This longstanding pita shop runs the gamut in all things Greek, from a standard hummus or falafel sandwich to pizzas topped with hummus (or with a more traditional red or white sauce).
For your picnic, order your sandwiches – the hummus veggie is always a winner, as is the boardwalk pita, filled with ham, salami, provolone, and vegetables – and if you've got many mouths to feed, pick up a salad as well for the side. The Zorba is the shop's take on a Greek salad, and between the olives, feta, cucumbers, and peppers, it doesn't disappoint.
Dinner: DRP Belle Haven, 1401 Belle Haven Road
At first blush, al-fresco dining doesn't seem to be in the cards over at DRP Belle Haven, but your eyes deceive you. There's a wonderful little patio off to the side of the friendly restaurant, and it's worth the wait on a pretty evening. Sit down, order a beer, and gaze at the restaurant's kitchen garden, a 1,000-square-foot patch of land that grows the majority of DRP's salad blends.
DRP Belle Haven offers a great many salads, sandwiches, and entrees, but their mainstay is pizza, and it would be silly not to order one. Go traditional with a Margherita variety, or scale things up a bit with the Maui Wowie (ham and pineapple). Looking for more kick? You could do worse than the Midnight Marauder, a pie topped with chipotle marinara, crushed red pepper, and spicy pepperoni, chilled out with mozzarella.
Dessert: Sugar Shack, 804 N. Henry St.
Dessert. Doughnuts. Need we say more?
Anyone unfamiliar with the venerable doughnut bistro by now should plead willful ignorance. But despite its well-known status around town, Sugar Shack remains a top-notch spot to score a sweet treat no matter the time of day. Order a tried-and-true flavor, such as maple or salted caramel, or venture further afield with the likes of a Key Lime pie or Oreo sundae, and go home happy.
Hope Nelson owns and operates the Kitchen Recessionista blog, located at www.kitchenrecessionista.com. Email her any time at hope@kitchenrecessionista.com.