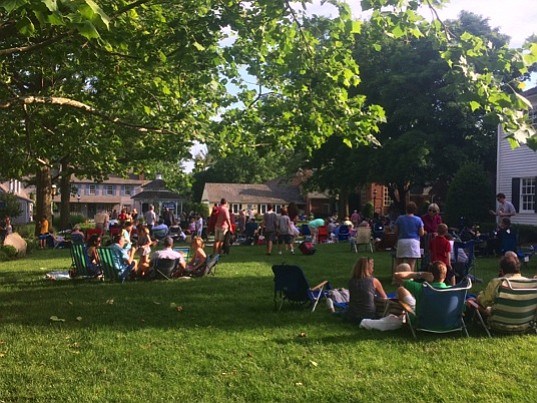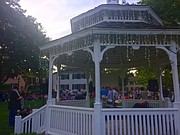 The charming gazebo and shops surrounding the Green, graced with blue skies and Blues sounds, made for a picturesque summer night.
A picture perfect scene lay before the Mike Terpak Blues Explosion on June 4 as they kicked off the summer concert series, titled "Concerts on the Green" in Great Falls. Checkered picnic blankets, dads throwing footballs with their kids and not a grey cloud in sight set the backdrop for the first summer concert.
Members of the Mike Terpak Blues Explosion include Bill Kotapish on virtuoso guitar, Brian Alpert on drums, Jerry Stewart on bass guitar, and Mike Terpak on the dynamic organ and vocals. The band is based out of Washington D.C. and showcases an electric blues and R&B sound. They performed Ain't No Sunshine, Come Together, Thrill is Gone and many more songs from their Blues and R&B set list that persuaded audience members of all ages to twist and shout to the music.
"I love playing all-ages gigs because kids are kids having fun. And everyone is here because they want to be here, which is great. And we even have nice weather this year," bass player Jerry Stewart said.
The band will be playing next at The Winery at Bull Run on June 9 and June 14 from 6-9 p.m.

The concert series has spanned over 20 years, with an estimated 300-400 people of all ages attending each concert. The June 5 concert was sponsored by Roz Drayer, TTR Sotheby's International Realty; her sixth time sponsoring the event. The next "Concerts on the Green" event is Sunday, June 11 from 6 to 9 p.m. with Scott Kurt and Memphis 59 performing, their music dubbed a blend of Tom Petty and Rascal Flatts.