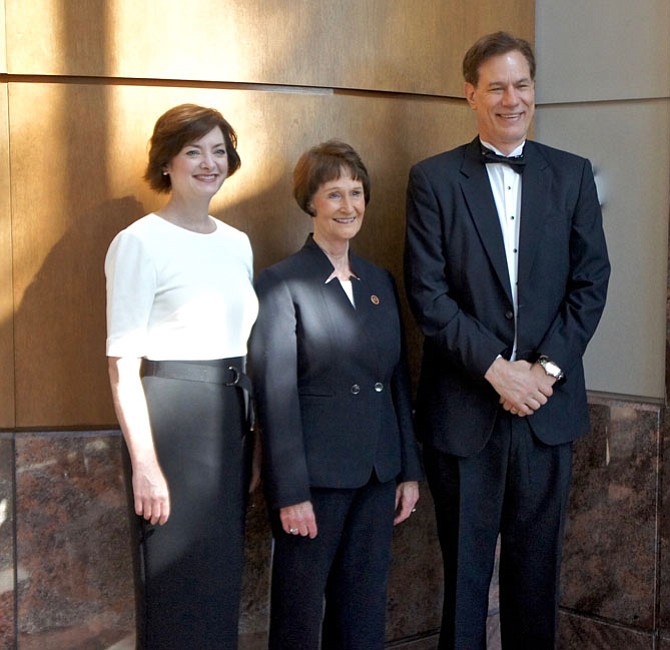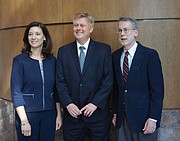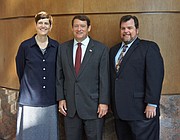 Every year since 1984, two individuals from each of the nine Fairfax County magisterial districts, as well as two from the at-large "domain" of Board of Supervisors Chairman Sharon Bulova are honored for their service to their communities or for particular acts of heroism. For their dedication, these community caretakers are named Lord and Lady Fairfax for the year.
The 2017 honorees were feted at a reception at the County Government Center on the morning of June 6. Following this gathering, the Lords and Ladies were escorted into the Board Auditorium where their accomplishments were publically acknowledged and each received a certificate declaring their status.
The Lords and Ladies will be making a few more appearances during their reigns, including at the signature celebration for Fairfax County's 275th anniversary, which will take place in the area surrounding the Historic Fairfax Courthouse in central Fairfax, on June 17. Just to add another "jewel in the crown" of this event which promises fun and festivities for the whole family, the real Lord and Lady Fairfax will be joining celebration all the way from Great Britain.
Nicholas Fairfax, 14th Lord Fairfax of Cameron, and Lady Annabella will help celebrate the founding of our county from when the area was part of lands owned by his ancestor, the 6th Lord Fairfax of Cameron.
In announcing the visit by Lord and Lady Fairfax (the originals), Chairman Bulova laughed that the noble guests seemed a bit confused by the fact that there were more peers in Virginia whom they would be meeting. "Only here in Fairfax," she told him. "We're special."
At-Large - Chairman Bulova
Lord Fairfax: John J. "Jeff" Lisanick is a former client at New Hope Housing's Eleanor U. Kennedy Shelter. Desiring to give back to the homeless community, he joined the Consumer Advisory Council (CAC) as an original member in 2012. Since being elected Chair of the CAC in 2013, he has been a member of the Governing Board with a goal of preventing and ending homelessness. Jeff took his passion to end homelessness to a new level in July 2015 when he was hired by New Hope Housing as the Residential Coordinator of the same shelter in which he was once a client. He now serves as the Coordinator of Residential Services, overseeing seven different sites.
Lady Fairfax: Jane Miscavage has been an incredible asset to both Fairfax County Public Schools and our community at large. In 2007, Jane began serving as a founder and manager of the Food Allergy Support Group of Northern Virginia, where she helped over 400 families access up-to-date allergy research and health care professionals. Her commitment to children and families continued through her service to #IamFCPS, a grassroots organization that advocated for a fully funded 2017 FCPS budget, and later, as the Vote Yes Meals Tax Campaign Manager. Currently, Jane Miscavage continues to serve our schools as Vice President of the Fairfax County Council of PTAs.
Braddock District
Lord Fairfax: Kevin Morse, Fairfax County resident since 1982, has gifted much of his time to county efforts, including his work as President of Woodwalk Condominiums and the Braddock Representative on the Fairfax County Transportation Advisory Commission. He is also the Chairman of the Braddock Road Task Force, a citizen task force formed in 2014 to review and recommend improvements to Braddock Road from Guinea Road to I-495. He also previously served as Treasurer of the Braddock District Council and as a member of the Burke Centre VRE Station Garage Committee, as well as several other committees in Burke Centre and the Braddock District.
Lady Fairfax: Mary Cortina is Vice Chair of the Fairfax County Park Authority Board. Cortina has a heart for the environment and protected the local bay through her eight-year period on the Chesapeake Bay Preservation Exception Review Committee. Previously, she chaired the Virginia Railway Express Garage Task Force for Burke Centre, working with the County on a community-based design and to add trails to the station. She also seeks to better her local neighbourhood and has volunteered with the PTA and organized community events, like the annual children's Halloween parade for many years.