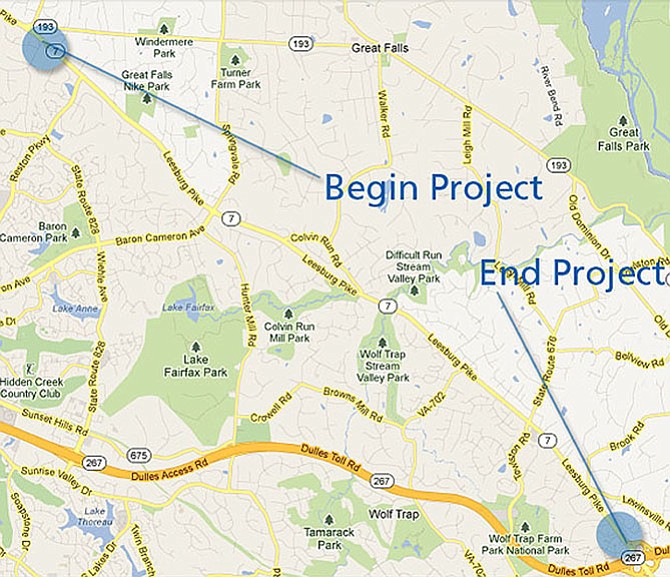 The Fairfax County Board of Supervisors unanimously endorsed design plans for the widening of Route 7 during a hearing on Tuesday, June 6.
The project, estimated to cost $233.9 million, will widen 6.9 miles of Route 7 from four to six lanes between Reston Avenue and Jarrett Valley Drive. It will also make intersection improvements and add shared-use paths for pedestrians and bicyclists on both sides of the corridor.
The widening of this section of Route 7 is included in Fairfax County's Comprehensive Plan, with funding allocated from the county's Third Four Year Transportation Program (fiscal years 2013-2016) and the fiscal years 2015-2020 Transportation Project Priorities program, according to the Fairfax County Department of Transportation. The project is also funded by state, local and federal funds from the Virginia Department of Transportation's Six-Year Improvement Program.
While the project is fully funded at its estimated cost, the exact total will not be known until bids for the work are received, according to FCDOT.
The Fairfax County and Virginia Departments of Transportation's current schedule for the work has completion slated for November 2023:
Design-Build Contract Request for Proposals Advertisement – August 2017

Commonwealth Transportation Board Approval to Award Contract – February 2018

Design-Build Contract Notice to Proceed – February/March 2018

Begin Construction – November 2018

Complete Construction – November 2023
THE MAIN CHALLENGE of the project will be maintaining traffic during the work.
"There's quite a bit of traffic that travels on Route 7 and we're going to be doing extensive improvements, so that's going to be one of the main challenges that we have," Terry Yates, VDOT assistant land use manager, said in November.
Fortunately for drivers, VDOT will keep all lanes open during rush hours, according to Lee
Ann Hall, VDOT location and design engineer.
"Whenever we're doing a roadway project, we want to minimize impacts to the traveling public as much as possible," Hall said in November. "If we could reduce the number of lanes for a longer period of time, that would certainly help us finish a project sooner, but that's just not what happens in Northern Virginia."
A public hearing was held for the design of the project in November 2016 at Colvin Run Elementary School in Vienna that drew more than 160 members of the public, according to the FCDOT. A total of 103 written, emailed or oral comments were also received.
Supervisor John Foust (D-Dranesville), asked FCDOT Director Tom Biesiadny to clarify the design plans being presented to the board during the hearing last week.
"The letter says we approve the design as presented at a public hearing, but the board matter discusses two amendments that were made after the public hearing," Foust said.
After the designs were drafted, comments were received from residents of Towlston Meadows in Vienna to improve Atwood Road, since the project will remove the left turn lane onto Stokley Way. This would eliminate an access point to their homes and require residents to use Atwood Road to access their homes.
After receiving this feedback, the project's design will now include improvements for Atwood Road from Route 7 to Robnel Place, according to Biesiadny.
Community members also requested a connection to shared-use paths along Route 7 to existing trails on Lewinsville Road near Woodhurst Boulevard in McLean. With this feedback, the county agreed to amend the design to include a sidewalk on the east side of Lewinsville Road.
While the designs before the board were not updated to include these amendments, Biesiadny assured the board that the amendments would be included.
"As of the moment, the design plans have not been updated … we're just informing you that, 'Yes, those changes will be made,'" Biesiadny said during the hearing.
"Those are two [amendments] that were discussed with the community," he added. "They were comments that we received back. Both the county staff and VDOT are comfortable including those and recommending those to you [Board of Supervisors]."
The motion carried unanimously, another milestone in a long-awaited project.
Planning for the widening of the Route 7 corridor west of Tysons has been ongoing since 1999, according to FCDOT.
THE FIRST SECTION of this effort began construction west of the project limits in 2013 with widening between Rolling Holly Drive and Reston Avenue. Construction of this western section was completed in February 2016.
Bridge deck replacement and widening of Route 7 over the Dulles Airport Access Highway and Toll Road east of the project limits began construction in summer 2015 and is expected to be completed in spring 2018.