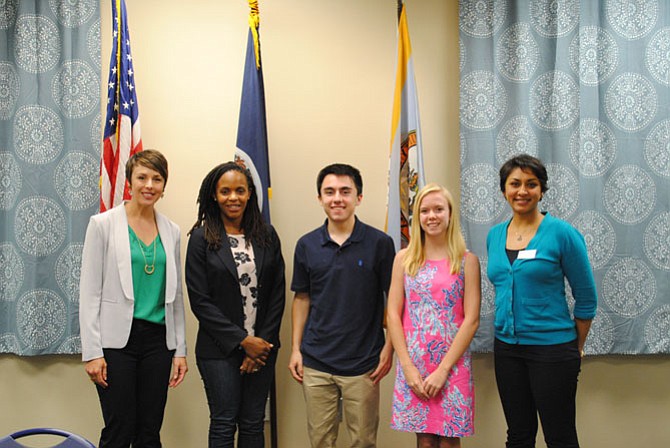 McLean — The McLean Community Center Governing Board welcomed new board
members on Wednesday, June 7. The meeting was held at the temporary McLean community center facilities at 6631 Old Dominion Drive in McLean Square shopping center.
Supervisor John Foust (D-Dranesville) swore in the candidates that received the highest number of votes. This included three adults, Julie Waters, Alicia Plerhoples, and Elizabeth John and two youth members, Alexander Camus of Langley High School and Caroline Brunner of McLean High School.
Five members left the MCC Governing Board due to the end of terms. Of those five parting members, Debbie Sanders and Quentin Levin attended the last Board meeting that night. Sanders served terms from 2014 to 2017 and Levin served from 2015 to 2017 as a youth member.
"It has been a tremendous learning experience and simultaneously, an awesome opportunity to be able to give back to my community in some small way," Potomac High School senior and rising American University student, Levin said.
The initiation ceremony included remarks from Supervisor Foust, highlighting the duties of the board members. The new members were then asked to recite and sign the pledge.
"I am excited to be a part of something in the community and really invest in and contribute to it," board member Julie Waters said.
The adult board members were elected into terms of three years while the youth board members will have terms of one year.
"I am really excited to be a part of a governing board at such a young age and I think it is a really great thing that McLean gives kids the opportunity to participate in an actual government election," youth board member and McLean rising senior, Brunner said.
After the pledge, the first meeting began to discuss scheduling and the different committee responsibilities for future meetings.
During this time, Laurelie Wallace was re-elected as Governing Board Chair, Paul Kohlenberger as Vice Chair, Desi Woltman as Secretary and Merrily Pierce as Treasurer.
The new members have joined the MCC Board during the large, $5 million project of the McLean Community center expansion.
"We are under a massive renovation and expansion project for the next 18 months, it is about getting the building built on time and successfully," MCC board member, Kat Kehoe said.
For more information about MCC Governing Board meetings, visit www.mcleancenter.org.