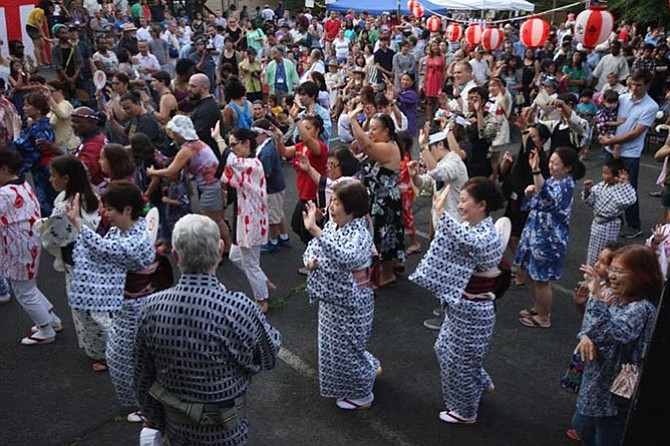 What some Fairfax County residents may not know is that there is a Buddhist temple right in their neighborhood. Founded in 1981, the Ekoji Buddhist Temple is located in Fairfax Station and all their services are English-speaking.
As the fourth-largest religion in the world, Buddhism focuses on the practice of taking refuge in the Buddha, renunciation of craving and attachment, observance of moral principles and more.
As a non-monastic Jodo Shinshu Buddhist Temple, Ekoji follows what is often called Shin Buddhism. That means they follow three primary texts of the tradition: the Longer Sukhāvatīvyūha Sūtra (Infinite Life Sutra), the Shorter Sukhāvatīvyūha Sūtra (Amitabha Sutra) and the Amitayurdhyana Sutra (Contemplation Sutra). These together are called the "Three Pure Land Sutras."
SERVICES AT EKOJI occur every Sunday at 11 a.m. as well as children's Dharma school. In addition, a Meditation Night is hosted every Thursday at 8 p.m.
In the last year, Ekoji has been led by Reverend Nariaki R. Hayashi. The minister, often called "Sensei" or just by his first name, was born in Hawaii, but hails from Kyoto, Japan. Hayashi made the journey to America with his wife, who is Japanese through and through.
"[The move] for me wasn't that awkward," said Hayashi. "For my wife, it was a big adventure."
Although Hayashi mentioned that in Japan, students take English classes throughout their school years, the move was still a bit of a culture shock. For example, driving in Japan occurs on the left side of the road and the driving wheel is on the right side of the car. The process of visiting a gas station is a different experience from America as well.
The minister touched on what a Buddhist service entailed. The call to service is called Kansho and then attendees start with a very basic meditation. Following the opening meditation is a recitation of the Vandana Ti Sarana. Then, sutra chanting occurs trailed by the Dharma message. The Dharma message typically offers understandings about Buddhism and its importance to our lives.
"We teach that our original lives are our own," said Hayashi.
Bodhisattva vows, singing of a Gatha and Dana are other parts of the service that take place. Dana is a monetary collection in expression of gratitude. The end of a typical service finishes with a closing meditation, Oshoko (burning of incense), a time for unofficial announcements and a final recitation of the Nembutsu.
Although the service follows the same kind of pattern as a typical Christian church, practicing Dharma focuses on different aspects of life. A particular lesson teaches followers about the three poisons in life: anger, greed and ignorance.
Vickey Churchman, a member of the temple for the past two years, praised the Buddhism's teachings on listening. She is fond of the kind of empathy the religion tries to spread.
"It gives you such direction and support on how to extend your compassion to people," said Churchman.
ON SATURDAY, JULY 8, Ekoji will be hosting their annual Obon Festival at 5:30 p.m. The free celebration involves Japanese folk dancing, food, taiko drumming and much more.
"During our Obon Festival, we place candles out in our garden and light them in memory of our loved ones who have passed on before us," Hayashi said. "It's not so much that we light the candle for our loved ones who have passed on as it is that they who have given us this opportunity to light the candle that makes us realize the darkness in which we live."
Ekoji's Japanese garden is one of the only authentic gardens in northern Virginia. Located just next to the temple, it is open to the public the same hours as the temple.
Just off Lakehaven Lane is where residents can find the temple and its garden. People are always welcome to visit and are encouraged to talk with other members of the sangha (community).
For more information about the temple, visit www.ekoji.org. For more information about the festival, visit www.ekojiobonfestival.weebly.com.
More like this story