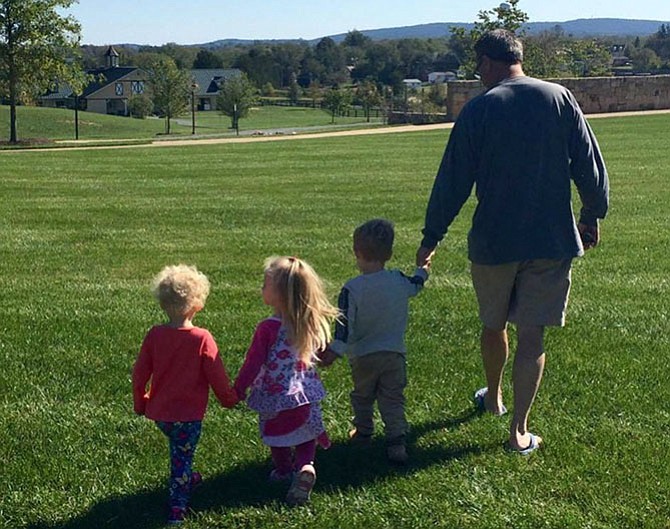 "He's a person worthy of a second chance." — Marilyn Larsen, longtime friend and teacher
The night before Scott Silverthorne was to be sentenced for a drug charge, a fellow jail inmate gave him a Lee Child novel to read. When he saw that the title was "Gone Tomorrow," he took it as a sign that, hopefully, the next day he'd be freed.
Yet there was no guarantee; and, both worried and excited, he couldn't sleep that night, But on June 9 – to the great joy and relief of Silverthorne and his supporters – he was indeed released, after serving three months behind bars.
"I feel like I can breathe again," said his sister-in-law, Mary Silverthorne, immediately afterward. "I've always felt like the person he hurt the most was himself. But this is a rebirth, and I want him to just appreciate his second chance – and I know he will."
"He called yesterday and said, 'What I miss the most are my great nieces and nephews. And I want to go bike riding and do things I've never done before,'" continued his sister-in-law. "[This whole ordeal] really was a life-altering experience for him."
Silverthorne's niece, Katie Hayes, said she was "just relieved" that her uncle was sentenced to time served and probation. "I feel like he can finally move on with his life and continue to focus on his recovery and getting better," she said. "I've missed him, and I've missed not being able to call him back when he's called from jail. I want to be able to talk to him whenever I want."
"I'm just so grateful he's been released," added niece Carey Silverthorne. "I'm also happy for my 3-year-old twins; they miss him so much. They were so excited to see him at Christmas. My daughter said, 'I'm so happy; I'm going to hold his hands.'"
Resident Mary Petersen, a former board member of The Lamb Center, which serves the poor and homeless in Fairfax, said everyone associated with it is "so appreciative" of all the good Scott Silverthorne did for the community, over the years, plus the way he supported The Lamb Center. "He was there for the least and lost," said Petersen.
"I don't think any benefit would have been served by his further incarceration," she continued. "I'm looking forward to his return to the community, and today's outpouring [of support for him] from his friends and family is very moving."
Kathy Hackshaw has been friends with Silverthorne since before he first ran for mayor in 2012. "As a person, Scott is the real deal – a genuine friend who truly cares about his community," she said. "Even when he had cancer, he kept showing up for events. He's called me from jail and I've visited him, and he always asked how I was, first. Honestly, I don't know how you'd turn your back on him if you're already his friend."
Among Silverthorne's many fans in the courtroom were Rachel Siegel and Chris Minich Jr., who worked with him in a Maryland hardware store after his arrest. "I'm a recovering alcoholic, so I know what he's going through," said Siegel. "For him to be that open [about his addiction] is inspiring, and owning up to his mistakes is what makes the sentence acceptable. He knows he needs to remain sober and he wants to. It's hard because, after the first drug use, it's not a choice – you have to have it. So he'll have to work at it, but he has support."
"I'm just happy the judge realized he's doing all that she'd sentenced him to, for his own good," continued Siegel. "He was already on the right path, so to stop that wouldn't have made sense."
Minich said, "To admit your addiction to yourself is one thing, but doing it in public is another. If you hide it, you'll keep on doing that. I think his sentence is fair, and I'm happy to have him physically back in our lives."
Also delighted with the outcome was Silverthorne's attorney, Brian Drummond. "We were hopeful that Judge [Grace] Carroll would follow the Virginia sentencing guidelines for alternative punishment and give him time served and probation," said Drummond. "We're pleased that she did. Scott felt truly humbled – it's humbling to be in jail. This is a great day; Scott's not only my client, he's my friend."
Also there was Antonio Lopez, who's been friends with Silverthorne for more than a decade. Lopez came to court last Friday because, he explained, "The way I see it, Scott made a mistake – people do – and you don't just drop them because of it. And I witnessed the way he really cares about his community; he's so proud of all the things the City has done. He loves seeing people use the new park [Old Town Square]; that was the fruit of what he and the City Council were doing."
Besides that, said Lopez, "He's a very loyal friend, always asking how you're doing. I was very relieved by his sentence because I wholeheartedly didn't believe he deserved to be in jail. He'd already been humiliated and paid for his mistake and felt bad about letting the community down. So today is such a relief to know he can start living his life again – a healthier one, with the support of his community and friends."
Marilyn Larsen, Silverthorne's former teacher at Fairfax High and another longtime friend, agreed. "I am elated," she said. "Good people need an opportunity to make amends. What a wonderful chance for Scott to bring new light to his new future. He will always have his true friends supporting him. I'm so glad the judge recognized that he's not a criminal, but is a person worthy of a second chance."