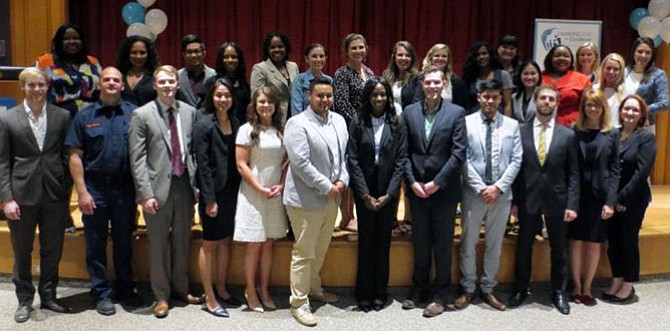 Leadership Center for Excellence celebrated the accomplishments of 30 up-and-coming leaders during the Young Professionals Program Spring Class of 2017 graduation ceremony at Marymount University on Tuesday, June 6.
The Young Professionals Program Spring Class of 2017 participated in the four-month long program beginning this past spring that helped them expand their footprint in the community, connect with established community leaders, develop an awareness of community needs and cultivate new leadership skills.
Goals of the Young Professionals Program include philanthropic awareness, civic engagement, leadership skills development and networking. These leaders were given the opportunity to hone their skills and acquire the resources and knowledge necessary to act as agents of change in their community as a result of the program.
Program graduates include:
Brandon Benzin, Accenture Federal Services
Maria Board, Burke and Herbert Bank
Samar Brown, FMWR Child and Youth Services
Kaelin Browne, Federal Financial Institutions Examination Council
Lauren Budik, McEnearney Associates
Eddie Camara, BB&T Bank
Jorge Carvajal, Arlington County - Department of Management and Finance
Michelle Clohan, Greystar
Hannah Dannenfelser, Arlington Chamber of Commerce
Filicia Davenport, Freddie Mac
Emily Davies, Freddie Mac
Ashley Emerson, Arlington Community Federal Credit Union
Tierra Evans, Freddie Mac
Alex Falck, Virginia Hospital Center
Dylan Fellerman, Freddie Mac
Lauren Fookes, Rocklands Barbeque and Grilling Company
Samantha Fox, Freddie Mac
JP Garcia, Freddie Mac
Julia Gardner, Freddie Mac
Christie Ibaraki, Accenture Federal Services
Agnes Kucharski, Freddie Mac
Holly LeFurge, Freddie Mac
Molly McIntosh, CNA
Stefanie Mikkalson, Freddie Mac
Taylor Neill, Arlington County Commissioner of Revenue
Davida Parson, Arlington County - Department of Human Services
Renee Queen, Accenture Federal Services
Nathaniel Root, Arlington Partnership for Affordable Housing
Alicia Walker, FMWR Child and Youth Services
Ned Waterfall, Arlington County Fire Department
For more information on the Leadership Center for Excellence, visit www.leadercenter.org or call 703-528-2522.