McLean — BASIS Independent McLean, third-grader, James Fishman won second place in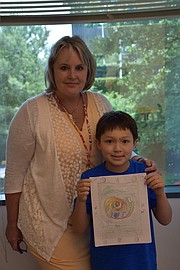 the 2017 WETA-TV Kids Writer's Contest out of almost 400 entries for his illustrated story, Cats and Kitties, which is posted on www.weta.org. The WETA-TV Writer's Contest was open to children in kindergarten through third grade who live in Washington, D.C., Maryland or Northern Virginia, with entries submitted by May 1, 2017.
A first, second and third place winner were announced at each grade level. First place winners will have their stories made into a hardcover book. Additionally, the area school that submitted the most entries received a free classroom library of books and a visit from a PBS Kids costume character.
"We're so proud of James, not only for his great writing ability, but for taking the [initiative] and interest in participating in the contest," said Sean Aiken, head of school at BASIS Independent McLean of McLean, a preschool-grade 12 private school, teaching the BASIS Curriculum. "At BASIS Independent McLean, one of our core teaching concepts is self-directed learning and James was a great example of that," said Aiken.
For more information about the school, go to mclean.basisindependent.com or call 703-854-1253.