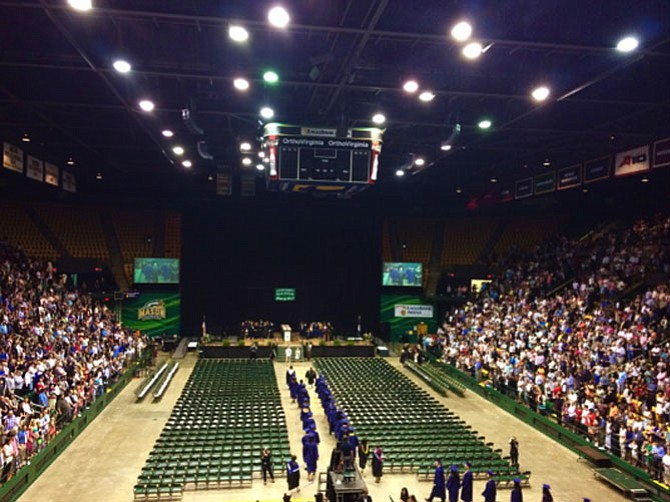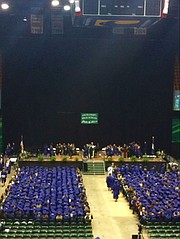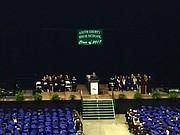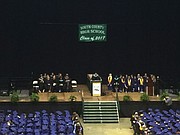 "Dear South County High. I want to express my deepest thanks to you," Senior Class President Kristin Rabil said addressing the graduating South County High School Class of 2017. "Thank you for providing us with a great education, from high tech classrooms to upgraded textbooks and even sports equipment for Physical Education. A lot of people around the world are not so fortunate to receive such an education, so for that I am forever grateful."
The graduation ceremony took place on June 16 at George Mason University's Eagle Bank Arena. As Honor Graduate Maddie Gereski explained, the "SoCo" Class of 2017 successfully navigated three schools, three principals and 28 teachers throughout their high school career.
The graduating class can boast 75 honor graduates who achieved a grade point average of 4.0 or over. South County Principal Matt Ragone also recognized students enlisted in the armed forces, recipients of ROTC scholarships and those admitted to one of the service academies.
Ragone then said that in the first time ever in the high school's history, a South County graduate was given a Fairfax County Student Peace Award. Met with a rousing round of applause, Honor Graduate Narjes Bencheikh received the award in recognition of her student leadership and efforts to locally spread peace. As president of Muslim Student Association (MSA) and leader of the International Club, Bencheikh worked to prepare students to respond peacefully to harassment situations and bring students of different faiths together.
Following the South County High band's performance of "America the Beautiful,"
CEO and President of GoodWill Industries Jim Gibbons delivered the keynote address. Gibbons became the first blind man to earn an MBA from Harvard Business School in 1994, and is the parent of two South County High alumni including Class of 2017's Matthew Gibbons.
"You've often been told that you're the leadership of the future," Gibbons said addressing the Class of 2017. "And I think you should challenge that. I think that you should know that you're the leadership of the 'now'."
Gibbons address brimmed with advice for the young graduates, culminating in one simple pearl of wisdom to carry with them into the next chapter of their lives to "Be selfish."
"If you've ever been on a flight, and you've heard the flight attendant say put your seat belts on. And then, in case the plane suffers from a lack of oxygen you're told the oxygen mask in front of you will drop. You're instructed to put your mask on first, and then put the mask on the person next to you. So put your mask on first, and I guarantee you'll be in a better position to help the person next to you," Gibbons advised the SoCo Stallions.