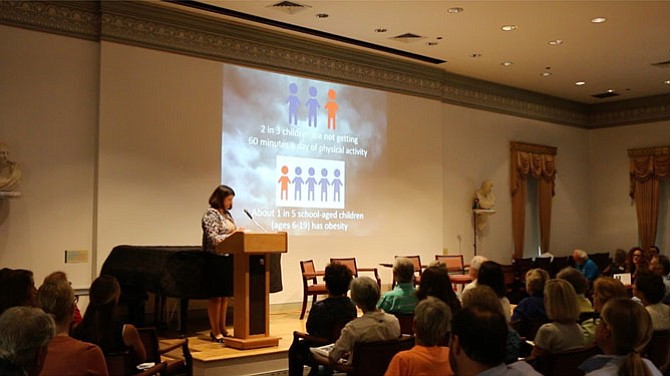 When I founded RunningBrooke in 2009, my goal was to get all of Alexandria's kids more active so they could experience the benefits of regular exercise. I knew at the time that I couldn't do it alone. We would need the community to get behind us and experts in the field to help us have important discussions about how to collaborate with both policy makers and program implementers.
On June 7, RunningBrooke held its second Move2Learn Summit. We were pleased to host national experts and local leaders right here in Alexandria. More than 100 attendees came together at The Lyceum to learn about why movement is so important and what we can do to continue to bring more movement programs and activities to kids in our community. People in attendance included Mayor Allison Silberberg, former Mayor Bill Euille and other city officials, members of the School Board, administrators, teachers, parents, and business, philanthropy and nonprofit leaders.
The program consisted of two sessions. Session 1 focused on ideas to make informal policy changes within administrative and management channels to link movement to learning. The keynote speaker was Charlene Burgeson, executive director of Active Schools, a sub-initiative of former First Lady Michelle Obama's Let's Move! initiative.
Session 2 focused on informal changes that can take place at the grassroots level to promote linking movement to learning in the classroom, after school activities, etc., with keynote speaker Preston Blackburn, a former NCAA athlete, ACE certified youth fitness specialist and founder of Pop, Hop & Rock.
Panelists were Michael Humphreys and Kurt Huffman of ACPS, Mac Slover of Alexandria Recreation, Parks & Cultural Activities, and April Rodgers, physical education teacher at John Adams Elementary School.
"Through leadership provided by RunningBrooke, individuals and organizations representing many sectors of society are taking action to ensure that the children of Alexandria have many opportunities to participate in physical activity in school and the community," Bergeson said. "The Move2Learn Summit was an inspiring gathering of champions who want active, healthy and happy children."
The event was sponsored by The Bruhn Morris Family Foundation, MGAC, The LizLuke Team, McLaughlin Ryder Investments and Six Half Dozen.
For more information, visit runningbrooke.org.