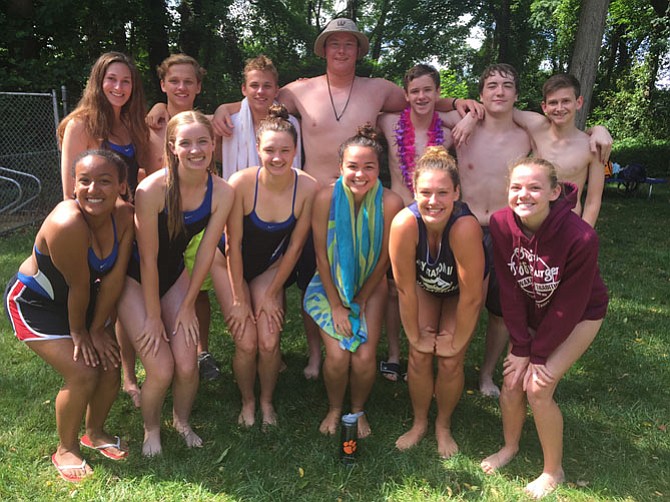 The Sully Station II Piranhas kicked off the 2017 summer swim season with their trademark team spirit amid races against Somerset-Olde Creek on Saturday, June 24. Competing in Division 11, swimmers gave their all in the pool while cheering in festive Hawaiian gear. Four Piranhas came away as double event winners, including 8&U Grace Ver Planck in backstroke (27.61) and butterfly (26.56), 13-14 standouts Caroline Li in free (32.59) and fly (34.68) and Angela Cai in back (35.58) and breaststroke (40.26), and 15-18 leaders Delaney Kennedy in breaststroke (38.71) and fly (33.77) and Kellen Campbell in back (30.65) and fly (29.62).
The 15-18 girls displayed their depth and dominance across all events, with Karenna Hall capturing first in free (30.13) and second in fly (34.60), two 2nd place finishes by Carly Logan in free (32.59) and back (36.76), and a 2nd place finish in breaststroke for Georgia Stamper (39.94). The girls combined their skills to turn in a truly dominant 10-second win in the medley relay.
The 8&U girls followed in the footsteps of the older Piranhas by securing personal bests and the relay win. Mary Campbell added points in freestyle (26.90) and breaststroke (29.29) and Natalie Lumsden finished a strong 3rd in free (31.02). Alyssa Seng brought home the breaststroke win in 28.87 as well as 2nd place in fly (28.53).
Five more Piranhas notched wins, including backstrokers Caden Seng (51.06), Lilly Wilson (47.90), and Charles Tai (43.43) and breaststrokers Jason Li (51.09) and Harrison Saint Germain (43.10). Excellent 2nd place finishes included Bryan Kim (free and back), Ehma Stalfort (free and breaststroke), Callie Ver Planck, Harrison Saint Germain, Mark McLendon (back and breaststroke), Caden Seng, Carson Saint Germain (breaststroke and fly), Madison Stalfort, Harmon Saint Germain, Jason Li and Lilly Wilson. Adding crucial points in 3rd place were Piranhas Michael Zhang (free and back), Ella Ammons, Harmon Saint Germain, Simon Campbell, Zacchaeus Post, and Brody Campbell.
The meet concluded with several exciting relays, highlighted by the 11-12 squad of Callie Ver Planck, Angela Cai, Caroline Li and Hayley Norris and the mixed age racers Cai, Stalfort sisters Ehma and Madison, and anchor Karenna Hall. The Piranhas will travel to Annandale for their next A meet next Saturday, July 1.