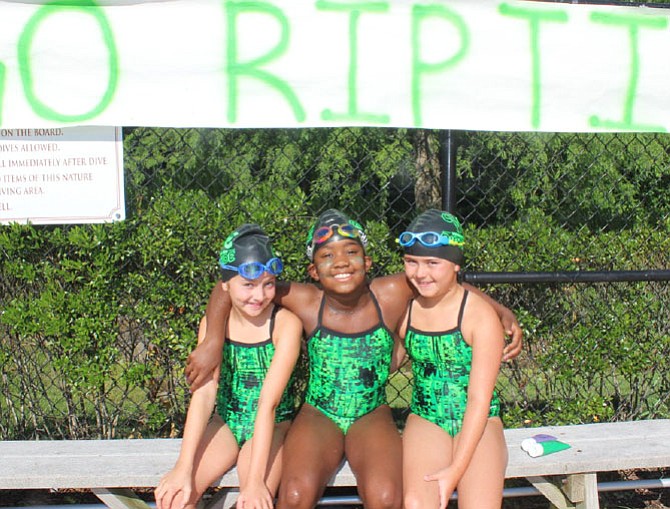 A major record was set and swimmers excelled as the Virginia Run Riptide opened its 2017 NVSL season. The Riptide's Charis Roundtree swam a blistering 15.25 seconds in the 25-meter freestyle to shatter a 32-year-old NVSL record for 8 and under girls. And while 55 Riptide teammates swam to 78 personal bests for the season, Virginia Run was narrowly beaten by Vienna Woods 221 to 199.
When Charis Roundtree set the NVSL freestyle record, her teammates Anna Kelliher and Carson Coughlin captured second and third for a sweep of the event. In backstroke Carson Coughlin placed first and Caroline Friess third. With new best times in breaststroke Charis Roundtree took first and Jenna VanBuren second. Caroline Friess was first and Anna Kelliher was second in butterfly, also recording personal bests. For the 8 and under boys Ethan O'Connor was third in free and first in back. Five-year-old Tyler Harris swimming in his first A meet, captured a third place in backstroke. Older brother Nicholas Harris won both the breaststroke and butterfly with two best times and Christopher Thomson, also swimming a best time, swam to second in the breaststroke.
For the 9-10's Angela Thomson swam to first in free and second in breaststroke. Ali Harkins place third in free and fly, while Laney Zimmerman was third in backstroke. Posting two best times, Ryan Fries was first in free and second in back. Davis Collingsworth captured two first place finished in back and breaststroke. Ryder Hicks swam for second place in free and fly, while Christopher Lee was third in fly.
Outstanding swims were made by the 11-12's with Caitlin Kelliher placing second in free and fly and Isabelle Cogan third in back and fly. Jackson Blansett, swimming two personal bests, placed first in back and fly, while Charles Beamon took a first in free. William Whitton was third in free and second in back. Griffin Osterhout placed second and Nathan Ryman third in breaststroke, while Sean Gunn captured third in fly.
Competition in the 13-14's was intense and points hard to come by. Maddie Whitton was first in fly and second in freestyle, while Alana Turflinger was first in back and second in breaststroke. Jason Cheifetz was third in free and Kevin Wang second in breast.
For the 15-18-year olds, Sarah Boyle captured first place in free and fly, setting a new team record of 30.00 seconds in the 50 meter butterfly. Meredith Matz swam for second in breaststroke and Chanel Cogan for third in backstroke. Nick McGrath won first in free and breast, Anthony Arcomona was first in back and fly, while Thomas Beamon was third in free and back.
The lead in the meet changed on six occasions, but heading into the relays the Riptide needed to win a majority of the races. Virginia Run came up a little short, winning 5 of 12 relays.
Virginia Run boasts 211 swimmers from 122 families. The Riptide Board, chaired by Robin Osterhout, secured the services of new head coach, Morgan Henderson-Kunz, a competitive swimmer from the age of 5, who went to the Olympic Trials in 2008 and has coached at club and high school levels. Patrick Kearney, a former Riptide record holder, has returned as assistant coach. Senior coaches Chanel Cogan, Geoffrey Eisenhart, Luke Emanuel, Nick McGrath, Didi Pace and Leo Wang, along with Junior Coaches Abby Borsato, Sarah Boyle, Jack Metcalf, Harry Schlatter, and Lauren Stovall complete the coaching staff.