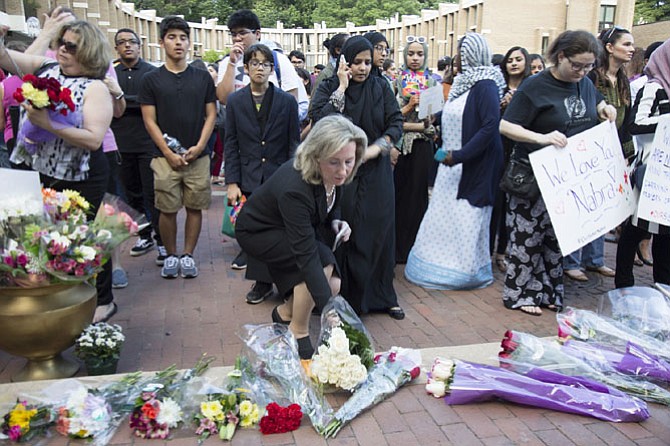 Nabra Hassanen, 17, of Reston was laid to rest as a martyr on the same day the community flocked to Lake Anne Plaza in Reston for her vigil on Wednesday, June 21.
The "Vigil for Nabra" was organized by the South Lakes High School Student Muslim Association and featured heartwarming speeches by interfaith leaders from the community, prayers and readings from the Quran, as well as performances and tributes from her close friends and family members.
The vigil was held in the evening after Nabra's Muslim community gathered and spent the afternoon in their mosque in Sterling praying for her Janazah, an Islamic funeral ritual involving prayers to pardon the deceased.
The procession then proceeded to the Sterling Cemetery, a hearse carrying her body escorted by police officers from the Loudoun County Sheriff's Office, which was followed by a long line of buses carrying those mourning her death.
"We're standing here today, burying one of the finest young ladies of our community," a voice said loudly over a loudspeaker in the cemetery after Hassanen's body was buried, family members and loved ones each pouring three handfuls of soil into her grave. "The way she passed away is considered in Islam as being a martyr, or shahid. The shahid is a person that Allah accepts and forgives their sin."
"I would like you today, as you leave, to think about the good legacy and memory of this young lady," the voice concluded.
Hours later, large crowds assembled in Reston at the Lake Anne Plaza and did just that.
Remembering Nabra
"It's unreal," Trajah Edwards, 15, said. "I still don't think it should be happening."
Edwards, a classmate at South Lakes High School, knew Hassanen since they were in middle school together.
"It was sort of chaotic because everyone was trying not to believe it, but when we noticed it actually happened, we were all crying," she said, describing how she and her classmates felt when Hassanen didn't show up for the last week of school of her sophomore year before summer vacation.
"She was a nice girl who always had a smile on her face," Edwards added. "She was such a mellow person, always down to earth, always smiling and never sad," she concluded, holding two red roses for her slain friend.
This was a theme during the vigil — Nabra's contagious and comforting smile.
"Whenever I picked up coffee, Nabra was always smiling," said Kinza Raufgeorge, describing her encounters with Hassanen at a McDonald's in Reston where she used to work.
Nabra's uplifting demeanor was noticed by all who crossed paths with her.
"Nabra was a young lady who carried herself with dignity and grace," South Lakes High School Principal Kimberly Retzer said during the vigil. "She never missed an opportunity to say hello or good morning, and her smile radiated our hallways. Nabra had a joyful disposition that lifted others up each day. She was the young lady who would gravitate to others and have the innate ability to support and nurture her friends through all things."
Hassanen's smile was sorely missed by her friends and loved ones who spoke at a podium peddled with hundreds of flowers and roses that were brought to the stage by community members in what Imam Mohamed Magid described as a "gathering of love," a "gathering of care."
Magid, the imam of the All Dulles Area Muslim Society, or ADAMS Center, in Sterling, addressed the crowd, which responded in silence, listening and hanging onto every word the spiritual leader was saying.
"I cannot express my mixed feeling of great admiration for the family of Nabra for how they really hold together in this difficult time," he said. "I cannot imagine or pretend, even to think, I can put myself in the shoes of a father and a mother who lost their child the night they thought they would see her in the morning. A loving and caring child," he added.
He told the large gathering of people that he saw Nabra — a "loving," "caring" and "very warm person" of his Muslim community — in the crowd.
"As an imam of that community, I would say you represent the spirit of Nabra," he said while pointing to the crowd. "This is Nabra. This Nabra that we love, that Nabra we know, it multiplied to hundreds of thousands of millions of people [across the globe]."
He then invited one of Nabra's two sisters, whose names were not used at the family's request, to the stage, who asked the imam to help her send a message to the crowd.
"I just want to thank everybody for your love and support, and I just want to say to Nabra, I love you and will always miss you," she said, the crowd reacting in loud applause and scattered quiet sniffles and tears.
He had a special message for the youth of his Muslim community and the larger youth community: "You know I love you … we love you," he said. "Stay strong. Continue to pray for your friend because prayer is powerful."
He finished by telling the youth that even if their loved ones are not with them, they can hear their prayers.
"Keep praying the prayer of peace," he said. "Keep praying the prayer of hope. Keep praying the prayer of love because this community represents all of that."
'Hope For Peace'
Afeefa Syeed of Sterling, a past board member of the ADAMS Center mosque and active member of the community, stood in the back of the vigil wearing a bright blue hijab. As crowds dispersed, she could be seen near the Lake Anne Dock hanging up delicate pieces of white paper under a string of white lights.
"These are peace doves that people are making in origami style from paper and writing messages in them for peace for themselves, each other, for Nabra's parents and for Nabra," Syeed said. "Nabra also has sisters, so some of these messages are for them as well."
The display brought smiles to passersby who joined in and inscribed hopeful messages within the paper wings.
"We were thinking of different ways to remember Nabra and to have everybody have a way to contribute to that," Syeed said. "So, we were thinking about what someone's young life means and it does mean a hope for peace."
Panthea Mohtasham of McLean crafted a paper dove and carefully hung it onto a strand of string.
"She's going to be very much missed," Mohtasham said. "The amount of love pouring out of here, you know Nabra was a great person."
Justice For Nabra
Since Darwin Martinez Torres, 22, was arrested and charged with killing Hassanen, more information about the murder investigation has been shared with the public.
The U.S. Immigration and Customs Enforcement agency, an arm of the U.S. Department of Homeland Security, lodged a detainer request on Torres, who is a citizen of El Salvador who was living in Sterling without legal permission, according to Carissa Cutrell, a spokesperson for the agency.
ICE lodges detainers on people living in the country without legal permission who have been arrested on local criminal charges when the agency has probable cause to deport them, according to Cutrell.
Torres had no prior encounters with ICE, according to Cutrell.
Despite the federal agencies desire to deport Torres, the Fairfax County Police Department announced that it will continue to lead the murder investigation. Previously, the department was unsure whether it or the Loudoun County Sheriff's Office would try the criminal case because assaults were committed against Hassanen in both Fairfax and Loudoun counties, according to the police.
Though the ICE detainer request was sent to the Fairfax County Adult Detention Center where Torres is being held without bail on June 19, according to Cutrell, the FCPD said in a blog post that was published on June 20 that it would "continue to work alongside the Fairfax County Commonwealth's Attorney" as the criminal case moves forward.
In the meantime, a nationwide #JusticeForNabra movement has trended on social media and manifested in vigils across the country. Those participating are demanding Torres get the harshest punishment and that the country respond to the tragic incident by banding together instead of dividing into hateful factions, many calling for the murder to be elevated to a bias-related crime.
Click here for a video snapshot of the ceremony https://vimeo.com/223523131