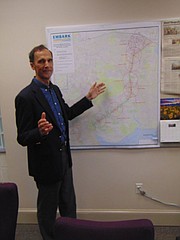 Approximately 18 months ago, Dan Storck, a veteran Fairfax County School Board member, was elected to a 4-year term of office to replace retiring Mount Vernon District Supervisor Gerry Hyland. Looking back and ahead as he gets ready to take a brief summer break, Storck responded to questions about what he has accomplished and what is ahead for the district and for him as he approaches the halfway mark of his first term. Although the job is by all accounts full time, Storck juggles the schedules of two full-time jobs. In addition, he schedules constituent time daily, and regularly schedules time for constituents in the evenings and on weekends. "I am a 24-7 kind of guy. I love my supervisor interactions with the community," he said.
What was it like to replace a seven-term supervisor?
"Gerry Hyland's leadership on so many issues and for so long set a high standard of community engagement and involvement," Storck said. "As a result, the highly involved district residents are renown around the county. I share the commitment and values of an involved community and am working hard to build on this legacy. I have added more frequent traditional and social media meetings and communications; longer office hours and more outreach locations."
After his election, Storck says he prepared a plan of action along with steps to enact that plan. "I implemented a 2016-2019 plan with specific outcomes. We are on schedule to achieve them. The key steps for achieving these plans initially included staffing, relationship building, communications, and funding."
He detailed the key challenges of his first term: "Increase and accelerate infrastructure and people development; having the Mount Vernon community recognized for the quality of life that it has enjoyed, and the unique historic place that it is. I have hired the staff, greatly expanded communications, including expanded office hours and my availability and presence at community meetings, set up district groups, and appointed representatives to lobby for the resources we need for development funding."
What has most surprised him as supervisor?
"The breadth and depth of issues about which residents need our assistance or want to share their concerns," he said. "We have over 120,000 residents in Mount Vernon district" with the inevitable debates about urbanization and change "coming to the area at an accelerated pace. Therefore, there is a considerable need to be on top of the issues facing Mount Vernon on a continuing basis."
What's being done about airplane noise?
"I have been fighting airplane and helicopter noise through letters, contacts and Board Resolutions targeted at the federal officials, who control this noise, by organizing and championing the efforts of the South Flow Alliance," Storck said. "We need more people and other elected officials to join us."
In terms of public safety, "I have held community meetings with the chief of police and the sheriff; I will hold a Senior Safety Summit at the Governmental Center on June 30. There will be a new south county Police Station which will bring more resources to our district and the county. The Mount Vernon police have done a remarkable job keeping our community safe with limited resources."
In what ways can the county operate more efficiently and effectively?
"My tourism and commercial development initiatives can generate significant revenue while I continue to focus on our line of business reviews for efficiency and cost savings," he said.
With Mount Vernon District's significant number of 55-and-over residents, what can be done to promote independent living and ease the transition of aging seniors into more dependent stages?
"I am holding a Senior Safety Summit at the Governmental Center June 30; I have reached out to seniors to expand their involvement in the community. I have also stressed the importance of transitional housing," he said.
In terms of Lorton transportation and development issues, Storck said he is "very pleased with the widening of Lorton Road, the ongoing adaptive reuse of the former Lorton Prison, and the expansion of residential development. In addition, the Workhouse Arts Center continues to be a positive financial opportunity that I will support."
What are his biggest challenges?
"What remains and will continue to be a problem is getting the federal, state, and local resources to address longstanding shortfalls in financial support for our people and infrastructure," he said.
What new development will residents witness in the coming months and years?
"Transforming the Old Mount Vernon High School into a new multipurpose community center; a new community center in Lorton; the completion of the Huntington levee; the Mount Vernon Hospital Rehab Center; the Emergency Medical Center at Mount Vernon Hospital; the Lorton HealthPlex; and the management and transition of suburban to urban settings in a positive and constructive way. This includes improved transportation systems, among other initiatives," he said.
What is best about his job as Mount Vernon District supervisor?
"Meeting the thousands of people that I have met and continue to meet. The opportunity to help people in need. I especially enjoy the scenic beauty and history that is Mount Vernon; it is a pure joy," Storck said.
See www.fairfaxcounty.gov/mountvernon.