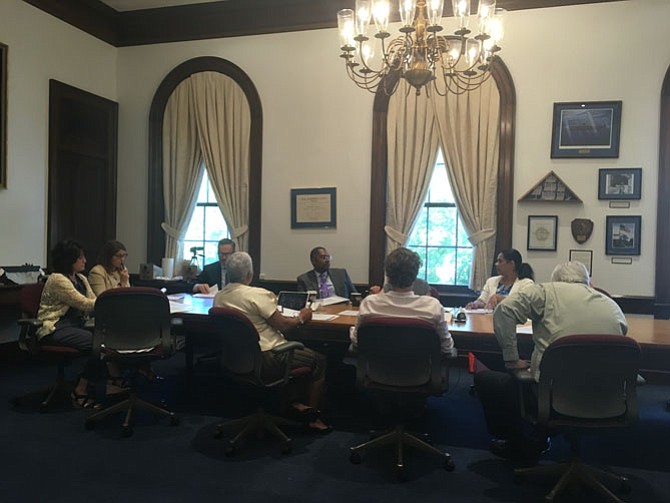 Alexandria — A new "blue ribbon" task force met for the first time Tuesday, June 27, kicking off a time-crunched process to solve the city and public schools' capital planning impasse.
City Manager Mark Jinks called it "probably one of the most important and … impactful task forces that council has created in some time."
City Council established the Ad Hoc Joint City-Schools Facility Investment Task Force to surmount a dysfunctional political relationship between the council and School Board. The two bodies have been unable to come to a meeting of minds about long-term capital improvement. The hope is that a task force of citizen volunteers only — no elected officials — can take fresh look at the problem and offer a mutually agreeable fix.
Council gave the task force a twofold charge: First, recommend a joint facilities Capital Improvement Plan (CIP) for the council and School Board's consideration in the FY19 budget process. This includes prioritizing some $700 million worth of identified city and school facilities projects. It also includes figuring out how best to spend an extra $130 million over 10 years, generated by the recent tax hike, that council earmarked for capital improvement. Second, recommend principles and methods for the efficient and effective execution of those projects — for example, co-locating projects to save development planning time and money.
The timeline is tight. The task force must prepare a first draft CIP for a City Council-School Board work session and community meeting in October. It must submit its final recommendation for another work session and community meeting in December. To meet this challenge, Jinks appointed nine members who are public and private sector honchos — people who are practiced "decision makers," said Lynn Hampton, the task force chair and a former CEO of the Metropolitan Washington Airports Authority. The city and schools' staff, along with Brailsford & Dunlavey, a project management consulting firm, will provide support.
Task force discussion at the meeting revolved mainly around clarifying its intended purview and considering what sort of criteria it might use to prioritize projects.
"We need to understand a baseline about what's already been approved by both the city and the school district that's been accepted," said task force member Mignon Anthony. "Where can we move and where can we not move, and when are we asked to look at something that's outside of the box?"
The task force will consider "if [projects] should be programmed, and if so, when" and it will seek to create a joint CIP that is "a coherent statement of the community's values," said task force member Elliot Branch.
But it's not totally freewheeling. It's not considering the whole CIP, but city and school facilities only — "buildings," said Jinks, but not "infrastructure in the ground" or "parks." It's not considering how to create new money.
"We will know the cash flow of each year of the CIP; that's already been budgeted," said Hampton. It's not untethered from the rest of the CIP. "There are some dependencies" on existing CIP commitments, said Karl Moritz, director of planning and zoning. It's not reevaluating school capacity needs. "[The city and schools] are all on the same page with our expectations for student enrollment," said Moritz.
The task force also began considering its prioritization criteria and how to apply them.
"We typically see 5-10 established sets of criteria," said consultant Beth Penfield in a presentation about best practices. "You don't want too little that it doesn't distinguish enough; but you don't want too many that it starts to dilute the conversation." She says typical criteria include safety; mandatory compliance requirements; alignment with established strategic plans; effect on the operating budget; whether non-implementation or delay would pose a risk; and impact on the environment. Others suggested the "readiness" of a project to proceed, in terms of having already met preliminary planning requirements; "flexibility" to be updated or reconfigured for a different use; present material condition; functional efficacy, in the case of schools; and special criteria for including currently unfunded projects, in the event the task force unencumbers funds by achieving new efficiencies.
Anthony cautioned about the difficulty of selecting uniform criteria, especially if they are to be co-located or jointly used. "There are some different criteria for a school, for instance, than a firehouse or rec center," she said.
They also discussed ensuring that the criteria are not considered in too narrow a context. "I think we really need to have an understanding of how the existing projects in the CIP would rank against the criteria that we establish, so we can make sure that when we add this incremental sum, that the entire CIP then is in balance," said Branch. "I would hate to see us focus on a single strategic goal with this income stream and then to find out, when you aggregated it with the existing CIP, that one of the elements of the Strategic Plan is significantly out of balance." There is not one joint strategic plan; the city and school system each has its own.
Time will tell how well the governing bodies receive the task force's recommendations. But Mark Williams, a resident who offered public comment, expects "it is highly likely that City Council will be extraordinarily deferential."
The task force will meet again July 13, 9-11 a.m., in the Council Work Room on the second floor of City Hall. The agenda will include familiarization with identified facilities projects and finalization of prioritization criteria. All meetings are open to the public. Residents can sign up to address the task force during a 10n-minute public comment period at the beginning of each meeting. Planning and zoning's Katherine Carraway will serve as a central point of contact; she can be reached at katherine.carraway@alexandriava.gov.